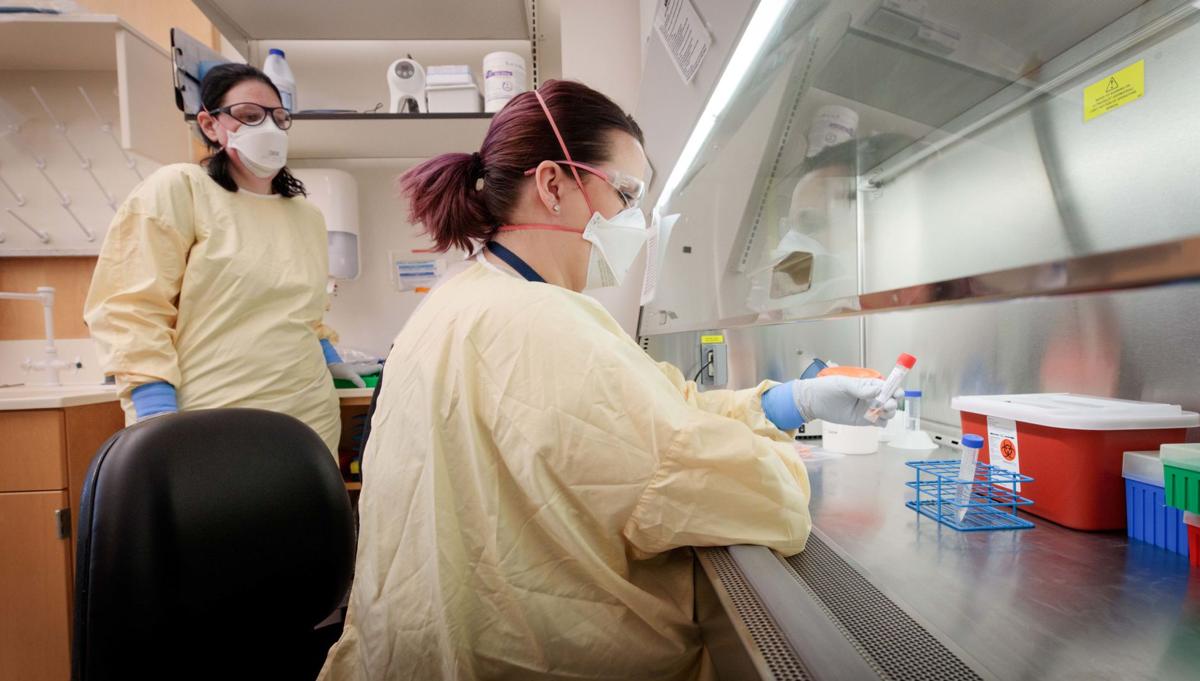 Over the course of about eight hours Tuesday, the number of COVID-19 test results reported by the Nebraska Department of Health and Human Services more than tripled.
The number of Nebraskans who tested positive for the novel coronavirus stood at 57 early Tuesday, while 356 tests came back negative, according to the website that tracks the daily totals supplemented by reports from local health departments.
By Tuesday evening, the number of positive tests had risen to 64, while 1,304 samples tested at public and commercial labs both inside and outside the state's borders were negative for the disease.
The rate of return could accelerate in coming days after the Nebraska Public Health Lab embarked on an "outside the box" plan to test multiple samples in a single extraction kit, saving precious reagent resources while also expanding its daily output from 100 to 400 results.
"Following a successful validation process, the NPHL has begun group testing of pooled specimens for the detection of the virus that causes COVID-19," Dr. Pete Iwen, the lab's director, said in a statement.
"This process will optimize the use of reagents, which are in limited supply, and will allow for more expanded testing in Nebraska," Iwen added.
The public health lab started exploring the option earlier this month as it became more difficult to obtain the reagents needed to complete the COVID-19 tests and as the level of testing in Nebraska broadened.
Iwen said pooling five nasal swabs into a single extraction kit could allow the lab to use just five kits instead of 25. Negative tests would clear five people at a time, while positive tests would require further testing.
According to Iwen, even if just two people out of 25 tested positive, the lab would use up to 10 extraction kits rather than 25, allowing the lab to greatly expand its capabilities as the spread of the virus intensifies.
The idea was pitched to both the Food and Drug Administration and the Centers for Disease Control and Prevention earlier this month, but neither agency has formally signed off on the plan before it was put into practice Tuesday, a spokesman from Nebraska Medicine said.
Gov. Pete Ricketts touted the effort as part of a multi-pronged approach the state is taking to increase its ability to test Nebraskans who are exhibiting symptoms of COVID-19 or were exposed to someone with the virus.
Commercial labs have started to return results sent in from Nebraska health departments, Ricketts said, which played into the spike in test numbers Tuesday.
The state has also dispatched Doug Carlson, chief procurement officer at the Department of Administrative Services, "to find vendors across the country and around the world to supply us" with testing kits and more personal protection equipment, Ricketts said.
The governor said as testing capacity is expanded, Nebraskans shouldn't be alarmed as the number of positive tests rise.
"We want to find the people who are testing positive for the coronavirus so we can make sure we have the best data available," Ricketts said. "As we are expanding our testing and identifying more people, we are also expanding our capacity to be able to take care of them."
As tests become more readily available, priority for testing will still be given to health care professionals, first responders and Nebraskans at high risk to COVID-19, Ricketts added.
At the White House on Tuesday, Dr. Anthony Fauci, the nation's top infectious disease expert, said expanding testing in areas that are "not hot spots" is as important as it is in the hardest-hit areas of the U.S. — New York City, San Francisco and Seattle.
"We need to put a light on those dark spots we don't know," Fauci said at President Trump's daily press briefing. "They still have a window to be able to contain. They can test somebody, isolate them, get them out of circulation and trace contacts."
In Nebraska, the effort to trace contacts is being done by the state epidemiologist's office and local health departments, as well as epidemiologists at the University of Nebraska Medical Center.
David Brett-Major, an internal medicine and infectious diseases physician in UNMC's College of Public Health and a veteran of the 2014-15 Ebola epidemic in West Africa, said tracking the spread of a disease such as the coronavirus involves "asking all the basic questions in the same way over and over again."
When did you first experience the event? When did you first start becoming ill? Is this the first time you've experienced being ill like this? Were you near anyone else who has been ill? Have you traveled to areas where we know that coronavirus infection is occurring? Before becoming ill, were you healthy?
"All of these come together to help us understand not only the risk with acquiring the infection, but the risks of the infection going badly," Brett-Major said.
UNMC started its own epidemiological study of the coronavirus outbreak in Nebraska and, in an unusual step, is sharing information directly with clinical providers and public health authorities rather than waiting until the long-term study has finished.
"If we think it matters for the patient or the community, then we can share information," he said.
Latest updates on coronavirus in Lincoln and nearby
See the latest news as more coronavirus cases are identified in Nebraska.
Concerned about COVID-19?
Sign up now to get the most recent coronavirus headlines and other important local and national news sent to your email inbox daily.