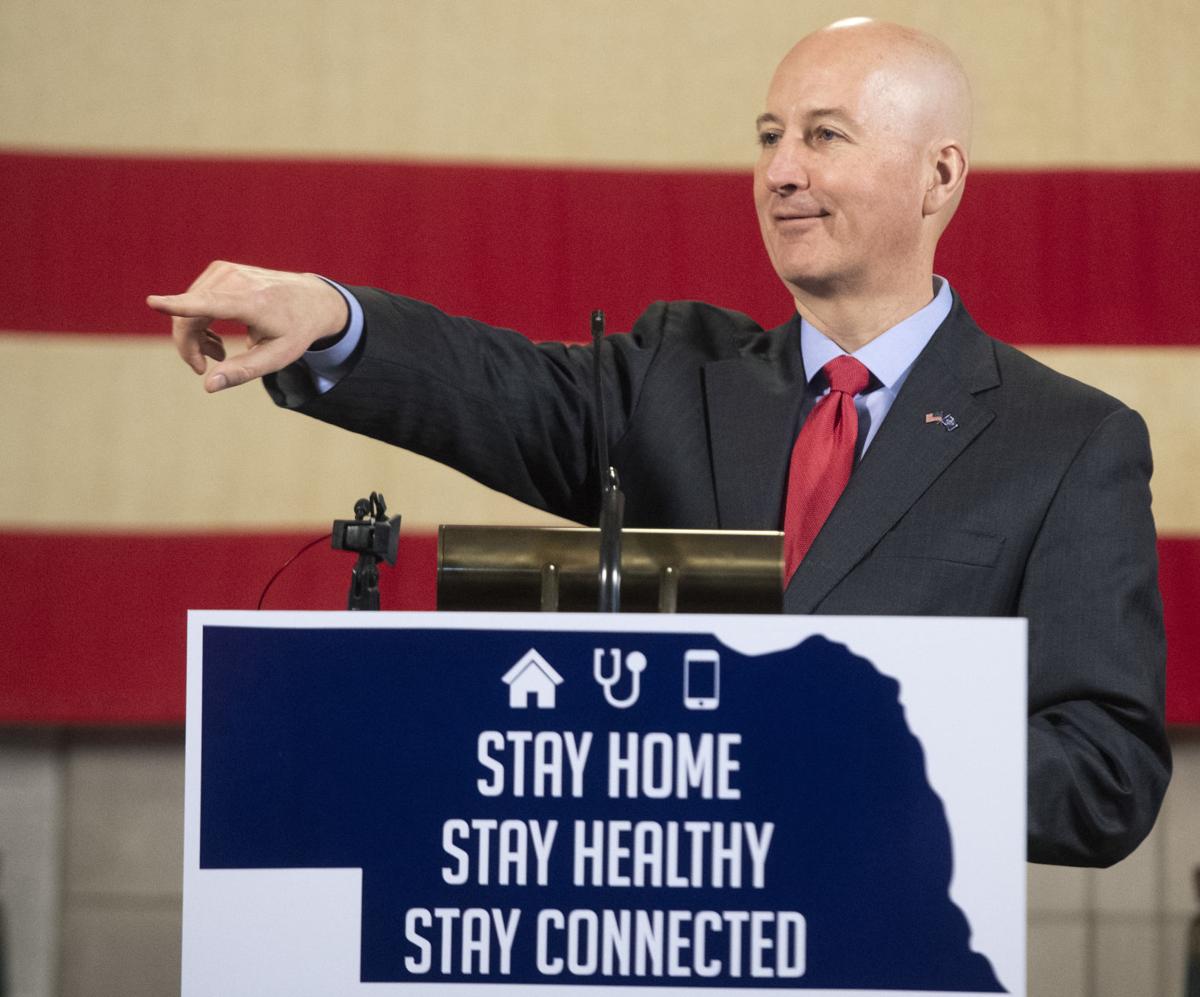 Gov. Pete Ricketts said Wednesday he is keeping an eye on increasing hospitalizations of coronavirus patients in Lincoln and Omaha as he prepares to decide how much he will loosen virus-based restrictions now in effect in the state.
"We are watching that," the governor said at his daily coronavirus briefing.
Ricketts has signaled that he expects to ease some restrictions in June, and he indicated that decision might be coming early next week to give Nebraskans some time to plan ahead.
Although hospital capacity remains solid in Nebraska's two largest cities, he said, 43 coronavirus patients are now hospitalized in Lincoln and 121 are in hospital beds in Omaha, and those numbers have been rising, particularly in Omaha. 
Hospitalization rates are declining in Nebraska communities outside of those two cities, he said.
Nebraska hospitals currently have 44% of their beds available, 38% of intensive care unit beds vacant and 78% of ventilators available, the governor said. 
Ricketts said he will try to give Nebraskans "as much information all at once" when he decides how to ease restrictions in June. Current limitations expire on May 31.
Among those restrictions are a ban on gatherings of more than 10 people and closure or limitations on a range of business activity.
Ricketts said he understands that bars, which are closed if they do not have a food service license, are "particularly hard hit."
"We'll take a look at what's happening," collect and assess data, make sure the hospital system is stable and then announce a decision, the governor said.
That will allow Nebraskans to begin to "live a more normal life," he said.
"People need to do it at a pace they're comfortable with," Ricketts said, perhaps beginning "cautiously, step by step."
Earlier in the day, the governor participated in a live online interview with The Washington Post during which he defended his approach to containing the virus in Nebraska.
The state's primary role in protecting meatpacking workers during the coronavirus pandemic is to encourage companies to adopt best practices for worker safety identified in a playbook compiled by the University of Nebraska Medical Center, he said.
Meanwhile, the governor told Washington Post national political reporter Robert Costa, he has been reaching out to workers with Spanish-language briefings on how they can best protect themselves and their families.
While the majority of the coronavirus-linked deaths in Nebraska are residents of long-term care facilities, cases of COVID-19 have clustered in meat processing plants, particularly in Grand Island, Dakota City, Crete and Lexington.
Working on the production line in meat processing plants shoulder to shoulder, and usually across from other workers, is "an environment in which it is very difficult to do social distancing," Ricketts told Costa in response to questions about Nebraska's large number of infected workers. 
The plants have implemented some safety protection measures, including erection of plastic barriers between workers, to help shield them in lieu of attempting to adhere to the current norm of 6 feet of physical separation that is in effect elsewhere during the coronavirus outbreak.
Worker safety is the primary responsibility of the federal Occupational Safety and Health Administration, the governor noted.
"We don't have any regulatory role in the state of Nebraska," Ricketts said. "We offer best practices."
While OSHA is the regulatory agency in charge of the health and safety of meatpacking workers, states are permitted to institute requirements of their own as long as they are at least as effective as OSHA's standards in terms of protecting workers.
Worker advocates have called for institution of the 6 feet of distancing rule while encouraging companies to adjust to such a requirement by altering or adding production shifts.  
Costa also quizzed the governor about criticism that has been directed at the Test Nebraska program, his administration's lengthy delay in implementing the Medicaid expansion program approved by Nebraska voters a year and a half ago and his policy of implementing guidelines, rules and regulations rather than issuing a shelter-at-home order in the state in response to the pandemic.
Asked whether he is taking hydroxychloroquine, the drug that President Donald Trump says he is taking to help shield him from the coronavirus, Ricketts said he's not taking drugs, but does continue to take fish oil pills and wears a mask when he goes into stores.
Earlier, he said Nebraska's defense against the virus is focused on "things that are proven and established according to the science."
Concerned about COVID-19?
Sign up now to get the most recent coronavirus headlines and other important local and national news sent to your email inbox daily.