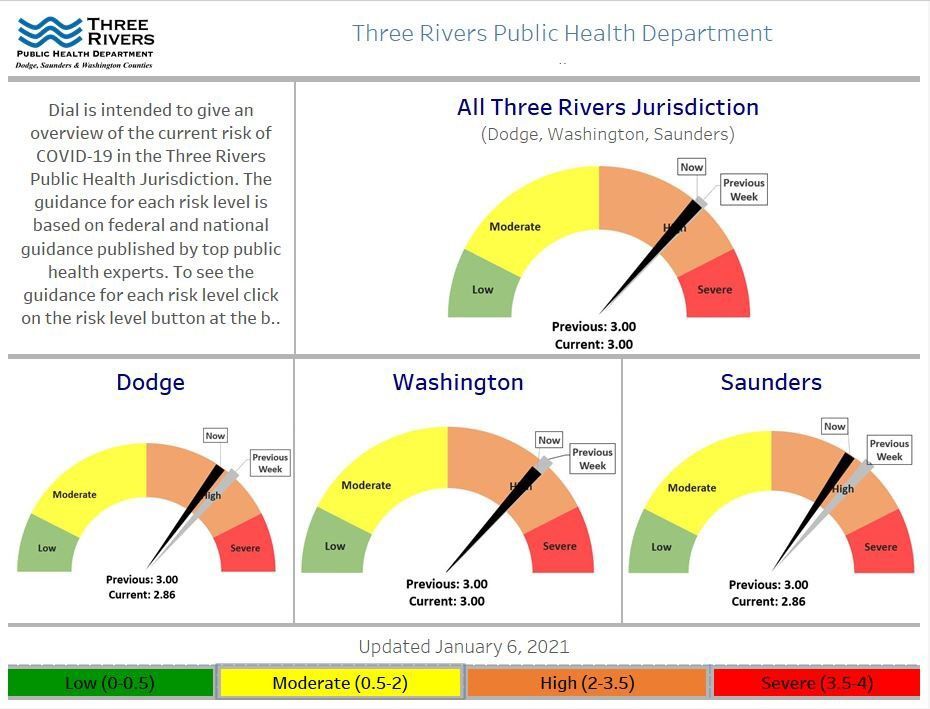 The Three Rivers Public Health Department's COVID-19 risk dial for its three-county jurisdiction remains the same this week.
The risk dial, which is updated every Wednesday to show the risk of COVID-19 in Dodge, Washington and Saunders counties, is unchanged at 3.0 for the jurisdiction, according to a press release from Three Rivers.
The dial is color-coded, with green being low, yellow being moderate, orange being high and red being severe. The dials are also given a number range, with low being below .5, moderate being .5 to 2, high being 2 to 3.5 and severe being 3.5 to 4.
Dodge County's risk dial lowered from 3.0 to 2.86 this week while Saunders County's risk dial went from 3.14 to 2.86. Washington County's risk dial remains at 3.0.
A press release stated that the Three Rivers jurisdiction stayed the same at 3.0 due to a decrease in the number of cases, an increase in weekly positivity, increased community spread, a decrease in Omaha Metro Healthcare Coalition inpatients diagnosed with COVID-19, and an increase in the percentage of ICU beds that are being used.
The jurisdiction has had 242 positive cases in the last seven days and 602 in the last 14 days, bringing the total case count to 7,577. There have been 91 deaths and 5,864 recovered cases reported in the region, and overall, 37,426 tests have been conducted.