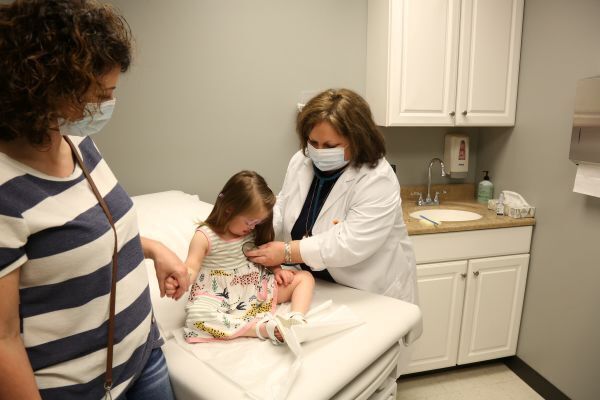 Lexington will be the home to one of Tyson Foods' first employee health clinics.
The meatpacking giant announced last year that it planned to open seven pilot health clinics at seven of its plants across the company.
The first clinic opened April 28 in Dyersburg, Tennessee, near the company's facility in Newbern, Tennessee. The second and third clinics are opening Wednesday in Lexington and Green Forest, Arkansas.
The health centers, which are operated by Marathon Health and called Bright Blue health centers, provide primary and preventive care, including health screenings, lifestyle coaching and health education, as well as behavioral health counseling.
They are open to Tyson employees covered by the company's health insurance plan, as well as spouses and dependents age 2 and older. Most care will be offered at no cost to employees, although those on the company's high-deductible health plan will have to pay a fee to access care until they meet their deductible requirements.
Dr. Claudia Coplein, chief medical officer for Tyson Foods, said in a news release that the pilot clinics are an effort to "promote a culture of health and wellness in our company that results in a healthier workforce."
Coplein said some employees don't utilize their health plan benefits at all and others wait to see a doctor until they encounter a medical crisis.
"We want to change that by providing access to care that can help detect health conditions early and promote healthy habits," she said.
Tyson, which had announced plans for the clinics in September, has come under heavy criticism for how it handled worker safety during the coronavirus pandemic.
A class-action lawsuit moving its way through the court system alleges that the company as of Dec. 3 had three times as many COVID-19 cases and twice as many deaths as any other meatpacking company.
According to the Food & Environment Reporting Network, Tyson has had more than 12,500 cases nationwide, including more than 1,100 at its three Nebraska plants in Lexington, Madison and Dakota City.
Tyson said in its news release that it has vaccinated more than 40,000 employees against the disease, about one-third of its workforce.
The cost of COVID: Remembering lives lost in Southeast Nebraska
They were teachers and farmers and factory workers and homemakers. They played the piano, fixed old cars, danced to the Beach Boys, cuddled their grandchildren.
They loved to ice fish, gab with friends, read, run marathons, bowl, wander antique stores.
They were our co-workers and neighbors and friends. Our parents. Our spouses.
They all have one thing in common. They died from COVID-19, a virus that arrived in Nebraska in March 2020, claiming its first life in Lancaster County a month later.
These stories represent a fraction of the lives lost in Southeast Nebraska, but they are our way of paying respect to each and every one.
We'd like to share the stories of others from Southeast Nebraska who have lost their lives to COVID-19. If you would like to have your loved one added to our online tribute, please email your contact information to: citydesk@journalstar.com