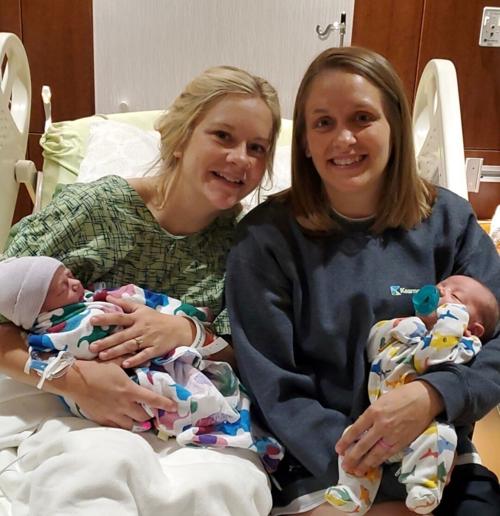 KEARNEY — Amber Burr was expecting two new grandsons a week apart this spring. She never dreamed that they'd arrive within 26 hours of each other at Kearney Regional Medical Center, but they did.
At 4:13 p.m. May 16, her daughter Jamie Hughes delivered Colton, weighing 8 pounds, 7 ounces.
At 5:55 p.m. May 17, her daughter Brienna Rimpley delivered Nash, weighing 6 pounds, 3 ounces.
"We knew our deliveries would be close, but we didn't know they would be a day apart," Hughes said. "We didn't really plan this. We just happened to get pregnant at the same time."
Hughes and her husband C.J. live in Kearney and have two other children, son Connor, 5, and daughter Riley, 3.
Rimpley and her husband Nick of Holdrege are also the parents of sons Jace, 6, and Cale, 2.
Last October, when Hughes told her mother and sister that she was pregnant, "my sister got a shocked look on her face and said, 'Me, too!'" Hughes said. The sisters jumped up and down and hugged each other.
Hughes was due May 21. Rimpley was due May 27.
As delivery drew near, Hughes, 32, was scheduled to be induced May 14, but because of a busy schedule at the hospital that day, the induction was postponed until Sunday, May 16. Dr. Amie Jorgensen did the delivery.
Rimpley, 27, meanwhile, was suffering from high blood pressure, and her baby's size was small, so her obstetrician Dr. Keri Philpot decided to do a cesarean section May 17.
"When they sent me to the hospital to have my C-section, I texted Jamie and asked her to save me a room across the hall," Rimpley said. That's exactly what the hospital did.
With two daughters delivering a day apart, Burr was busy.
She has been a labor and delivery nurse at Kearney Regional Medical Center since its maternity center opened in January 2017. She worked at CHI Health Good Samaritan for 23 years before that. She took time off from work in mid-May so she could babysit for her daughters when they delivered.
Hughes had dropped her children off at Burr's house May 13, expecting to be induced Friday morning (May 14.). "But when they couldn't take me, we picked up the kids," Hughes said. "Saturday night, we left the kids there again. We went to the hospital Sunday and the kids stayed there again Sunday night."
Monday morning, when Burr learned Rimpley was ready to deliver, too, Burr's husband Brent kept Rimpley's two sons so Burr could again be in the delivery room to take photos and support her daughter.
"We had talked about the girls coming in to deliver on the same day, but the fact that they almost did was such a surprise," Burr said. "It was very exciting. It's very different on the patient side of things. You see things differently and appreciate the patient care from the nurse's side." 
"I was so grateful that they were both able to deliver at the facility where I work and to be taken care of by coworkers and friends," she added.
During their pregnancies, the sisters leaned on one another.
"We were able to complain to each other when we were tired, nauseated and uncomfortable during pregnancy, and we took pictures of each other throughout," Hughes said. They texted each other about names, too, but neither considered the same names.
Rimpley added, "We always tried to get updates on our belly bumps." Since their other children are close in age, they got together often.
Now that the babies have arrived, "we talk to each other multiple times a day. As sisters, we're really close," Hughes said.
They've taken lots of photos of their newborn sons lying next to each other, and they've already debated joint birthday parties as the boys grow up.
Hughes, a 2007 graduate of Kearney High School, is a nurse at the Kearney Regional emergency room. Rimpley, a 2012 graduate of Kearney High School, runs a day care in her home at Holdrege. They have a brother, 24, who is single and lives in the Denver suburb of Brighton. Their father, Greg Mazankowski, lives with his wife, Chrystal Snider, in Kearney.
Burr of Gibbon has been present for the births of all of her grandchildren. She is thrilled to have five grandsons because she had six sisters and no brothers. Her mother was one of four girls.
Burr learned of her daughters' pregnancies as she was finishing treatment for her third bout of breast cancer. She battled cancer at age 32, 34 and again at 49, so her recovery late in 2020 made the celebration more jubilant.
"I'm extra close to my girls because of what we've been through together," she said. "I'm so grateful I've been able to be there for all my grandkids' deliveries."