Maria and Joseph Sawaged don't know what it's like to have just one newborn at home.
First, the Omaha couple brought home two babies. And then a third. And finally a fourth.
In April, the Sawageds welcomed quadruplets, delivered via cesarean section, at Methodist Women's Hospital. Now, all four newborns — Luca, Julianna, Barrett and Tychus — are out of the neonatal intensive care unit and home with Mom and Dad. They're the second set of quadruplets born in the state so far this year, according to data from the Nebraska Department of Health and Human Services.
"I've never had just one baby," Maria Sawaged said. "To me, this hard is my normal hard."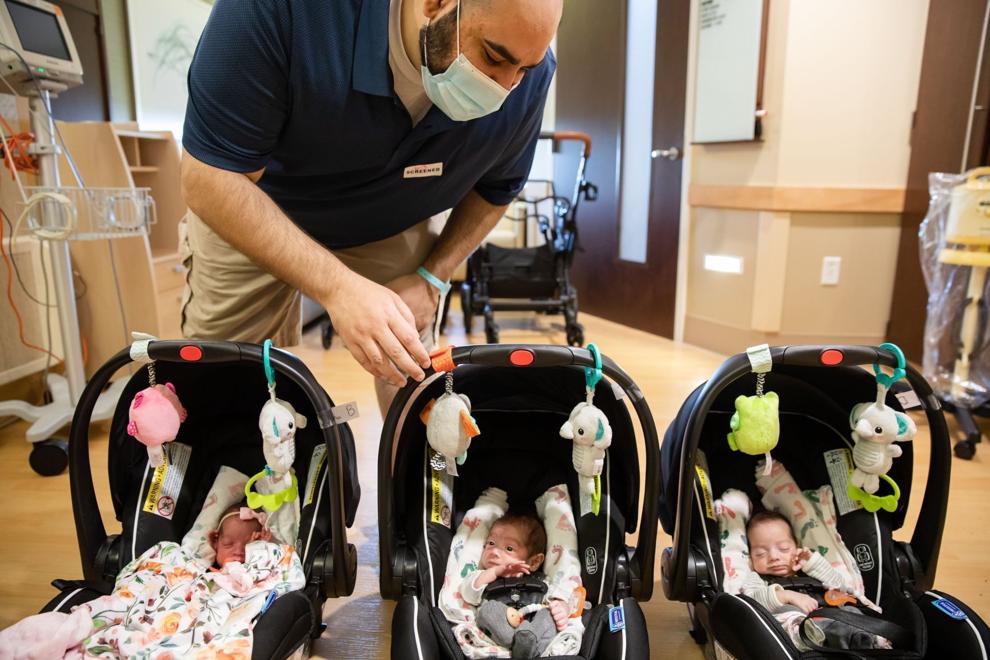 The Sawaged babies are the fourth set of quadruplets born at Methodist Women's Hospital since 2010. The hospital's last set was born in 2017.
Seven sets of quadruplets have been born in the state since 2017.
The federal Centers for Disease Control and Prevention recorded 114 sets of quadruplets born in the United States in 2019, the last year for which data is available.
Maria, who is 30, got pregnant after five years and 13 rounds of fertility treatments. "It was tough," said her husband, who is 31. "During it, you have to be rocks for each other. It's something that we had to fight through the whole time. Then science finally got it for us. We have our full family now."
Four weeks after the positive pregnancy test, the couple found out they were having quads.
Maria had no complications during her pregnancy, but she did spend the final month in the hospital before delivering the babies April 30.
Luca, the oldest, is calm and relaxed. He's quiet and manages to sleep through the cries of his siblings. He weighed 3 pounds, 11 ounces.
Julianna, who weighed 2 pounds, 12 ounces, is sweet and a little sassy.
Barrett has a big personality and loves to be held. He also weighed 3 pounds, 11 ounces.
Tychus, who weighed 3 pounds, 7 ounces, is laid-back, but he lets Mom and Dad know when he's hungry.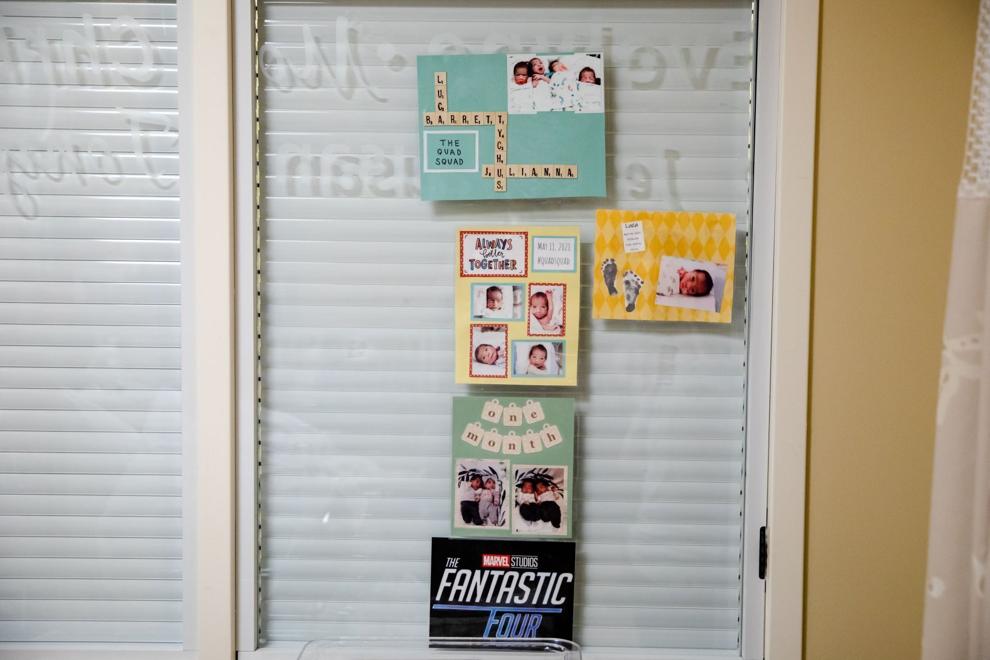 The Sawageds both work in the same department at the Nebraska Furniture Mart. Joseph, who is able to work from home, is back on the job. He said his employer has been flexible in letting him step away to help with the babies during the day. Maria said she plans to go back to work next month.
Their house is full of baby gear, including hundreds of bibs and pacifiers, two changing tables and four baby seats. In the meantime, Dad said he's started thinking about saving up for high school, cars and college … times four.
Maria Sawaged said she's enjoying every minute with the babies, even the late-night feedings and diaper changes. The babies get up every three hours to be changed and fed. Then Mom and Dad try to get some sleep or tackle a bit of housework.
The Sawageds have gotten help from family and friends.
"We've learned to do a lot with three hours of sleep," Joseph said. "We're going to learn more patience than usual, more compassion than usual."