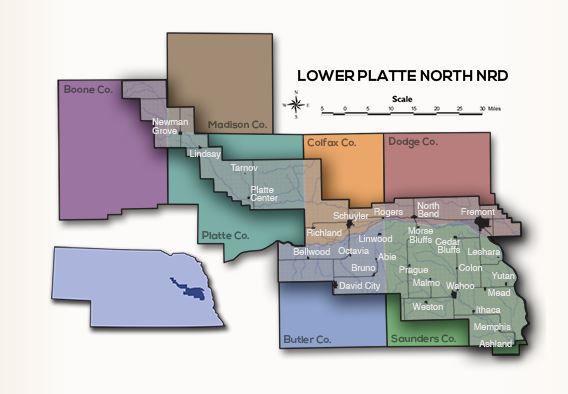 The Lower Platte Natural Resource District (NRD) serves a broad swath of land that drains into the segment of the Platte River from Columbus to Ashland. It includes parts of seven counties and 28 communities with more than 1 million acres of land, according to its website.
Its 19-member board of directors guides the district's involvement in conservation-related areas including water quality and quantity, soil erosion, wildlife habitat, wetland protection, flood control, recreational lakes and trails, and environmental education.
Directors are elected at the general election to four-year terms, with half of the board members up for election every two years. The district is divided into nine subdistricts. Two directors are elected from each subdistrict, and one director is elected at large.
The contested races are Subdistrict 1, Subdistrict 7 (Northern Saunders County), Subdistrict 8 (Wahoo/Colon) and Subdistrict 9 (Southern Saunders County).
Subdistrict 1, which encompasses part of Fremont, is currently run by board members Lon Olson and Kelly Thompson. But in this election cycle, Olson faces a challenge from political newcomer Leon Bracker. 
Nancy Meyer and Bruce Williams will vie for the vacant Subdistrict 7 seat while Roger Harders and Jerry Johnson will vie for the vacant Subdistrict 8 seat. In Subdistrict 9, incumbent Don Veskerna is facing challenger Helen Raikes.
Uncontested candidates are Thompson (Subdistrict 1-2 years), Frank Pollard (Subdistrict 2-Fremont), Bill Saeger (Subdistrict 2, 2 years-Fremont), David Saalfeld (Subdistrict 3-Southern Dodge County), Mark Seier (Subdistrict 5-Northwest), Joseph Birkel (Subdistrict 6-Northern Butler County), Alex Kavan (Subdistrict 8, 2 year-Wahoo/Colon), and Gene Ruzicka (at large). All uncontested candidates are incumbents.
Directors receive a $60 per diem for attending meetings and other duties, and the total amount cannot exceed $3,600 annually.
Subdistrict 1 candidates
Lower Platte North NRD
Bracker is a substitute teacher with Fremont Public Schools and a former full-time elementary school teacher who taught at Linden.