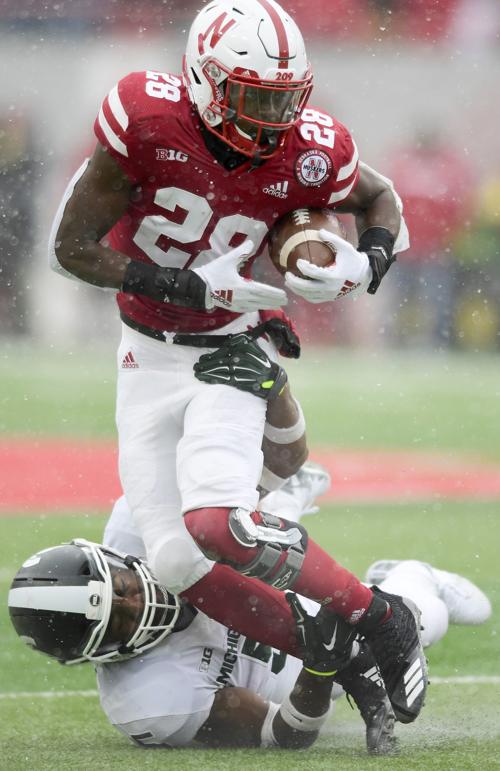 Sophomore running back Maurice Washington's future with Nebraska looks cloudy at best after Husker head coach Scott Frost announced Monday that Washington will not play against Indiana and, "is not part of the team going into this week."
Long-term, Frost said of the Stockton, California native's status in the NU program, "I think it's still to be determined."
"I don't see him being part of the plans for the immediate future," Frost added.
Washington did not practice during the bye week — Nebraska had organized workouts Tuesday, Wednesday and Friday — and he was not at Monday's practice, Frost confirmed. He was not listed on a weekly depth chart released Monday, though he is still listed on the team's roster.
Asked if Washington is still enrolled in classes, Frost said, "As far as I know." UNL students are still on fall break, and Washington is listed in the online UNL student database as of Monday afternoon.
Frost disagreed with a reporter who suggested Washington's absence sounded like an indefinite suspension — "those are your words, not mine," he said — but he did confirm that the current hiatus is not related to the criminal proceedings playing out against Washington in a California court.
In February, Washington was charged with two criminal counts, including a felony, in Santa Clara (California) County Superior Court. Washington allegedly sent a short, sexually explicit video to a former girlfriend, who appears in the video and was underage at the time it was made. Washington is not in the video, nor was he present when it was recorded.
The case has not progressed past the preliminary stage over the past 10-plus months and Washington's next court date is Dec. 12.
Washington was limited during spring ball and didn't play in the Red-White Spring game as the court proceedings began, but at one point near the end of spring, Frost complimented Washington for being a good teammate and said in April, "Overall, I think Maurice has done a good job of trying to stick to the norm."
Somewhere along the way, though, that changed.
Washington has been suspended for the first half of two different games this fall. Frost, in conjunction with athletic department and university leaders, decided Washington would sit the first half of Nebraska's season opener against South Alabama as punishment related to the criminal proceedings. Then, Frost held him out for the first half Oct. 5 against Northwestern because of a violation of team rules.
"There's certain standards that we ask our players to uphold," Frost said Monday. "When those standards are not upheld, it doesn't matter who it is, they're not going to be part of our plans."
Washington compiled 676 offensive yards as a freshmen even though he didn't qualify academically until the day before Nebraska began preseason camp and didn't arrive until Day 2 of practice. This fall, he started fast after the initial suspension, compiling 417 offensive yards (9.7 per touch) and three touchdowns in three full games covering the second half against South Alabama to halftime against Illinois on Sept. 21.
Washington, though, missed the second half against the Illini because of an apparent head injury and since then has just 43 total yards on 19 touches.
Frost said even with the benefit of hindsight he wouldn't have handled Washington's situation any differently over the past year-plus, but that clearly it hasn't worked out the way he hoped it would.
"I wish things would be a little bit different," he said. "Coach (Tom) Osborne was this way; he wasn't quick to crumple kids up and throw them away. Some of the kids that are in some the situations, if they're gone out of this program, that road doesn't lead to very many good places. So, as long as I'm here, I'm going to try to help these young men as much as I can. That's a promise I make to their parents when I sit in their living room and tell them we're going to try to help them no matter what.
"There are certain things that they know if they do I'm not going to help them and they're on their own, but I want what's best for all of these guys."
Frost didn't categorically close the door on Washington returning to the team at some point, but there also doesn't appear to be a clear path to Washington's return.
"We're going to try to continue to (players) as long as they can be helped," Frost said. "There always can come a point where you have to throw your hands up and say, 'we tried.' But until then, we want to do what's right by them. I think that's the right thing to do. We certainly tried to do everything we can for Mo, and hopefully it works out well."
Be the first to know
Get local news delivered to your inbox!