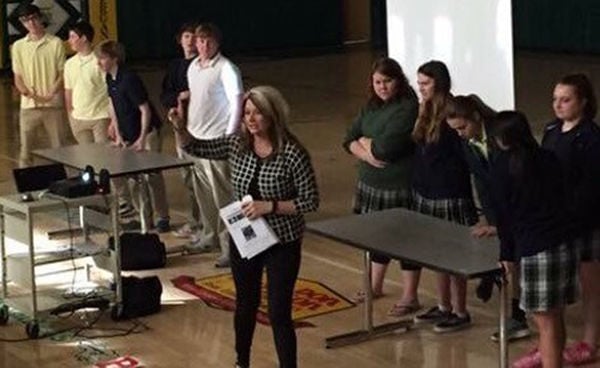 When it comes to battling bullying, Stacey Lichtenberg has been making some good ground.
She recalls a student, who'd heard her speak several times — and how those talks had helped that person to identify and get out of an abusive relationship right away.
Another student also responded to Lichtenberg's advice, which included: thinking good things about oneself each day and to stop having contact with people until "they can treat you the way you deserve to be treated."
"She was very teary-eyed," Lichtenberg said, "and she said she just wanted to thank me, because she did that, and she has never regretted the decision to do that, and she feels more confident as a person than she ever had before."
Lichtenberg is the community education coordinator for The Bridge, a Fremont-based agency which provides services in a five-county area for people who experience domestic abuse.
Last year, Lichtenberg provided 572 presentations to more than 7,000 students, from preschool through college.
She visits schools about once a month throughout the school year, building relationships with students as she talks about a host of topics, which can include, healthy relationships, tolerance and bullying.
Lichtenberg said statistics indicate that someone is bullied every seven seconds in the United States and about 162,000 students stay home from school every day due to bullying.
"It's so prevalent and it's how people are treating one another all of the time," she said, adding, "It's important to make sure we understand it's a repeated behavior and it's not a one-time behavior."
Sometimes people will simply say, "It's just kids being kids."
"If it's harmful to a person's self-worth, then it's not 'kids being kids.'"
Other experts would agree with Lichtenberg, also listing the harmful effects bullying can have on students.
Statistics from stopbullying.com report that students who are bullied are more likely to experience headaches, stomach aches and sleep problems. They're more likely to have depressive symptoms, high levels of suicidal thought and attempted suicide.
When she speaks to students, Lichtenberg and her listeners talk about what bullying looks like: a person repeatedly imposing his or her will on another individual to make that person feel intimidated.
Students know this can mean continually excluding someone from a group or activity; picking on them; call them bad names, spreading rumors. It can involve hitting, punching or shoving.
Social media has added another dimension to bullying. Years ago, students may have been bullied, but it was done by the end of the day.
Now, because of social media, it can happen 24 hours a day, seven days a week.
"So they never have a break," she said.
Lichtenberg notes something else about the cyberbullies: "It's easier to be super vulgar and mean when you're behind a screen.
"When you're not face to face with the person being the target and you can't see their reactions, then it's easier to desensitize your reactions to that — and the effects you're having on another person, because you're not witnessing it."
The Bridge partners with 15 different schools in Dodge, Burt, Washington and Saunders counties. The goal is to also go into Cuming County schools. Lichtenberg has begun helping schools to develop curriculum based on their own special needs.
Each month during the school year, she will go to a school and have a 30-minute activities in individual classes. The teachers build on that. Her work is part of what the schools are implementing.
Lichtenberg said one of the biggest ways to stop bullying involves The Bystander Effect: If students see, hear or know something that's not right, they will step up and speak out to stop it; find an adult to help if they can't; or distract the situation from happening.
"The more times we do that — it has been proven — it will reduce the amount of bullying or interpersonal violence onto other people by 50 percent," she said.
Lichtenberg talks about bystander intervention tactics: direct, distract and delegate.
She teaches these to students from fourth grade through college.
Lichtenberg is pleased when she hears about students, like the student who gained more confidence or the person who immediately recognized and left an abusive relationship.
"That's ideally what I want to happen above anything else is for people to identify their own self-value and to end any type of abusive relationship immediately, because we know that will prevent any future violence and/or potential homicide in that relationship if it would go further," she said. "Bullying, teen dating violence, domestic violence and domestic homicide are 100 percent preventable.
"Every domestic homicide is 100 percent preventable, because there are always pre-incident indicators that lead you to know where that relationship is going. Always. And it starts with bullying — people feeling that they have the right to have that power over another person."
She notes something else:
"It's not hard to go through the day without harming another person," she said. "…I can go through my whole day without hitting anyone, calling anyone names, starting rumors about them or intimidating, harassing or threatening them … to me, it seems like basic human decency."