U.S. Agriculture Secretary Sonny Perdue, Nebraska Agriculture Director Steve Wellman and Gov. Pete Ricketts visited the Costco chicken processing plant in Fremont on Dec. 12, 2020.
The three were taken on a tour of the facility, which started operations in September. The plant, operated by Lincoln Premium Poultry, provides Costco with 2 million chickens each week.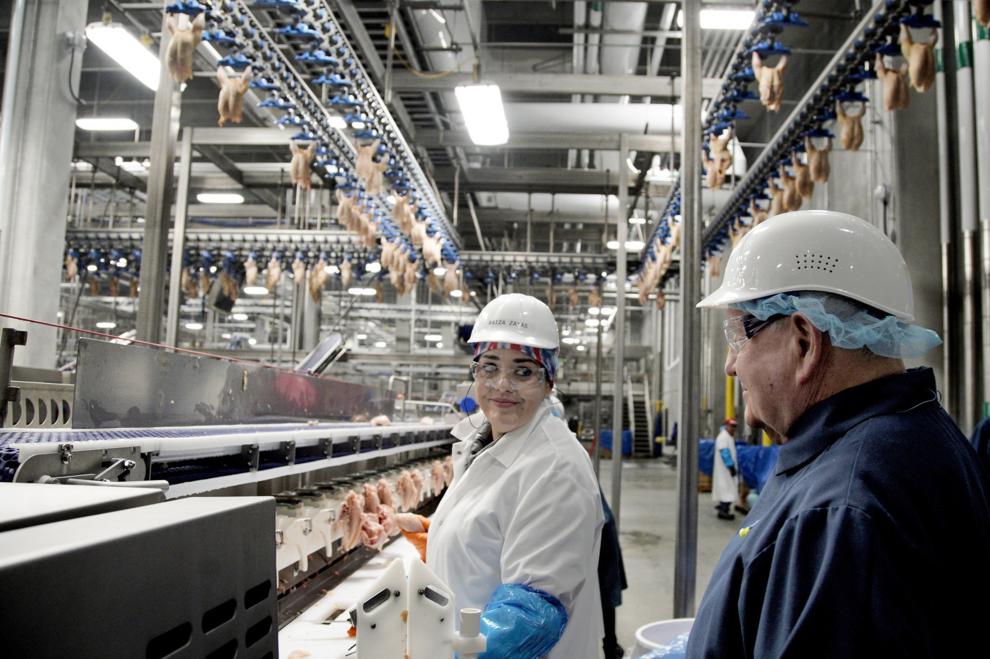 The group also held a press conference that morning with Lincoln Premium Poultry COO Walt Shafer, where Perdue commended Shafer and CEO Bill Crider for their work on the facility.
"From the handling of the birds, the really humane treatment of the birds coming in, to the outgoing of a healthy, safe product is pretty phenomenal," he said. "I told Walt he's got to be a proud papa here having been in the design and then the building."
Perdue was appointed by President Donald Trump as the secretary of agriculture in 2017. He was previously the governor of Georgia from 2003 to 2011.
During his visit, Perdue said he saw many differences between the Fremont facility and those closer to his home state.
"With all the processing, I mentioned one factor: It looked like the deboning process, mechanically, was better than I could do by hand," he said. "And so it delivers a consistent product, which is what the consumer is looking for."
Perdue said Costco has effectively used integration with its producers. The plant has produced a safe, reliable and healthy product, which he said begins with growers in the field.
"It's just a great ecosystem that develops," Perdue said. "It allows us, the United States, to enjoy the lowest-cost food in all the developed world. It takes things like this to continue. This is cutting-edge."
Ricketts said the Costco facility uses 341,000 bushels of corn and 3,000 metric tons of soybeans every week, or the equivalent of 2,000 acres of corn and 3,000 acres of beans.
"Think about what that means for the basis of these local farmers," he said. "So this facility is going to do a lot for our family farmers in Nebraska."
The facility has allowed 100 farm families to build equity in their operations, diversify their revenue stream, and most importantly, bring young people back to the state, Ricketts said.
"That's what we see with Hannah Borg up in Wakefield or Joe Schulz in Seward County, you're getting young people coming back out of the University of Nebraska, going back to the family farm because they've got the opportunity here."
Ricketts and Perdue also spoke about protests against poultry plants like the facility in Fremont, which Ricketts called "anti-agriculture" in a statement issued last September.
Although he had seen legitimate concern by neighbors to the plants, Ricketts said the real concern should be "extremist environmental groups."
"We want to address the concerns of Nebraskans who want to talk about some of these issues, and I think as we get this in operation and people can see how these poultry barns, how this facility works, a lot of those questions will be answered and we'll be able to move on," he said. "But the outside environmental groups, those extremist groups, they're always going to be against animal agriculture."
Perdue agreed with Ricketts and said he believed it was an issue of the neighbors fearing what they don't know.
"I would invite any Nebraskan that's concerned about these facilities in the area to come to Georgia, come to the Carolinas, come to Mississippi, come to Alabama, come to Arkansas," he said. "This industry's thrived down there, and I think it's a new deal for Nebraska, frankly, where the source of feed is, there's a great demand for corn farmers here, it provides that, as well as recycling an organic fertilizer onto those crop fields."
In regard to poultry processing taking over beef in the market, Ricketts said there's still room for both.
"The Cuming County Cattle Feeders came down to help support in the county meetings getting the permitting for these poultry barns," he said. "So they understand that growing the pie by having more livestock, more animal agriculture, that's good for Nebraska."
Perdue said since beef processing requires more labor, as opposed to poultry processing's automation, it has been able to gain a larger market share, along with pork.
"The technology you see here is allowing American families to spend less of their food dollars or their disposable income on food than anywhere else in the developed world," he said. "That's what it takes, because when you're a lower-cost producer, that means American consumers are the real beneficiaries of what's happening from the farm and that effort all the way through the processing to the retail side."
Wellman said the plant sees that customers want to be able to make a decision on the food they're buying.
"This is another example of a choice for the consumers," he said. "And then back to the family farms, certainly the grain producers and everybody involved, it adds value to their operations."
Ricketts also discussed the potential for flooding in the state next spring and the state's efforts to protect farmers. He said he was talking with the governors of Iowa, Missouri and Kansas as to how to assist the Army Corps of Engeineers' management of the Missouri River.
"I'm most concerned about what's going to happen along the Missouri, and that's where we're really going to have to keep a close eye on this, and that's why I'm working with the governors from those other states."
Perdue also confirmed that the United States Department of Agriculture was investigating a fire at a Tyson beef plant in Holcomb, Kansas, and the subsequent drop in price for cattle and jump in price for boxed beef.
The USDA is looking into data with the Agricultural Market Service to ensure there are fair and transparent markets, Perdue said.
"We're still outside the norm, in my opinion, of what that delta should be and whether there's too much concentration in the packing industry or whether we need to see farmer co-ops in that area," he said. "We're looking for all solutions in that area."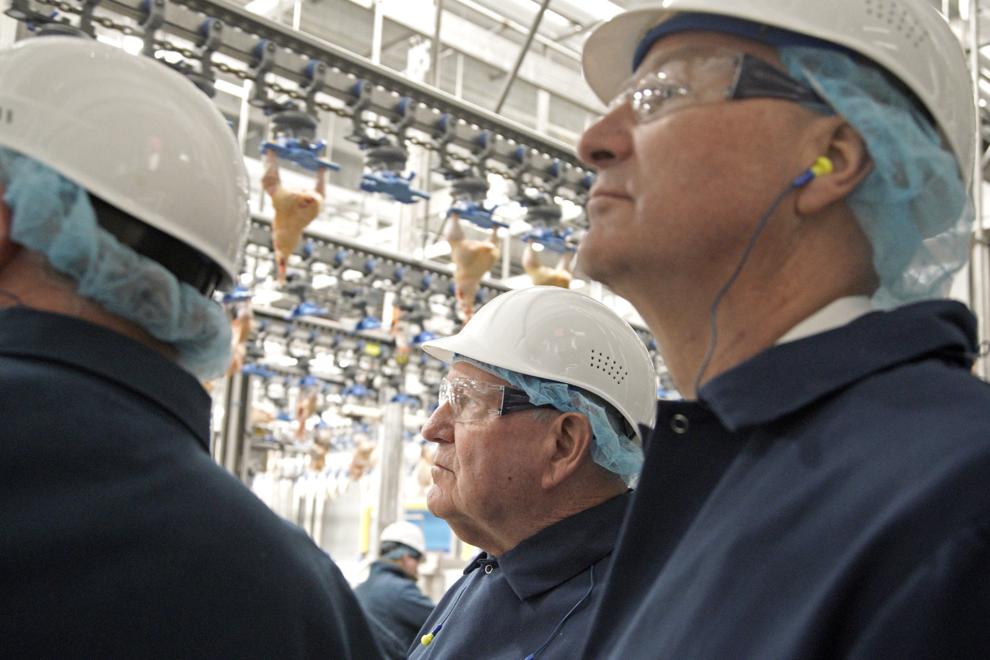 Perdue and Ricketts also talked about the Trump administration's tariffs imposed on China last year, which has resulted in a trade war.
"We've been in an economic war with China for 20 years, and the sad fact is we have not recognized it," Perdue said. "President Trump wants to reset that relationship."
Although prices have been going down in recent years for the agriculture economy, Perdue said he believes Trump's actions will help farmers in the long run.
"Any time you have to change things, sometimes even medically, we have to go through pain in order to get better," Perdue said. "President Trump is committed to better the ag economy, and I think we'll look back at this as a blip."
Perdue also said the United States-Mexico-Canada Agreement and agreements with countries like Japan, Korea and Brazil, along with China, will help the country move forward.
"I think we're making progress, when you reset that trade relationship," he said. "We had become too dependent on China, and they started steering the ship about what they were taking from us rather than us having a free commercial trade interaction."
Ultimately, Perdue said he wished the situation would not have escalated to this point, but the ball is in China's court.
"It's got to be more consistent from a trust-customer-provider standpoint, rather than state-owned enterprise, kind of manipulating and harassing free commerce out of our country," he said.
Ricketts said despite trade being cut with China, agriculture exports were up by $226 million last year. He also said while $119 million worth of corn was shipped to the country in 2013, it was down to $11 million the next year.
"That was China being an inconsistent trade partner," Ricketts said. "Now, what we'd like to see from Nebraska is a trade partner that consistently grows their business with us over time and is not one just to cut us off here and there and be disruptive."
On the topic of Trump, Perdue said he didn't see any evidence of Trump being bothered by the impeachment hearings currently taking place.
"I see an Energizer Bunny that just keeps on going," he said. "Frankly, I wonder myself how in the world I could compartmentalize all the things that are dumped on him on a daily basis."
Jane Kleeb, chair of the Nebraska Democratic Party, was critical of Perdue's appearance in Nebraska this week in a statement posted online Thursday.
"Whatever Perdue says today, he can't spin Trump's trail of broken promises to Nebraska farmers," she wrote. "This administration has spent nearly three years sparking erratic trade wars, blindly following orders from powerful corporate executives and ignoring the needs of struggling family farms."
Perdue said he spoke to the Farmers Business Network in Omaha Thursday morning on the topic of sustainability in agriculture for family farmers. He said this can be through discovering different types of niches, production and crops, including hemp.
"The technology and innovation out there today, optic technology, sensors, using less water, using less inputs with more productivity, that's what it's going to take to make the family farmers survive," he said. "And it takes all of us."
PHOTOS: U.S. Agriculture Secretary Sonny Perdue visits LPP