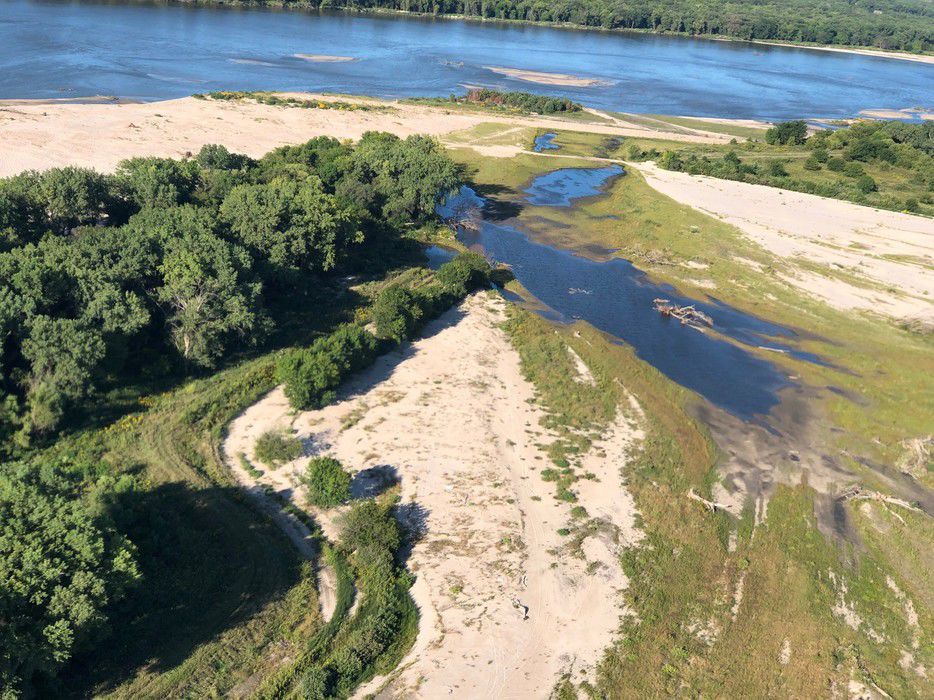 The Ames Diking District is close to beginning work on creating a permanent repair to a thousand-foot breach in its dike from last March's flooding.
ADD's president, Grant Hansen, said the U.S. Corps of Engineers is nearing an official contract for the dike, but he's still waiting on official word from the Corps.
He said the contract was supposed to be officially awarded this week.
"We're supposed to sit down and have a pre-construction meeting and then they'll turn the contractor loose and get them going," he said.
A temporary repair for the breach is currently in place, but Hansen said the district needs a permanent solution sooner rather than later.
"I'm trying to get things going as quickly as I can," Hansen said. "I've had way too many roadblocks and delays for this project. It's been a very complicated and difficult project to get to this point. I'm trying to get this done before water levels rise again."
While Hansen said the dike is at the mercy of mother nature, the forecast for flooding isn't as formidable as it was in 2019.
"We do not have the situation we faced in 2019, there's no heavy snowpack right now," he said. "Right now we stand a decent chance of being able to get out of this thing."
The temporary dike, made up of sand and tree debris, has held back water on four separate occasions since it was initially placed. Hansen said the temporary dike has done its job, but he had to fight the Corps to even get it there in the first place.
"I had to fight and fight and fight with the regulatory side of the Corps for close to two months to be able to get them to allow us to put the emergency structure in," he said.
He said the Corps' regulatory side was more concerned with protecting endangered species such as the Pallid Sturgeon, rather than the people and land who would be affected by the breach.
"...The regulatory side didn't quite see the concern of the endangered American farmer, his farmground or the people of Fremont," he said.
Greg Mellema, the Ames Dike project manager from the Corps of Engineers, said these issues are not outside the norm when it comes to dike repairs.
"Every levee system is unique in a way," he said. "There isn't a specific time frame for repairs. Repairs can go smoothly, it just depends on the levee system."
As of now, Hansen is still waiting to see if that temporary dike will be allowed to remain while the permanent repair takes place. He said he's under a mandate from the regulatory side of the Corps that would require the dike to be removed by March 1.
He said he filed a request to extend that deadline so there would be enough time for the permanent repair to be completed while the temporary dike remains in place to minimize the possibility of water coming out.
As of now, he only knows that the Corps has taken that request "under advisement."
"The construction side of Corps of Engineers appears to be on my side, we just have to convince the regulatory side to go along with that," he said. "They still have not given me an official yes or no. Regulatory and I do not get along too well together. I'll stand out there in front of them to see that thing stands in place."
Mellema said that the Corps' will provide an equivalent level of protection on the damaged portion of the dike before the temporary dike is removed, as stated in the Corps' contract with the district.
"There are regulatory issues related to that," he said. "...I think we're on the same ground there."
Ames Diking District was awarded a $485,000 Community Development Block Grant to cover its 20% cost share of the estimated $2 million cost to repair the breach.
That grant didn't come without its share of issues, either. Hansen said the district was initially denied funding from several government agencies including the Federal Emergency Management Agency and Nebraska Emergency Management Agency.
You have free articles remaining.
Hansen said they were initially denied funding since the district was already splitting the cost with the Corps, another public agency.
"They couldn't help because we were working with the Corps, so it was double-dipping," he said.
That meant the district was left with little options to cover their 20% share of the repairs.
"We didn't have that kind of money sitting around in the bank," he said.
Most of the district's funds were spent on the temporary dike, which Hansen said was money well spent.
"I don't regret one bit putting that structure out," he said.
Months later, a change in state law allowed smaller entities such as Ames Diking District to apply for a CDBG, as long as they partnered with another agency.
The district ultimately partnered with Dodge County to receive the grant, but Hansen ran into another problem.
The Corps required an upfront payment for the district's share in the repair before work could begin. That wasn't possible since Hansen said CDBG pays by invoice, meaning the work would need to be completed before funds were made available.
"We had two competing government agencies that wouldn't budge," he said.
The district looked into taking out a loan from a bank but failed there as well. Ultimately, the district went to the Dodge County Board of Supervisors, where they were awarded additional funding to cover the project.
The whole process added an additional month onto the process, Hansen said.
"There were just so many hoops to have to jump through to get them all to sign off on the project," he said.
Mellema said the process wasn't ideal, but the Corps was willing to work with the district.
"It's certainly not ideal, but it's not unusual either," he said. "Given the issues that we had with matching funds, that took a little while to get arranged."
Once the contract is officially awarded, Hansen said the clock starts for the contractor. He said the Corps of Engineers told him the contractor will have 90 days to complete the project. Hansen said he hopes there is some leniency given to that window given the difficult conditions the contractor will need to work in.
"The ground is frozen," he said. "A lot of sand will be used, but a large amount of fill dirt will go in over the sand and rock over quarry for riprap on the water side. We're asking a contractor to work on frozen ground under conditions that are not ideal."
Mellema said the Corps' will be lenient with the contractor if severe weather delays work, but it shouldn't hamper progress much.
"We can work with the contractor," he said. "If the weather conditions are phenomenal and they can finish ahead that would be great. There are difficult conditions, but we have levee repairs going on across the Midwest.
Since March 2019, Hansen said he has jumped through countless hoops to get to this stage. He's ready for the breach to be sealed.
"I've been living this thing since March and I've got a responsibility to get this thing fixed, and I'm gonna get this damn thing done," Hansen said. "I'm not going to let anybody else get flooded from this thing."
Every levee system comes with its own unique problems and issues, Mellema said.
"It just takes some time and I felt like we did a good job," he said ."I believe we had a good working relationship with (Hansen)."