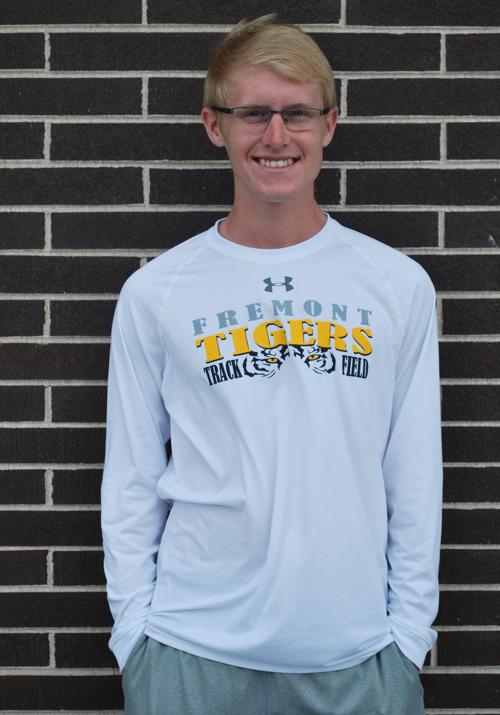 Ask the majority of graduating high school seniors planning to attend college what they want to study and most of them will be able to give some sort of answer.
Many say they want to study education, business or take the pre-medicine route.
Others want to become registered nurses, and others plan on studying psychology and sociology.
Alex Rohlfs, though, plans on taking one of the less traveled paths.
The 2016 graduate of Fremont High School plans on studying Actuary Science at Drake University in the fall, while also competing in track and cross county.
Numbers and business are two of the things Rohlfs enjoys most, and he plans on incorporating the pair with whatever job opportunities present themselves down the road.
"I took a Stats class in high school and it's been my favorite class I've ever taken," Rohlfs said during a Friday interview at the Tribune. "I really enjoy numbers – business and numbers, and that's why I really enjoy it."
Rohlfs' college pathway is certainly unique, but so is his level of dedication to his community.
At only 18 years old, Rohlfs has already impacted Fremont in ways far greater than many people twice his age.
He was recently recognized by the Fremont Area Chamber of Commerce as one of its three recipients for this year's Compass Leadership awards, given to people in the Fremont Community who go above and beyond in terms of service.
On Monday, Rohlfs, Pam England and Vern Gibson will be recognized for all of their hard work during the annual Leadership Banquet held at 6:30 p.m. at Fremont Golf Club.
Being a recipient of the award shows Rohlfs that he really is making a difference.
"It feels really good, because now that high school is done I feel that all of the hard work that I've done is really paying off," he said. "All of the leadership roles I have had are actually meaning something."
During his time at FHS, Rohlfs was a two-time president of the Future Business Leaders of America, vice president of National Honors Society, president of National Business Honors Society, two-time member of student council and captain of the cross country team.
In terms of community service, Rohlfs was the leader in jump-starting the Jackson 5K Walk and Run, dedicated to the memory of Jackson Blick, who passed away with two other Fremont teens in a June 2013 car accident.
For the past three years during the anniversary of the accident, Rohlfs has hosted the walk and run that raises money for the Jackson Blick Scholastic Fund.
"I started doing this because after the year anniversary of the accident, I knew it was going to be a tough time for a lot of people – the families and people at the high school," Rohlfs said. "I thought that we should do something positive around that time to help bring the community together during a sad time of the year to do something positive, to celebrate his life and his passion for running."
During the first two years of the event, more than 500 people attended, showing their support and raising money that goes toward something beneficial.
Rohlfs said that whether people are young or old, anybody can make a huge difference if they just put their mind to it. It all starts with having the drive to facilitate change.
"You really just need to have a purpose for what you are doing," he said. "It needs to be genuine and come from the heart."