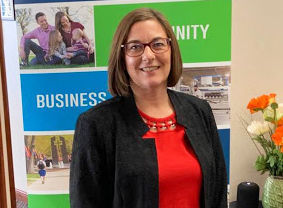 After almost 10 years in her position, Barb Pierce will step down as existing business director of the Greater Fremont Development Council.
Pierce will take on a new position at the Nebraska Department of Economic Development as the Northeast Nebraska Housing Program representative.
"Though I'm super excited about my next opportunity representing my home state of Nebraska," she said, "I'm experiencing a lot of emotion at the prospect of saying goodbye to my GFDC board and colleagues, Greater Omaha Chamber partners and the myriad of education and nonprofit friends I've made over my nearly 10 years with the GFDC."
March 1 would be Pierce's 10-year anniversary, as she joined the GFDC in March 2010. A Wayne State College graduate, she worked with planning GFDC events and working with local businesses in their growth.
Pierce said she was proud to work with former Interim Director Doug Heim to join the Greater Omaha Economic Development Partnership and former Executive Director Cecilia Harry on a five-year investment campaign.
Now with Executive Director Garry Clark, she said she's enjoyed working with him on the creation of the Dodge County Investment Fund to support housing development.
You have free articles remaining.
Pierce said she was also proud of working with Fremont Public Schools and Metropolitan Community College to create the Fremont Area Diesel Tech Academy, as well as creating youth-registered apprenticeship programs at Fremont High School with the Department of Labor.
"These programs, though still in their early stages of growth, with community support, will grow and move the needle of talent retention by giving our transitioning workforce a head start in finding a career pathway suited for them," she said.
In the fall of 2019, Pierce also worked with nonprofits and education partners on the Work Ready Community initiative, which is paving the way for Dodge County to become the second in the state to be certified as a Work Ready Community.
"I'm passionate about this program because across the nation, it has proven to lower company turnover rates and decrease hiring expense, thus allowing room in company budgets for talent attraction beyond our borders," she said.
Moving on to the next step in her life, Pierce said she's excited about the future in her new position at the NDED.
"Housing is yet another piece of the workforce puzzle and an essential part of the solution to addressing labor availability challenges for rural America," she said. "I'm looking forward to serving communities in this capacity."
During her time at the GFDC, Pierce said she's had the pleasure of serving under some excellent executive directors and exemplary board members.
"I am thankful for all the well wishes I've received from the community and will miss working alongside the incredibly talented GFDC staff and dedicated board of directors," she said. "Fremont is poised for many more future successes, and I'll be cheering them on."