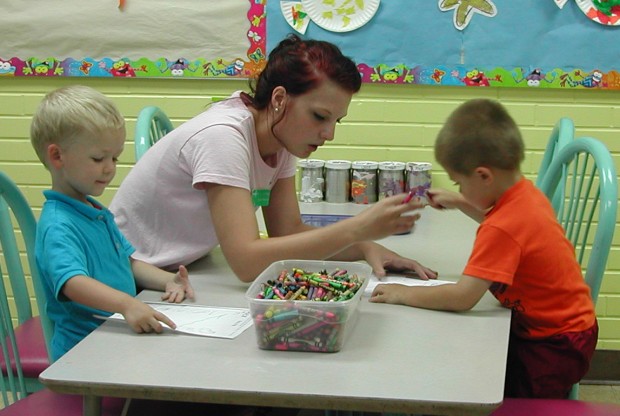 Although Nebraska has been one of the few states to go without a child care resource and referral website, Angel Mayberry said the COVID-19 pandemic has changed that.
"It was something that had been discussed at the state level, but it did not come to an absolute necessity until right now," said Mayberry, an early learning connection coordinator for Educational Service Units 2 and 7.
The Nebraska Child Care Referral Network went live at nechildcarereferral.org on Monday, allowing families in Nebraska to search for the right child care centers around them.
The website came together in about nine to 13 days from a collaboration between early childhood organizations and advocates, Mayberry said.
Partners include the Nebraska Department of Health and Human Services, Nebraska Department of Education, Nebraska Children and Families Foundation, Nebraska Extension, First Five Nebraska, Nebraska Early Childhood Collaborative, Buffett Early Childhood Institute at the University of Nebraska, Nebraska Early Learning Connection and other state and local partners.
Mayberry said the state previously used a searchable PDF to provide to people looking for child care, but it wasn't user-friendly and didn't allow for specific searches.
"It also didn't provide much input on the quality of the child care environment," she said. "And so the nice thing about our Nebraska Child Care Referral Network is all of those things are going to be on our website."
The website allows people to search for child care centers within a 30-mile radius from their location. Because groups have been limited to no more than 10 people, centers are categorized as open and accepting new children, open and not accepting new children and closed.
"'Closed' could be just a temporary closing right now, so I don't anticipate the closed feature being on our site after the pandemic is over," Mayberry said.
Families can also check what age groups the center is accepting, whether or not it is a participant of the Step Up to Quality system and whether it accepts financial assistance.
"So our Title 20 families who are receiving government assistance to pay for child care can search through this and find those who are accepting it," Mayberry said. "Because a lot of times, it's super frustrating for a family who's desperately seeking child care to have to run through a list of people who do not accept funding, so it's a time-saving factor."
Patrice Mendlik-Vakiner, director of Trinity Lutheran Early Child Care Center in Fremont, said the new website is an excellent addition to the early childhood field with its networking capabilities.
"I think it's a great way for daycares to collaborate and reach out with one another and communicate back and forth what spots we have open, what we're doing, how we can help families in the community, that kind of thing," she said.
The networking aspect is especially important due to child care centers being limited to how many children they can have at a time, Mendlik-Vakiner said.
"We have a large facility, so we're blessed to be able to service more groups and more families," she said. "But it's important for those that are getting ready to go back to work, and some of those early childhood centers are not able to service those families due to the restraint of how many we can have in a group."
Lily Bowman, director of Salem Little Saints Child Care, said the website is the perfect way for parents to get access to available child care centers.
"There are lots of parents that are still needing to go to work that aren't able to work from home, but with this, they're able to find quality child care within reach instead of trying to find family members or a babysitter that's able to watch their kids," she said.
Bowman said she was pleased by the website's ability to sort licensed child care providers by age group, their enrollment in Step Up to Quality and ability to take subsidy.
"I think it's a great program," she said. "I believe that they've been trying to figure out something like this for a while now, and it's great that it's come about."
As for the future of the website, Mayberry said she doesn't see it going away after the pandemic is over.
"That was one of our biggest discussions, is we were going to put so much dedication and time and effort into this system," she said. "And since Nebraska was one of the few who didn't have an online network for referrals, we really were strong about this needing to stay sustainable past the pandemic."
Mayberry said she believes the website will have an impact on assisting families in finding the right quality child care they need and will continue to receive feedback as it moves forward.
"It really was a very large collaborative effort with many, many partners," she said. "So I just would really like the communities that I'm serving to know that there's something available."
Concerned about COVID-19?
Sign up now to get the most recent coronavirus headlines and other important local and national news sent to your email inbox daily.