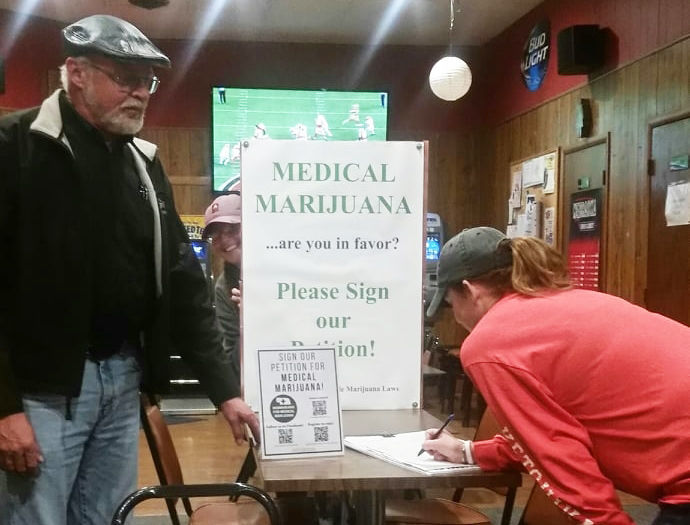 As the 2020 election draws near, a member of the Fremont City Council has been volunteering with efforts to get the legalization of medical marijuana on the Nebraska ballot.
Since last summer, Mark Jensen has been working as the volunteer county coordinator for Dodge County for Nebraskans for Medical Marijuana.
"We're looking to amend the Nebraska Constitution to provide the right to use, possess, access and safely produce cannabis and cannabis products and materials for serious medical conditions as recommended by a physician or nurse practitioner," he said. "This has nothing to do with recreational; this is strictly on the medical end of it."
Jensen has been taking signatures in Dodge County and surrounding counties, most recently at the Big Red Keno in Fremont last Saturday afternoon.
"I've done this in Big Red mostly, but a couple other places too, like over the lunch hours and stuff," he said. "I'm not soliciting or bothering, I'm just setting up, and if people are interested, then they can come talk to me and sign the petition."
Other petition drive volunteers for Dodge County include Cathy Davis, Gwen McGoveran, Tracie Hephner, Ramie Reyzlik and Jensen's son, Nate.
Nebraska, South Dakota and Idaho are the only three states to prohibit the use of marijuana as a medical treatment for issues such as pain, epilepsy or multiple sclerosis.
According to a poll conducted by the Pew Research Center last September, around 91% of United States adults believe marijuana should be used for medical and/or recreational purposes.
To make the November ballot, the petition must receive around 100,000 signatures by July 2, as it must be 10% of the registered voting population in Nebraska.
"We need county support from all over. They can't just go into Omaha and Lincoln and pick up everything they need," Jensen said. "It has to be widespread. There has to be a certain percentage of people from other counties."
Since starting volunteer work, Jensen has turned in a couple hundred signatures. He said he was surprised about the ages of the people who signed, which ranged from 18 to 86.
"I was expecting it to be more toward the younger end, and really, that has not been the case," he said. "A lot of people, especially in the older population, are more interested in pain management and things like that."
Jensen said he's talked with people whose children have seizures and need medical marijuana. Some of them said they plan on leaving if the treatment does not become available in the state.
"I think it's kind of important," Jensen said. "It's just another tool in the belt for our healthcare officials and just something else we can use for health management, I believe."
When getting signatures, Jensen said each county needs to have its own petition page.
"Being here in Fremont, that's kind of problematic," he said. "We're within two miles from three different counties besides our own, so sometimes, we have to carry four or five different sheets just so we can get people on the right sheets."
The petition is also available for people to sign at different businesses, including Jensen Technology, Alohma and Chasing Clouds Vape Collective. Interested signers must ask first for the petition, as it is not out in the open, Jensen said.
"Signing this petition doesn't require you to vote," he said. "It's just to get it onto the ballot, and then it can be taken from there, is what we're trying to do."
Jensen said he's confident that the group can get the issue on the Nebraska ballot. Although the signature-collecting is all nearly volunteer work, he said paid petitioners may start at some point.
There's often a stigma when looking at marijuana recreationally, Jensen said, but the campaign is focused on the medical side.
"There's two separate questions, and there are some good arguments for both questions," he said. "But on the medical side in particular, in my mind anyway, it's something we really need to make available for the citizens and people in Nebraska."
Businesses interested in hosting an event or holding a ballot can contact Jensen at jensenmwj@hotmail.com. More information on where to find a ballot can be found on the Nebraskans for Medical Marijuana's Facebook page and website.
Get local news delivered to your inbox!
Subscribe to our Daily Headlines newsletter.