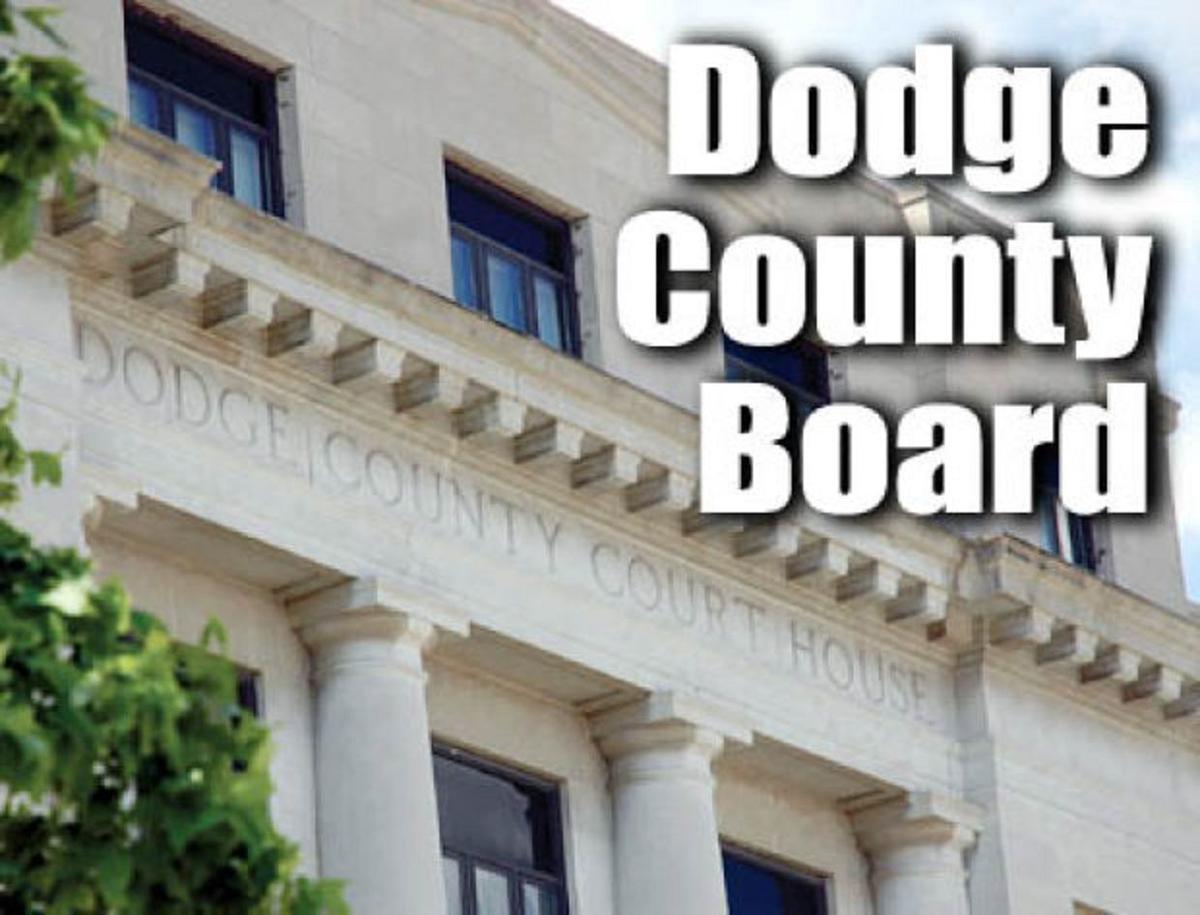 The Dodge County Board of Supervisors approved interlocal agreements with several townships to allow the county to hire engineers for the repair of flooded roads at its meeting Wednesday morning, Feb. 12.
The townships include Elkhorn, Maple, Pebble and Platte, but that number could grow, said Highway Superintendent Scott Huppert.
"Townships will still have their say in it, but I will be controlling the contractors, the paperwork and all that stuff," he said.
The agreements will allow the county to hire engineers and contractors, with the townships paying them through the county as well. The townships will also get to pick which engineer will work on what project, Huppert said.
"The township will still sign off on them and stuff like that, but it'll all go through me," he said. "Hopefully, this will work a lot better."
Huppert said he had arguments with representatives with the Federal Emergency Management Agency, who wanted everything to go out to procurement.
But after presenting the new plan to FEMA, Huppert said it liked the new method. Chairman Bob Missel said he thought this was important to get projects moving.
Huppert also updated the board on the ice jam on the Elkhorn River last week. He shared photos from a helicopter ride and explained the situation.
In other road news, the board approved setting a hearing on the One- and Six-Year Road Improvement Plan for Feb. 26 and project reimbursements of around $817,000 and $12,600.
The board also approved a notice of interest by Emergency Manager Tom Smith to identify flood mitigation projects that need funding from FEMA.
"Us saying, 'Well, we need to do this,' may not be the best solution for the entire county," he said. "So we're wanting to take a step back and say, 'Hey, give us the funding for a plan, and then we want to move forward with projects.'"
Smith said the projects will be separate from those that are currently being worked on with FEMA.
FEMA offers Section 404 hazard mitigation and Section 406 hazard mitigation funding. Section 406 funding is reserved for mitigation of damaged facilities.
"So if a culvert is washed out, is there any way we could mitigate it to make sure that culvert doesn't wash out again? Is it increasing the size of the culvert?" he said. "That's a simple mitigation project that is part of the 406 permit."
Comparatively, Section 404 funding allows for the mitigation of non-damaged facilities. Some communities get items like sirens or generators as a result, Smith said.
Smith said the Joint Water Management Advisory Board wants to work with the Nebraska Emergency Management Agency in identifying mitigation efforts like stormwater management projects and flood protection stabilization.
Missel, also a member of the board, agreed with Smith's plan.
"The Joint Water Advisory Board has long felt that just for peace in trying to pick what's next, we really need an overview of this watershed and how it affects us all," he said. "I felt this plan would be well worthwhile in the long run and save us a lot of money in the future."
You have free articles remaining.
Missel also said he'd like to see work done on the ditches east of Fremont, but agreed that the projects need expert work.
"We're aware of the projects that are out there, but that's really what we're missing," he said. "So it's hard for a governing body to sit here and say, 'You got to do this, this and this.' It puts us in an awkward position."
The board also approved to give the City of Hooper $40,000 for its new Dream Field baseball park. The money will come from Fremont and Dodge County Convention and Visitors Bureau Visitor Improvement Funds.
The new state-of-the-art baseball and softball facility is part of a $330,000 project expected to finish by June. Located in the Logan View School District, it will serve both youth and legion teams.
Funding from the CVB will be split in half between the 2019-2020 and 2020-20201 fiscal years, Executive Director Shannon Mullen said.
"The group felt like that $40,000 may be a little bit more in line with what they felt was good for this particular project, with the caveat that they could always come back to us if need be," she said. "There is some significant increases in lighting because they are going to go LED lighting, [the Omaha Public Power District] will put it in at no cost or at minimal cost to the city."
Mullen also said once the facility has finished construction, it will be turned over to Hooper as part of its property.
The old ballpark, which was established in 1950, had been in decline, with the lighting system becoming a safety concern. Mullen said the flooding also created a high need for functioning ballparks.
"And they've done some incredible fundraising," she said. "I think they're short $60,000 off of their total goal at this point."
In other CVB news, the board approved an additional $10,000 in funds from its Visitor Improvement Funds for improvements to the Dodge County Agricultural Society's facility and appointed Lisa Schole to its advisory committee, which Missel called an "excellent addition."
"She is a great outside influence for the county itself," Mullen said. "Lisa is the head of the Dodge County Fair, active in multiple community activities and is very anxious to come on the board."
During committee discussion, Supervisor Doug Backens mentioned that he met with the Joint Law Enforcement Committee on Friday as it met with architecture firms.
The Joint Law Enforcement Center will allow for a joint 911 dispatch for the Dodge County Sheriff's Office and Fremont Police Department. It has been in the works since 2011, with the land approved for purchase last March.
Backens said the architects saw no problem with the land and that room for a possible jail would be available. He also said the City of Fremont may put a bond for the project on the ballot this November.
Missel said all parties have been in support of the center and that the City wanted to get started right away.
"However financially, we had the Motorola project, a $10 million project, and then everything that's happened with the floods, we really said, 'We're interested, but not today,'" he said. "And so that's kind of where we're at."
In other news, the board also approved a refund of just over $1,000 to the Fremont Mall and an interlocal agreement with the Village of Inglewood to assist during emergencies and disasters.
During approval of financial claims, Missel said the county only moved $10,000 from its Flood Disaster Relief Fund account, which he called a record low.
"So that was encouraging," he said. "We still have a little over $1 million in reserves in that loan account."