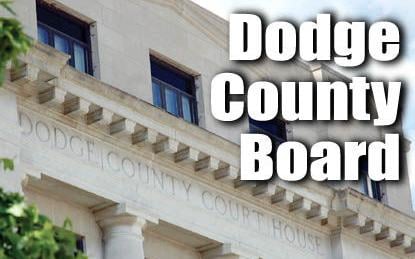 The Dodge County Board of Supervisors unanimously voted to vacate a section of a minimum maintenance road near Nickerson at its meeting Wednesday morning.
Several landowners who lived near the road attended the public hearing. The board previously voted to hold a public hearing on the closure of a three-quarter-mile portion of the road.
Highway Superintendent Scott Huppert said the dead-end road had been run down and trash had been dumped at the end of it.
"I don't see any problem [with the road's closure], as long as the landowners are all agreed," he said. "It can be closed down to me, as long as it's gated and locked."
Duane McKenzie said cars driving on the road when it's muddy have torn it up, causing issues for the nearby landowners.
"This has been a problem for a long, long time," he said. "Until they put the gate up, people would just drive down that road and abuse it something terrible for years."
Robert Mulliken said the road went downhill fast after a nearby arson incident and that he had no objection to the road shutting down.
"The main reason I want it shut down is the last time I was filling up pivot tires, someone put a target up on that road and started shooting down there," he said. "It's getting annoying. I don't like getting shot at."
Darrin Kiger, who uses the road to get in and out of his 164-acre property, said although he supported the road's closure, he was concerned about getting landlocked if it closes. He said he and his father would have to use river access to get to their property.
"The only way we can get there is by crossing another landowner's property, and right now, they've always given us permission to cross down there," he said. "If that road is locked, we would not have access to that."
Huppert said the owner of the refuge at the end of the road told him that he had no problem with letting Kiger use his property to access his.
After talking with the board, the landowners agreed to communicate and work out traveling on each other's property if the road was voted on to be closed.
"If they talk, I'm almost sure that they could work out something," McKenzie said. "Because I haven't had anybody tell me that they don't want that road closed."
The board voted to close the road 7-0. Supervisor David Saalfeld was not in attendance.
The board also held a public meeting and voted to continue electing a county surveyor rather than putting the issue on the general election ballot.
Clark Boschult, who currently holds the part-time position, said action had to be taken or else the issue would automatically go on the ballot.
"This is not really a one-and-done thing today. You have the option in two years to put it back on the ballot and let the public decide," he said. "But you do have to have that position."
After being asked by Supervisor Lon Strand, Boschult said other communities vary from full-time to part-time positions, with some counties even sharing a surveyor with other communities.
A public hearing was also held on increasing the Flood Disaster Relief Fund of 2019 from $8 million to $14 million, which it unanimously voted to do so.
"Well, we don't like to see it happen, but we're spending money," County Clerk Fred Mytty said. "We hope to start getting a lot of money back."
Missel said he saw the amendment as an accounting adjustment.
"Our hand's been forced to cover these costs upfront," he said. "We actually have seen a couple of checks from FEMA (Federal Emergency Management Agency) recently, and we hope there'll be a lot more to come."
Huppert said he's expecting close to $4 million from the Federal Highway Administration with seven upcoming projects.
"It's just, the paperwork's got to be right. I don't want this back-and-forth and back-and-forth, it just takes too much time," he said. "So we're going over it really fine."
The board also approved more than $600,000 in claims. Missel said he transferred $3,300,000 from the Flood Disaster Relief account into the county's checking account, leaving it with a balance of $1,700,000.
"Obviously that account is dwindling, so we'll keep a close eye on that," he said. "It just depends on the bills that come through."
The board also approved a contract with the Nebraska Department of Agriculture's Bureau of Plant Industry for a noxious weed control plan.
Weed Superintendent Larry Klahn gave an update on the 2019 efforts for weed control in Dodge County.
"It's been a very busy year because it was wet in the spring and then in most of the summer," he said. "One thing I will point out, you know with the flooding we had, our two river systems, the Elkhorn and the Platte, their footprint grew quite a little from what it did a year ago."
Klahn said weed management was about 500 acres, 40 of which were along the Platte River, totally to about a 120-mile stretch.
"The next year or two, it's looking pretty challenging, because in the last 12 years of being on the job, you kind of knew where the areas were," he said. "They didn't change a whole lot, but now I think we're going to have some changes."
After being asked by Supervisor Dan Weddle about the confusion about who owns what, Klahn said the Assessor's Office uses a geographic information system to keep track.
"It's a very simple system for me to get into and locate the landowners," he said. "It will bring up a Google Earth map and pinpoint where the problem is, and if you click on it, it will highlight the property owner. So that has helped immensely."
In other matters, the board renominated Missel as chairman, Strand as vice-chairman and Mytty as secretary for 2020. It also approved an interlocal agreement with the Village of Dodge and bake sale in the courthouse.
Get local news delivered to your inbox!
Subscribe to our Daily Headlines newsletter.