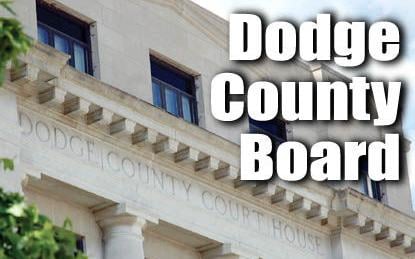 Dodge County Supervisors feel pretty good about their decision a year ago to load up on the gravel budget this year, and they may follow a similar path in 2014-2015.
Supervisor Rob George on Wednesday said this year's weather has presented "the perfect storm" for gauging the effectiveness of the move.
While setting the 2013-2014 budget, supervisors took advantage of an 8.05 percent valuation increase to decrease the levy by about 4.5 percent. Because the largest valuation increases were in agricultural land, however, the board decided to boost funding for gravel and roads projects, increasing the gravel line item by $475,000.
Supervisors on Wednesday said the impact on roads has been noticeable.
"The day after we got this four-inch deluge (last week) you could tell it rained, but the roads were passable," Supervisor Lon Strand said. "A lot of times after that, it's go at your own risk, so it's been a good experiment, and I think a good investment."
Supervisor Terry Synovec last year said most of his calls from constituents were adamant about getting more gravel on the roads. But he was one of several supervisors on Wednesday who said he hasn't heard any complaints this year.
"Last year," George said, "I got a lot of calls on roads ... but the amount we increased the gravel seems to be working good."
"I agree with Rob," Strand said. "I haven't had a single call this spring in regards to roads. I've actually had one saying, 'Halleluiah, what you did last year was a great idea.' "
"We probably had a perfect storm with this this year, to play with this to see how it goes," George said. "Next year it may change, but we're looking at staying the course at least for next year, and hopefully we have the roads up to a high quality so we can feather back a little bit as we go further."
Highway Superintendent Alan Doll said the roads are in good shape overall, but a few experienced minor flooding with last week's rains.
"In the North Bend area we had a lot of culverts plug up with cornstalks and then back up water into fields and across some of our roads," Doll said. "We did have some roads that we had to close down, and we'll probably have to go back out and townships will probably have to make repairs."
Supervisor Gary Osborn was absent on Wednesday.
Supervisors on Wednesday approved:
* Transferring $24,500 from the inheritance tax fund to the museum/historical society fund in increments of $3,500 a year over the next seven years.
Supervisors Chairman Bob Missel said the move is a result of a tax distribution error in which a computer glitch was blamed last month for improperly dispersing approximately $2.3 million in centrally assessed taxes during the 2011 and 2012 tax years.
Forty-seven entities that receive centrally assessed tax funds from the county were affected.
County Clerk Fred Mytty explained in March that the county didn't actually spend any of the money it should have dispersed to other entities, but the money had been placed in other funds. The ramification, he said, would be that some county funds would lose cash on hand.
The museum/historical society fund, with an annual budget of about $80,000, was expecting to receive around $34,000 from the county. From a percentage standpoint, Missel pointed out, removing $23,355 that had been erroneously given to that fund was a major hardship.
"The idea is that we don't put the historical society in financial jeopardy," Missel said.
"We came up with the idea of a repayment plan of seven years taken out of the inheritance fund to replenish their coffers, and to make an amount of deposit that would be equal to the seven-year payback of $24,500, which would be a $3,500-a-year payback, and take care of the situation," Supervisor Greg Beam said.
"Right now their coffers are real low because of this. ... This would get them back up to speed," Beam said.
* A supplemental agreement with Speece-Lewis Engineers Inc. for the Hooper North bridge project.
Doll said the contractor may need as many as 20 additional days to complete the project, which was tardy in starting last spring due to delays in permitting from the U.S. Army Corps of Engineers for a temporary bridge to use as a construction platform.
"Consequently we could possibly run over on budget with the construction engineering," Doll said.
Because it's a federal aid project, expenses have to be approved prior to being expended. It's uncertain at this point exactly how much extra time will be needed, but an additional $23,644 was approved for engineering services.
"They may spend some of this, they may not spend all of it," Doll said.
The county is responsible for 10 percent of the costs of the project.
* Reappointing Lowell Strand of Hooper to the Dodge County Planning Commission.
* Renewal of a contract with Traffic Safety Plus for the STOP pre-trial diversion program.
Get local news delivered to your inbox!
Subscribe to our Daily Headlines newsletter.