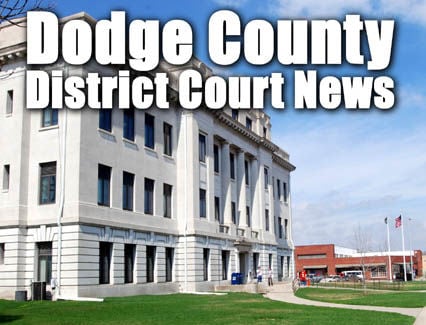 A Fremont teen pleaded guilty on Monday to attempted delivery of methamphetamine in the Dodge County District Court.
Alyssa M. Johnson, 19, previously pleaded not guilty, but withdrew the plea in court in order to apply to the Dodge County Adult Drug Court program as part of her plea deal.
On March 11, 2020, an investigator with the Fremont Police Department's III Corps Drug Task Force made contact with a confidential informant, who said they had arranged a drug buy with Johnson.
"Investigators with the task force met up with the confidential informant at a predetermined location here in Dodge County, Nebraska," Deputy Dodge County Attorney Emily Beamis said. "The confidential informant was searched, provided with documented currency and a wire."
Beamis said the informant then made a drug transaction at a set of apartments in southeast Fremont while being monitored by the investigators.
"The confidential informant stated that they provided the defendant with $60 in documented currency, and in return, the defendant provided the confidential informant with a white crystalized substance," she said.
The substance later tested positive for meth, and Johnson was later arrested for attempting to deliver a controlled substance.
District Court Judge Geoffrey Hall accepted Johnson's plea and found her guilty. He ordered a presentence investigation and set Johnson's sentencing for May 17 if her drug court application is not accepted.
In other district court news on Monday:
Derek L. Dodenhof, 31, of Omaha had his hearing on a motion to suppress and a motion for discovery continued to May 25. Dodenhof is facing multiple charges from an incident on Dec. 23, 2020, including possession of base cocaine, delivery of a controlled substance, possession of a controlled substance and possession of money in regard to drug delivery, all enhanced by a habitual criminal status. Dodenhorf filed a writ not guilty plea to the charges on Feb. 26. His attorney made a motion to produce a video of the arrest, which was provided to her by Beamis. She also requested lab testing, which Beamis said she did not have at this time, and Hall ordered a temporary hold on the motion. Dodenhorf's attorney said the motion to suppress regarded her client's stop and search, both of which she said were illegal. She also made a motion to reduce Dodenhorf's bond from $10,000 to $5,000, but the motion was denied by Hall due to his previous failures to appear in court.
Jacob L. Booze, 31, of Omaha had his bond reduction denied. On March 27, 2017, Booze was sentenced to three years in prison for strangulation and first-degree false imprisonment charges. A motion to revoke his post-release supervision was made on Feb. 26 after he was arrested for driving under the influence and obstructing a peace officer on Feb. 6. Booze's attorney asked for a bond reduction to $10,000, stating that his client had completed nearly all of his PRS requirements in Douglas County and had been compliant. However, Beamis opposed the reduction, stating that she had concerns with the probation office's handling of his case. She said he had only been drug tested once and had been seen entering a liquor store last October. Hall denied the motion and set Booze's status hearing for May 3.
Isaiah L. Larson, 22, of Oakland had his status hearing continued to May 24. Larson is facing first-degree sexual assault and assault by strangulation or suffocation charges from an incident on Feb. 22, 2020. Larson filed a writ not guilty plea to the charges on Dec. 30, 2020. His attorney said they would take three depositions this week and two more later this month. Larson waived his right to a speedy trial prior to his hearing's continuation.
Hazel I. Giron, 18, of Sioux City, Iowa, had her status hearing continued to April 26. Giron is facing two charges of intentionally violating narcotic drug law from an incident on Dec. 7, 2020, and filed a writ not guilty plea on Feb. 8.
Ryan A. Byrd, 39, and Ever I. Avelar, 20, both of Fremont, were not present on motions to revoke their probations, while Joshua D. McMullin, 25, of Lyons was not present for his sentencing. Hall issued $150,000 bench warrants for all three men. In the case of McMullin, Beamis said he had absconded after his furlough release for treatment at the Nova Treatment Facility in Omaha. "I'm very disappointed in this furlough," Hall said. "I think our furlough language needs to be tweaked going forward if these people can just willy-nilly not show up." Although Beamis said the state was considering no longer offering furloughs to defendants, Hall said he didn't want to go that route. "I struggle with that too, because I think if people need treatment, they need help," he said. "But we at the very least need to tweak our program to figure out where the heck they're at and if they're actually going to treatment."