It looks as if a northeast Nebraska man is running out of legal challenges to his 2015 Lancaster County criminal conviction for grabbing two women's butts at a downtown Lincoln bar.
Jared Niewohner, 32, of Lyons, got probation, community service and landed on Nebraska's sex offender registry for it.
But he appealed the jury's guilty verdict on two counts of sexual assault in the third degree, misdemeanors, to a Lancaster County District Court judge.
When the district court affirmed the verdict in October 2016, he appealed to the Nebraska Court of Appeals, which affirmed it, too, in February 2018.
On Feb. 23, 2018, Niewohner had to serve his 45-day jail sentence and his three-year probation term started.
But in early 2019, he sought further review in a motion for post-conviction relief, asking for his conviction to be set aside and for a new trial.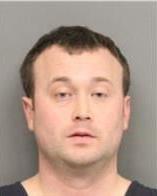 This time, Niewohner blamed his trial attorney for defending him solely on the basis that he was intoxicated at the time.
At trial, witnesses said Niewohner had been drinking alone at a bar near 14th and O streets on Feb. 28, 2015, trying to flirt with a bartender and interjecting conversations with a group of male patrons before trying to talk to women who were part of a bachelorette party. 
One of the women testified that while she was waiting at the bar for a drink, someone grabbed her buttocks with both hands. She turned around and it was the man on trial, a stranger to her. She said it was unwanted and made her very uncomfortable.
Another of the women in the same group said after she told him she wasn't interested in talking to him he came up behind her at the bar and put his hand up her dress and touched her over her tights.
You have free articles remaining.
At trial, a bartender testified that he saw Niewohner do it.
That's when a group of bartenders escorted him out. They said Niewohner resisted, so they called the police, who described him as belligerent. 
Niewohner testified that he had been drinking with his girlfriend earlier that night and everything was fuzzy as he walked into the bar. He remembered ordering a drink but not what happened after that.
After deliberating for 25 minutes, the jury found him guilty.
In the motion in 2019, his new attorney, Matthew Munderloh, argued that the Nebraska Supreme Court made it clear that voluntary intoxication wasn't a defense permitted by law.
Rather than characterize Niewohner as a "drunk jerk," his attorney should have challenged the victims' testimony, Munderloh said, because they, too, had been drinking that night.
In June, Lancaster County Court Judge Matt Acton denied Niewohner an evidentiary hearing on the motion, and he appealed to the district court.
Last week, in a 14-page decision, Lancaster County District Judge John Colborn affirmed the judgment, saying the trial record showed Niewohner's attorney, Brad Sipp, hadn't relied on an intoxication defense. Rather, he had framed the issue as a question of whether Niewohner was a drunk jerk or did it for sexual arousal and gratification, an element required to find him guilty of third-degree sexual assault. 
Sipp said there was more than one reason a person could grope someone and the state didn't meet its burden to show that Niewohner had done it for sexual purposes.
Colborn rejected Niewohner's new lawyer's argument, saying it was not reasonably likely that attacking the credibility of the complaining witnesses and other members of the bachelorette party would have changed the outcome — given that the bartenders corroborated their testimony.