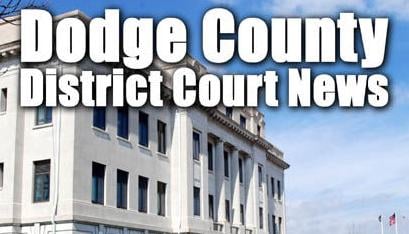 A Fremont man pleaded guilty in Dodge County District Court on Monday to possessing a deadly weapon despite being a prohibited person, a class III felony punishable by zero to four years in prison.
Joshua J. Delong, 41, made the plea on Monday as part of an agreement with the Dodge County Attorney's office in which other charges were dismissed.
Delong was arrested in February after officers with the Dodge County Sheriff's Office arrived at his residence due to a tip they received in relation to a search for a missing firearm.
Officers were granted consent to search the house, and while they were unable to find the firearm, they located a fixed-blade knife with a blade length longer than 3.5 inches. Because Delong is a convicted felon, he's prohibited from possessing such weapons.
According to a police affidavit filed in court, Delong admitted that the knife belonged to him. The affidavit also noted that Delong allegedly admitted to selling the firearm to another party in Omaha, but other charges, including an additional charge for possessing a weapon, were dropped as part of the plea agreement.
Dodge County Chief Deputy Attorney Sara Sopinski said that there was no agreement on sentencing.
Dodge County District Court Judge Geoffrey Hall ordered a pre-sentence investigation and set a sentencing date for June 17.
In other district court news from Monday:
Jeromy Henrichson, 27, was sentenced to 24 months of intensive supervised probation on one count of child abuse. Henrichson had pleaded no contest in March to striking a minor repeatedly, leading to excessive bruising. The charge — child abuse — is a class IIIA felony punishable by zero to three years in prison. During Henrichson's March plea hearing, the Dodge County Attorney Office had said that it would have no objection to probation as part of the agreement, assuming that Henrichson cooperated in a pre-sentence investigation. On Monday, Hall honored that agreement but noted he would have likely sentenced Henrichson to prison had it not been for the agreement. "If you come back before this court on any violation, you will go to prison," Hall told Henrichson.
Several individuals were sentenced to probation on lower-level class IV felonies, which carry a presumption of probation — meaning that probation will be the most likely outcome unless substantial reason could be determined otherwise. Those included Raymond L. Kalkas, Wendy Little Elk, Brandon U. Groves, and Ronnie Avila Jr.
Jonathan M. Booze and Bailey N. Ham failed to appear for court in their respective cases. Bench warrants were issued for their arrests.
Sign up for our Crime & Courts newsletter
Get the latest in local public safety news with this weekly email.