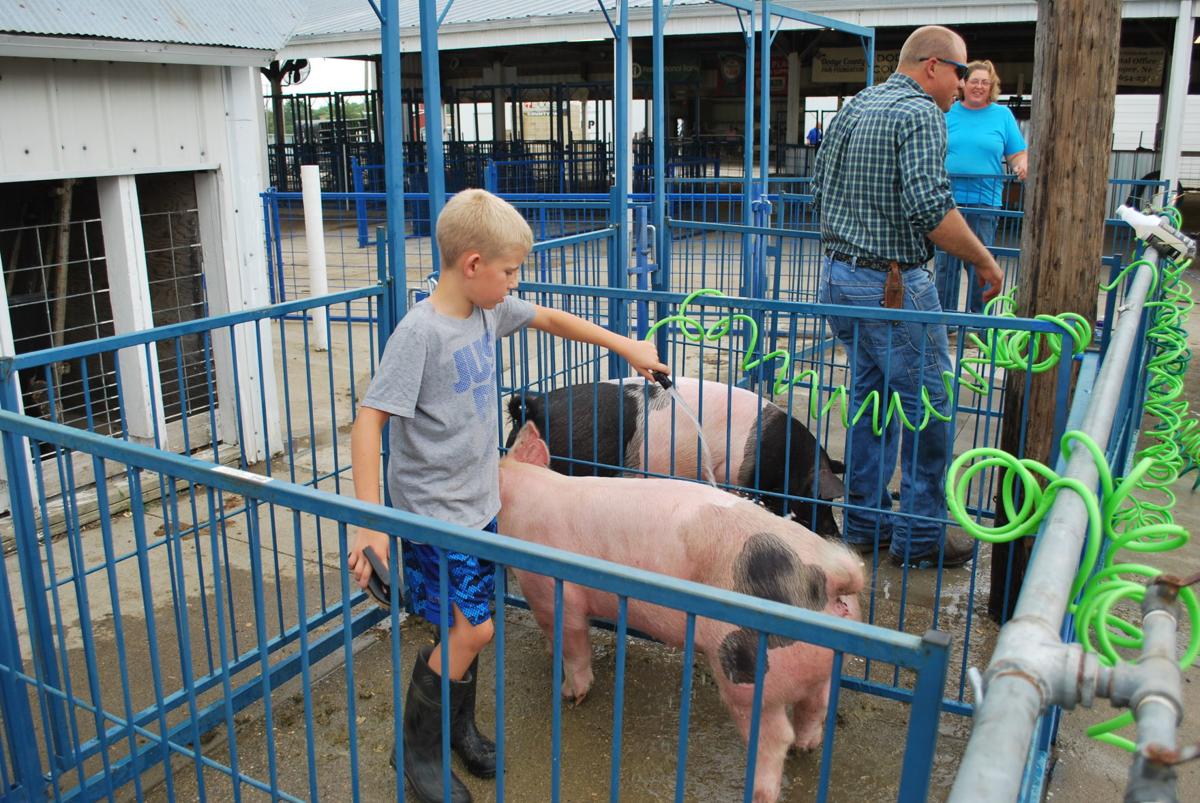 The Dodge County Fair will not return this year due to safety concerns with the COVID-19 pandemic, the fair's board decided during a meeting on June 3.
Board President Lisa Schole said the decision was not an easy one.
"We had one item on our agenda, and we had a two-and-a-half-hour board meeting," she said. "So this was not something we took lightly, but at the same time, we felt like it was the right decision for health and safety."
The fair's major events, food vendors, entertainment, open class and indoor and outdoor exhibitors will be postponed until the 2021 fair. It was originally planned to take place July 29 to Aug. 2 in Scribner.
A decision regarding 4-H and the Future Farmers of America (FFA) events will be made at a later date.
"We were really trying to just take our time in making a decision and trying to wait until it's possible to hopefully the health directives would change and things would get better," Fair Manager Houston Moseman said. "And we've seen a little bit of that, but it's still pretty restrictive out there."
On May 21, Gov. Pete Ricketts announced a new directed health measure providing guidance for restricted fair openings in the state.
"I think for us, the 6-feet social distancing against groups and enforcing that at all points in time, it becomes very, very hard, and the constant sanitation of anything anybody has been touching," Schole said. "And just generally overall, just that fair experience would not be able to happen."
In April, Moseman said the board discussed ticket sales for the fair and whether or not they should continue to add acts and other attractions to the event.
"We were seeing a bunch of other fairs across the state that had opened up ticket sales that were dealing with refund issues and things like that, and so we didn't want to get ourselves into that until we could move forward," he said.
Moseman also said the board discussed how it could comply with all of the health guidelines in place.
"Because the last thing we want is having something happen that ties back to the Dodge County Fair with a huge outbreak or something like that," he said. "So I would say the number-one thing that came to the front of our minds was the health and safety of the general public."
With the fair's 4-H and FFA events, Schole said the board will see what July's health directives look like before it makes a final decision.
"It's probably looking like that will be closed to the public and it will be a very controlled group of people that we are going to allow in for that," she said. "So that's the reason that we feel like we can hold on that."
Even though that portion of the fair still requires planning and coordination, Moseman said the events are more controlled with help from Nebraska Extension.
"When you look at the entertainment side of the fair and the bigger things, we're relying on a lot of third-party vendors to work with, and then you're getting into contract-signing with them," he said. "And we didn't want to get ourselves in a situation where you're signing contracts and putting money out there where you don't know if it can be fulfilled."
Moseman said he also wanted to make sure that agriculture would still be celebrated, as he said that's how many county fairs started.
"I think we really wanted to try to do everything we can to make sure that the youth of the county can still show off their projects and get to celebrate their agricultural experiences," he said. "And so we just felt like if we can control that with a limited crowd, limited exposure, we're going to try our best with staying within all the state health guidelines to be able to keep that option open."
The fair board has also held conversations and joint meetings with other counties across the state to get an idea of what the situation would be like, Moseman said.
"But we have been in contact with neighboring counties and counties in the eastern side of the state and bouncing ideas off everything as well," he said. "So I think a lot of the timing just boils down to when people end up having their monthly meetings and what's the latest point they can make a decision."
Schole said the decision has been met with some backlash, with people feeling it was prematurely made. But she echoed Moseman's sentiments on the number of vendors and people who hold contracts for the fair.
"We can't give them two weeks notice and expect that they're not going to be disappointed in us," Schole said. "So we're trying to do the best we can for both the health and safety, but also managing kind of all those relationships we've worked really hard with to build over the years."
Schole said she was thankful for all of the fair's supporters, whether they are donors, sponsors or attendees.
"Please be looking for 2021 to have what I'd like to say a bigger, better fair with some improvements," she said. "We're not just checked out, we've been down there working. We're trying to make ground improvements, there's some capital improvements happening."
Although the board remained hopeful with holding the fair when the pandemic first started, Moseman said it just wasn't possible. With planning starting back in September, the decision was not a rash one, and could not be one.
"Believe me, if we had the ability to wait until the week before the fair to make this decision," Moseman said, "we really would put it off that long, just so we could have all the information in front of us."
Concerned about COVID-19?
Sign up now to get the most recent coronavirus headlines and other important local and national news sent to your email inbox daily.