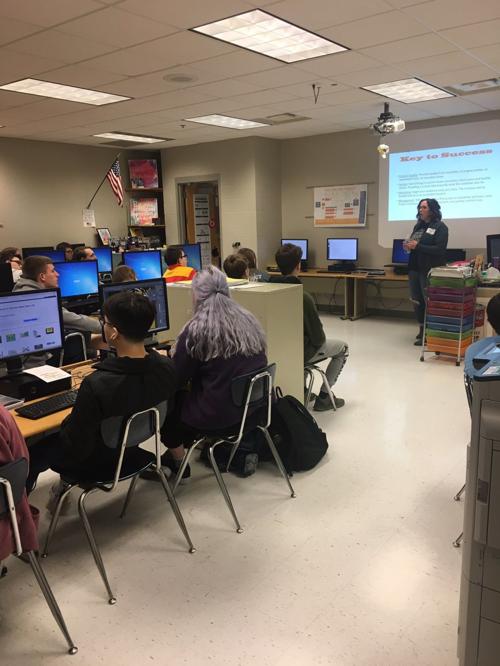 Think back to your time in high school.
For the most part, each class was largely formatted the same way. Sit down, follow along to a teacher's lecture, do your homework at the end of the day and eventually take a test.
Then repeat the process again and again throughout the year.
It can be an effective means to teach students. However, more modern approaches that focus on projects and activities rather than this traditional style have become more popular throughout the years.
That applies to Fremont High School as well. A group of three business teachers at Fremont High School are looking to prepare their students for college by introducing them to new, alternative business courses.
The courses, titled the "High School of Business," have been used nationwide and aim to bring college-inspired business administration courses to high schools across the U.S.
It's the first year the course is being taught at the school. Teacher Kristen Strickler, who teaches the introduction to business class, said the course is available to any student from grades 9-12.
"Students in general are used to a more traditional approach where I give information and you take notes, so this is a bit of a different approach," she said. "We're delivering the content. It's just a new way to introduce."
A 2017 study conducted by the University of California at Los Angeles Higher Education Research Institute found that 13.8% of incoming freshmen at four-year of colleges chose to major in business.
Of those students, only a small amount previously prepared for college business administration programs by taking high school business education and marketing courses.
"One of the things I'm looking at, a lot of students going into college will focus on business, but not many are prepared for business, she said. "This High School of Business is designed to offer college-prep-type business classes."
In her class, Strickler steps away from traditional teaching norms for the most part while focusing primarily on group projects. The purpose of the team-based curriculum is to help the students develop collaboration, problem-solving and troubleshooting skills.
"I'm trying to get them to step outside of the box a little bit," she said.
Groups are given a new project to work on every two to three weeks based on real-life scenarios for the students to apply their knowledge and problem-solving skills to.
Currently in their second unit, the class is focusing on the different types of business ownership, such as a Limited Liability Company (LLC).
To help explain the different forms of business ownership, Strickler invited Fremont Juice Stop owner Christi Meyer to discuss her business. Earlier, a different course featured Garry Clark, executive director of the Greater Fremont Development Council.
Business department chair Matt Burg said bringing in business leaders from around the community is a major component in the department's new curriculum.
"It's been really well received by students," he said."It's a different take on learning. For some of the students it's a real change for them and a shock to the system because it's so different from the system."
Burg said he began looking for a way to revamp the business department two years ago when principal Scott Jensen challenged him to do so.
"At the time, there were only a couple other schools that were using it, so I looked into it and I liked it and we kind of moved forward from there," he said."
In its first year, Burg said the course has served somewhere between 225-240 students.
"It's a good turnout," he said.
Next year, the department will introduce four more courses for students who have completed the introductory courses offered this year.
"The way we offer it is unique. In order for us to make it work, we made it available to every student where other districts have to apply to get into those courses," he said. "You can take those entry level courses and decide if you want to continue taking those courses and complete the sequence of six courses."
To go along with this second unit, randomly selected groups picked a local business to research. The students learned about the type of ownership that business falls under as well as other business concepts. The groups then put together a project, such as an infographic or social media profile, for Meyer to judge on Friday.
Strickler said the courses being taught through this national project are meant to prepare students for college-level business administration classes.
"They're more challenging and rigorous classes, but they're very hands-on and interactive learning," she said."
In her first go around teaching the program, she said the response from her class has been positive.
"It's a wide variety of students so we really work on introducing classmates and building camaraderie," she said. "It helps them understand that they will work with a wide variety of people in the real world."
In the first week of class, Strickler's intro class spent the entire time working on team-building activities to help the students acclimate to the classroom.
"We started class in the first week with just team-building activities to get them comfortable around each other," she said.
She said it can be difficult at times for the students given the makeup of the classroom. Luckily, Strickler found that the kids in her classroom are pretty adaptive.
"There's certain obstacles we face, but kids are resilient, especially with technology," she said.
Be the first to know
Get local news delivered to your inbox!