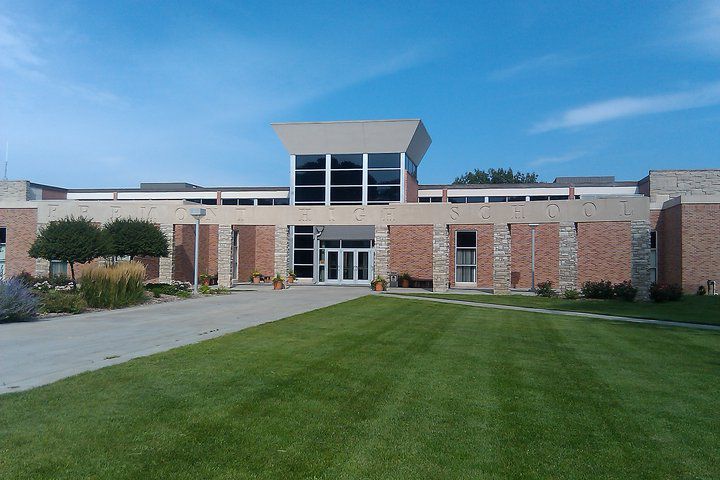 Fremont High School
Fremont High School has released its third quarter honor roll. This list includes students in grades 9-12. For a student to be eligible they must have earned a GPA of 3.75 or higher.
You have free articles remaining.
Grade 9: Laura Alonzo Tzunux, Marleni Alonzo-Lopez, Juan Alvarez, Amara Baker, Tyson Baker, Diana Bautista Revilla, Ally Bishop, Grace Blick, Mya Bolden, Sidney Bourek, Hannah Bowling, Macy Bryant, Madilyn Byrd, Fredy Calvo Perez, Saul Contreras, Alexis Cornett, Paloma Corrujedo Estrada, Katelyn Cram, Grace Cruise, Keithen Cudly, Elli Dahl, Lucy Dillon, Tajah Dorris, Hadeley Dowty, Jackeline Escobar-Morales, Jennifer Escobar-Servin, Elise Estudillo, Madison Everitt, Mason Filter, Ernesto Flores, Luke Follett, Francisco Garcia Jr., Ismari Gil, Tania Gleason, Juliana Godinez, Ainsley Goebel, Emma Hanson, Kayley Harrington, Marina Harrison, Juliana Hernandez, Emelin Hernandez-Castellanos, Henry Hiebenthal, Yukina Higashi, Ellah Hofer, Miriam Huss, Maria Ixquiactap Riquiac, Ty Jager, Karsen Jesse, Kamrin Kavan, Isabella Keaton, Miranda Keyser, Mackenzie Kinning, Mackenzie Kirby, Mia Knigge, Jonathan LaDay, Avry LaFavor, Mya Larson, Kelley Lebahn, Mason Limbach, Marcos Linarte Garcia, Angelea Lockhart, Aime Lopez, Sinahi Martinez Rodriguez, Taylor McCabe, Skylar McDuffee, Sharon Mejia Morales, Kaden Meyer, Brady Millard, Nolan Miller, Mia Molzahn, Lucas Montepeque, Joel Moore, Micah Moore, Anthony Moreno, Janice Nelsen, Hailey Newill, Lillianne Newill, Nevaeh Nielsen, Zachary Ninete, Asasia Nuss, Jennifer Ochoa, Dejah Olsen, Kelseigh Olson, Matthew Ondracek, Morgan Ondracek, Karen Orellana-Aragon, Josie Pettis, Kylie Phillips, Aubrey Pieper, Alena Popp, Lillian Prendergast, Samantha Pruss, Allison Ramirez, Martha Ramos Alonzo, Megan Rayl, Tyler Rayl, Jaiden Rensch, Hunter Rich, Misael Rivera Cabeza, Courtney Roberts, Erendira Romero, Jennifer Salas Duran, Jacob Santora, Eleanor Schiemann, Mallory Schleicher, Julianne Schmidt, Devon Shallberg, Sarah Shepard, Carter Sintek, Emma Sorensen, Sky Stadt, Braden Taylor, Marisol Tino Batz, Mariah Tolliver, Shelby Tracy, Emily Tran, Ashlynn Tucker, Lily Vaughn, Kimberly Vicente Gonzalez, Nohemi Vicente Loarca, Jesus Villasenor Garcia, Micah Vincent, Mia Wagner, Brady Walter, Carter Waters, Brandon Welbes, Grace Williams, Shalome Worthy, Madalyn Wusk.
Grade 10: Sarah Acker, Lazara Acosta Valdivia, Samantha Allgood, Sydney Arps, Oscar Avila, Sydnee Barnes, Anna Baskova, Hannah Baxa, Alexis Bazer, Abigail Beeck, Brady Benson, Alexander Berry, King Betts, Alexander Bigsby, Haley Bogenreif, Shelby Bracker, Grace Burns, Herman Castellanos Ortega, Emily Castillo, Chelsea Cerda, Mareasa Chapman, Elizabeth Cole, Amaru Cook, Jack Cooper, Alexandro Cortez, Tyler Downey, Charli Earth, Shannon Engel, Tawnie Escamilla, Callahan Eyler, Austin Filter, Dallas Fincham, Sergio Flores, Reese Franzen, Emily Frost, Kevin Fuentes Magana, William Furnas III, Ryan Gallo, Stephanie Garcia Barajas, Paloma Garcia Ferriz, Melissa Garcia, McKenzi Geaghan, Mercedes Getzschman, Samuel Gifford, Emerson Gilfry, Dawson Glause, Emma Grosse, Caitlyn Hanson, Mara Hemmer, Dahlia Hernandez Leyva, Siana Hernandez-Lango, Evan Hoffschneider, Jessica Holcomb, Sydney Hurst, Derek Johnson, Katelyn Johnson, Dominik Jones, Madeline Jones, Amelia Knosp, Hayley Kohl, LeAnne Krueger, Montana Kumm, Emily Lambley, Alexandra Lamme, Maritza Lucrecia Lopez Castro, Pedro Lopez Mendoza, Chance Maben, Cole Macaluso, Daisey Madora, Jaden Mark, Elijah Martinez, Madison Martinez, Zacharry McGeorge, Savannah McHugh, Hannah Meyer, Amber Millard, Shane Miller, Grady Moeller, Kayla Monaghan, Nicolas Morales-Loe, Sophia Muth, Emily Nau, Taylor Nelson, Emma Novotny, Meghan O'Brien, Ingrid Ornelas, Nathan Osness, Diego Pablo Luna, Alejandra Pena, Tanja Pitzschel, Aidan Queen, Pacey Queen, Kathryn Ramig, Haley Rich, Conner Richmond, Jorge Rivera Romero, Holly Robinson, Cristofer Sanchez Gutierrez, Iliana Sanchez, Jeniffer Sandoval Monroy, Galilea Santillan, Ashley Saravia-Mejia, Logan Schlautman, Sierra Schott, Steven Simanek, Olivia Sims, Zane Smith, Noah Sorensen, Tristan Thurlow, McKayla Turner, Yenifer Umana Alvarez, Avery Upchurch, Coburn Vandever, Jesus Vazquez Velez, Christian Ventura, Owen Wagner, Alyssa Walters, Hannah Wilson, Sarah Wilson, Benjamin Wimer, Nevaeh Young.
Grade 11: Ryan Acuna, Jessica Alcorn, Katelyn Arthur, Iyala Barnes, Hannah Bates, Caitlyn Beecher, Cami Bisson, Jackson Bixby, Turner Blick, Andrew Blocker, Samantha Bobbett, Kenan Brodd, Deven Brown, Maxwell Brown, Steven Buer, Kyle Camenzind, Brian Camey-Castellanos, Michel Carranza Bernal, Heidi Cerritos Jerez, Sergio Chavez Morales, Branden Clausen, Michelle Craig, Liliana Cudly, Dylan Davis, Melody Davis, Zackary Dzingle, Simon Eckhardt, Ellee Egr, Leah Fitzke, David Garcia, Katelyn Geaghan, Ainsley Gerten, Emily Giese, Sydney Golladay, Alysa Grummert, Jaron Guel, Hope Hansen, Morgan Hansen, Jovany Hernandez Corona, Yarezmy Hernandez Mendoza, Lily Hinkel, Lauren Iwan, Liberty Jensen, Chelsea Jimenez, Myia Johnson, Kaylee Kavan, Marlee Kjeldgaard, Destiny Klanecky, Jonathon Kment, Julia LaDay, Kaitlynn Leffler, Samantha Lockhart, Alexa Mahnke, Hannah Maly, Brisa Marquez, Taylor Martens, Avery Martin, Jocelyn McDermott, William Menking, Keegan Menning, Chloe Miller, Natalie Miller, Kelsey Mitzelfelt, Mason Moore, Angel Morales Ahumada, Jesus Morales-Sanchez, Kloee Morgan, Katelyn Morton, Mikenna Moser, Rylee Mumford, Carlie Neuhaus, Olivia Nolan, Annahi Nolasco, Jack Norris, Peri Palmer, Eduardo Parra, Jacie Pelikan, Hannah Perry Nelson, Sarah Prall, Mack Prince, Madison Pritchett, Matthew Rayl, Carter Richmond, Makenzie Ridder, Derick Ritter, Sydney Roberts, Jose Rodriguez, Jackson Ross, Maxwell Ross, Wylie Roumph, Jasmine Sanchez, Daniel Shipley, Anthony Siemer, Isabelle Smoot, Alyssa Snider, Taylor Sorensen, Madissen Stevens, Callie Stewart, Dylan Stone, Anthony Stout, Jennifer Sundquist, Conner Tacner, Alexis Tolliver, Madison Ustohal, Kevin Vicente Vicente, Sebastian Villagomez, Brandt Walla, Marysa Webb, Grant Westerman, Emma Witte, Emma Woods, Olivia Wright, Nathan Wusk.
Grade 12: Amber Adams, Jewel Ashbrook, Edgar Az Tajiboy, Griffin Barrett, Margaret Bentley, Jackson Bishop, Jameson Brettmann, Haley Broeker, Joshua Brott, Cristian Camey-Castellanos, Cody Carlson, Karina Cerritos, Tessa Chicoine, Annie Cooper, Miranda Cornett, Rubi Corrujedo Estrada, Edvin Cortave, Allyssa Dean, Avery Decker, Zachary Depue, Garrett Divis, Dillon Dix, Chloe Dorenkamp, Jenna Dredge, Savanna Eilts, Edmund England, Trevin Escamilla, Ivan Esparza, David Estrada-Solorzano, Austin Everitt, Payton Eyler, Wesley Ferguson, Morgan Filter, Camrine Flint, Nathan Foss, Jacob Friedrich, Lauren Gifford, Mitchell Glause, Lauren Glowacki, Daniel Godoy, Jaeden Greser, Zane Grewek, Stephanie Gruenewald, Ricky Guel, Holly Hansen, Ryan Hansen, Dominick Hegemann, Jacob Heineman, Lily Henbest, Katelynn Hernandez, MacKenzie Herrmann, Raven Higgs, Riley Hoerath, Madilyn Huss, Kennedy Jones, Chelsi Judds-Krenk, John Kelly, Paige Kerwin, Karrissa Kirkwood, Ryan Kitzelman, Matthew Klein, Zane Klein, Aaron Klevemann, Austin Knippelmeir, Dylan Kor, John Kranz, Taylor Ladd, Hayley Lambley, Lauren Lefler, Shelby Limbach, Jackellin Magana, Taylor Manning-Dougherty, Logan Martinez, Caitlyn Matheny, Ross McMahon, Juanita Mendoza, Tyler Messerschmidt, Tate Moeller, Samantha Montante Gonzalez, Madison Moore, Logan Mueller, Drake Nelson, Nicholas Novak, Noah Ondracek, Elise Patchen, Mikayla Paulson, Jackson Piercy, Alexa Pritchett, Lexi Proskovec, Kailey Rensch, Kayl Ritthaler, Anahi Rivera, Haley Roberts, Hunter Robertson, Najely Rodriguez, Noah Roof, Alejandro Rosales, Devin Roschewski, Ben Schulz, Rae Seier, Tabitha Shonie, Brody Sintek, Kameron Sorensen, Madison Steele, Samantha Stevens, Emma Storms, Kaylee Strohbehn, Trevor Synovec, Sydney Thurlow, Miah Vakiner, Jennifer Valdivia Pena, Lauren Vetter, Kevin Vuong, Caitlyn Vyhlidal, Logan Ward, Andrew Wilson.