alert
top story
spotlight
Fremont High School Rustler, 9.11.2019
New forensics class added to FHS science curriculum
Riding the rising tide of interest in crime scene investigations nationwide, a new Forensics class was added to the Fremont High School science curriculum at the beginning of the 2019-2020 school year.
From 2000-2015 "CSI: Crime Scene Investigation" was one of the most popular television programs in the United States. During that same time period, at least seven CSI spin-off shows became popular, including "CSI: Miami," "CSI: New York," "Law & Order" and "Criminal Minds."
Combine that with the increased frequency of forensic science classes sprouting up at higher levels of education in recent years, FHS science teacher Velyda Demuth said the time was right to add the new course to the school's current curriculum.
"This is a topic that is gaining interest nationwide at both the high school and college levels," said Demuth, "so we wanted to offer a course that looked a little different than our current choices and also keep up with what other schools are offering."
Demuth, who teaches the new forensics class at FHS, said she's been working toward adding this course to the science curriculum for the last two years. The forensics class received board approval in March.
"I had suggested this class as a new course offering for several reasons," Demuth said. "I have always had a personal interest in forensic science and when I discuss aspects of forensics in A&P, students usually want to know more. We were wanting to expand our course offerings and everyone was on board with trying an 'Intro to Forensics' type of course."
This new course is all about the science behind solving crimes, Demuth said. So far this quarter, Demuth said the class has solved a "classroom murder" through interviews and piecing together evidence as a group.
Also, Demuth said the class learned how to collect evidence from clothing, analyzed principles of eyewitness testimony and learned how to take and identify fingerprints.
Most recently, Demuth said students in her forensics class collected and analyzed hair samples through microscopic examination — as well as using chemistry — to identify unknown toxins. She said her students are currently analyzing and identifying shoe and tire imprints.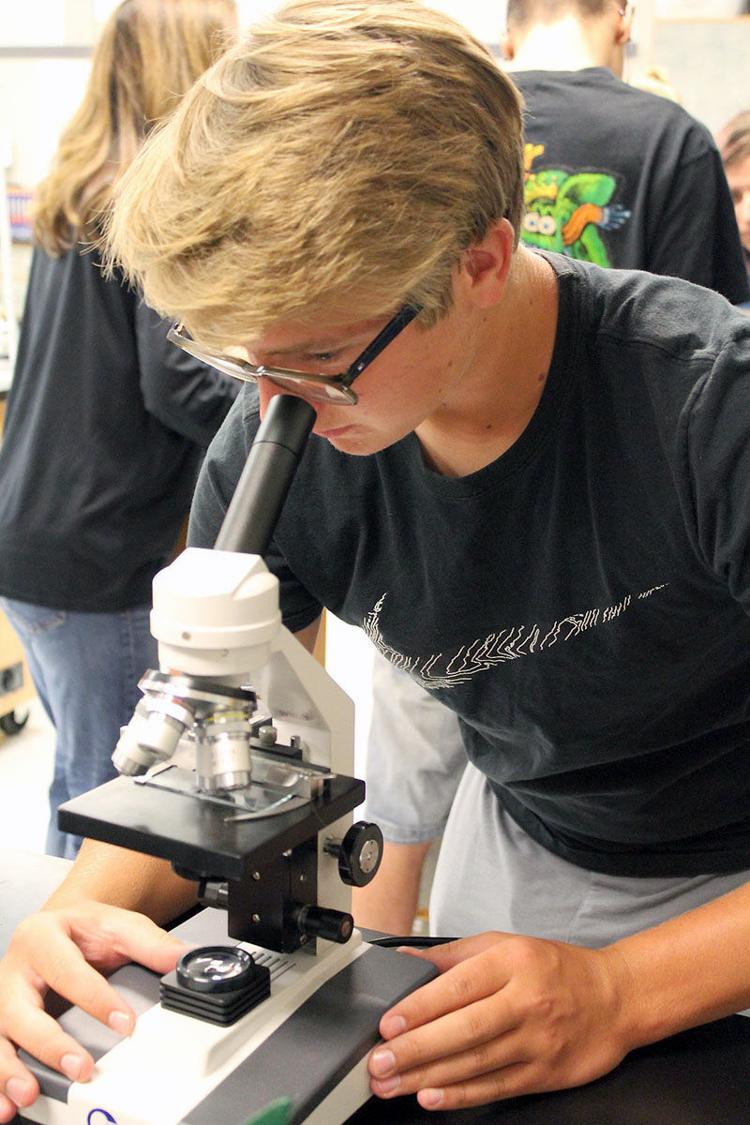 "We will be learning how to lift latent prints, collect and type blood, analyze blood spatter patterns, identify bones and interpret bone markings, analyze and identify types of trace evidence like hair, handwriting, toxins and materials under the microscope," Demuth said. "Lastly, we'll study the stages of decomposition and time of death through insect activity. Our final project will be to develop a crime scene that other students in the class can solve using the techniques they've learned."
The first quarter forensics class at FHS consists of 24 students and Demuth said they have spent most of their time watching videos, participating in case studies (in pairs and in small groups), practicing using forensic techniques (through labs) and some note taking.
"I think the fact that forensics encompasses all the sciences makes it a really cool topic," Demuth said. "I love the emphasis on problem-solving, too. Every single thing we're learning is working toward solving a crime at the end of the quarter, so there isn't really any information that won't be directly used. I hope that also keeps kids engaged."
Senior Kaylee Kavan, who considers crime scene investigation a possible career choice, said she's really enjoying the first-year class at FHS.
"My favorite part of the class is getting to learn about true crime and problem-solving on our own," Kavan said.
Five weeks into the new school year, Demuth said she's been pleased with the new forensics course so far, but that she has big ideas for the future.
"I really enjoy trying new things and love the interest that students have in the topic," Demuth said. "I have great students in this class who are OK being my 'guinea pigs' this first time through. I think it will be a lot easier after I've done it a few times. I'm already thinking of things I will do differently the next nine weeks, but it's been fun so far."
Prairie Grassland Story
One year after Fremont High School science teacher Dave Sellon's Environmental Life Science classes prepared a plot and planted the seeds for a new prairie grassland, a total of 18 native Nebraska plants, grasses and wildflowers are now in full bloom in the courtyard between the world languages hallway and the journalism room.
Sellon, who teaches the ELS classes at FHS, said the prairie grassland project was a success.
"I am pretty satisfied with the project," he said. "I think the students got a lot out of the planning and planting. The plot looks nice, so I have had quite a few kids ask about it this year. I am hoping that it generates interest in the class."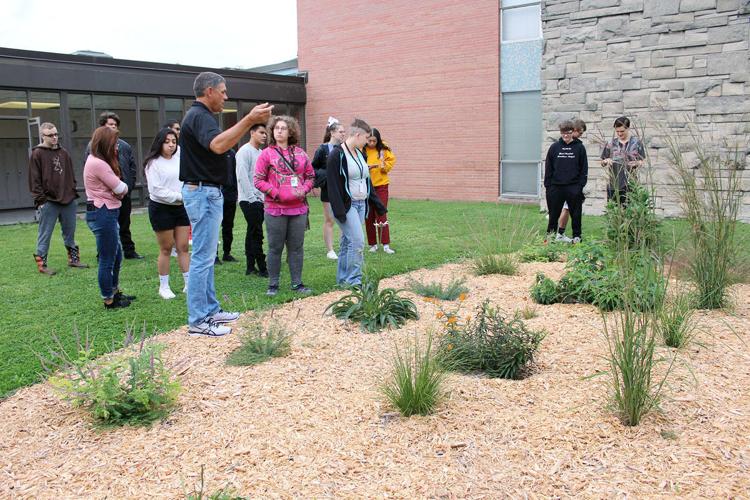 To initiate the project, Sellon said his first, second and third quarter ELS classes planned and prepped the plot last year. He said the fourth quarter ELS class ordered the plants and planted them (in the plot) last May.
Then, during the summer months, Sellon said he tended to the plot by pulling weeds and watering the plants.
"It took a while for the plants to get roots established," Sellon said. "I came over (to FHS) in June to pull weeds and water the plants a few times. All the plants survived the summer and are looking good. I know the students involved are proud of how it turned out."
The prairie grassland project at FHS originally was designed to help students learn about plant identification and biodiversity Sellon said.
"The purpose was to get the students outside actually doing some science," Sellon said. "I hope that the project helped them understand the importance of biodiversity and that we can all do small things to benefit the planet."
This year, Sellon said he plans to have his Environmental Life Science classes maintain the plot by pulling weeds. He said his classes also will study various bugs that use the flowers.
Future plans for the prairie grassland at FHS, Sellon said, could involve adding another plot that would include a few more flowering plants for the butterflies.
"We are talking about adding an extra plot that would focus more on native flowering plants that would benefit more pollinating insects," Sellon said. "I hope that my students can eventually learn the importance of maintaining biodiversity on the planet."
FHS to present "Leading Ladies"
This year's Fremont High School fall play, "Leading Ladies," will be performed in the Nell McPherson Theatre on Oct. 4 and 5.
Caitie Hays, the new drama teacher at FHS, said there's a personal reason as to why she selected "Leading Ladies" for her directing debut at Fremont High School.
"Leading Ladies was one of the first plays I did," said Hays. "I have acted in it and directed it. I'm very passionate about it and I'm excited to see how the students do."
Written by Ken Ludwig, "Leading Ladies" follows Shakespearean actors Leo Clark (played by senior Cooper Leriger) and Jack Gable (played by junior John Stutznegger) after they read a newspaper article about a dying woman named Florence (played by junior Shannon Engel).
"I love the script," Leriger said. "It's funny with a good plot."
The plot thickens when Florence decides she will be giving away her inheritance to her nieces: Maxine and Stephanie. Leo and Jack decide to dress up in drag, as Maxine and Stephanie, in order to receive the inheritance. Along the way, they encounter drama, love triangles, and so much more.
"What I like the best about this play is that the comedy is very well-written," said Engel. "There are a ton of different comedic moments in the show, including two guys dressing up as women."
The 11-member cast also features FHS students: senior Liliana Cudly (as Meg Snider, Florence's daughter), senior Charlotte Winey (as Audrey, Meg's best friend), senior Ben Castillo (as the Rev. Duncan Woolery, Meg's fiance), senior Manny Lackey (as Doctor Myers), and Jovany Hernandez-Corona (as Butch Myers).
The ticket price for the show is $8. Hays said tickets can be purchased from the FHS box office after school the week of the performances and the nights of the show. She said tickets also can be purchased by cast members, starting the last week of September.
"The rehearsals are going really well," said Hays. "We're still in the beginning parts, so the actors are still getting used to their characters. We also don't have a set yet, so it will be easier once we do."
Øvredal, del Toro do it again
André Øvredal and Guillermo del Toro, the directors of masterfully chilling thrillers like "The Autopsy of Jane Doe" and "Mama," have done it again.
This time, Øvredal and del Toro's "Scary Stories to Tell in the Dark" takes the simple tales and disturbing black-and-white illustrations in the original books and brings them to life in a nightmare-fueling horror movie.
It is always nerve-wracking when directors decide to make a movie adapted from such an already good book. Especially when soooo many (specifically millennials) are familiar with all the twisted monsters and how they read them religiously as a kid.
But, if there ever was a case that a film adaptation improved the original source material, then this is it.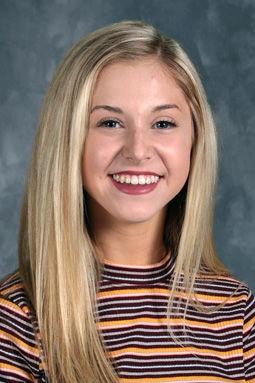 Contrasted with the recently remade Kevin Kolsch's "Pet Sematary," "Scary Stories to Tell in the Dark" actually had a solid foundation to build upon for the remake.
Filled with drugged-up childhood nightmares, these eerily real monsters made the simple tales by Sarah Bellows scare anyone to the core.
Based in Mill Valley, Pa., around Halloween in 1968, a group of misfit kids (Stella, Auggie, and Chuck) set out trick-or-treating one Halloween night, not realizing that nothing will ever be the same — again. The three cross paths with Ramón, a war-dodging drifter who has stopped in Mill Valley for a few days.
The four find themselves on the doorstep of the abandoned Bellows' mansion, a longtime town legend that speaks of horrible child murders and a connection to the Bellows' misfit daughter (Sarah). Stella, who is familiar with the legend and an aspiring horror writer herself, is not afraid to show her curiosity toward the subject.
And you know what they say: Curiosity leads your friends to imminent danger, right?
Stella stumbles upon Sarah Bellows' journal, a book filled with all sorts of creepy-crawly scary stories that Sarah wrote while she was ostracized from her family and the town.
Logically, Stella decides to take the book.
What could go wrong, right?
Little do they know that by taking the book, they have just unleashed the twisted evil that lies within — right into Mill Valley. And Sarah won't stop until she gets her revenge.
The stories in the books themselves are not all that scary. At max, only two to three pages each, the stories themselves aren't what fuel reader's nightmares.
It's the grotesque black-and-white illustrations (some of the ink in the drawings is dripping, and it looks like the images are bleeding) that exists throughout the movie. Those are the images that make this movie so suspenseful.
Let's be honest, though, it's not like a group of misfit kids in a period-nostalgic, American small town hasn't already been done before, right? *cough* "It" *cough* However, this movie's different.
High schoolers, if you are looking for a revival of one of your childhood terrors, or a glimpse into the world of twisted and dark monsters, this movie might trip your trigger.
"Scary Stories to Tell in the Dark" is a sort of welcome throwback to reading these stories as a kid (while tucked under your blanket with a flashlight so your mother doesn't know you stayed up past 9 p.m., reading about Sarah Bellow's lifelike monsters).
Just remember, though: 'You don't read the book, the book reads you.'
The Rustler Staff
Editor-In-Chief: Olivia Wright
Assistant Editor: Alexa Mahnke
Staff reporters and photographers: Linley Buschmeyer, Charli Earth, Maycee Fagan, Taylor Martens, Walter Mijangos, Aubrey Pieper, Allison Ramirez and Courtney Roberts.