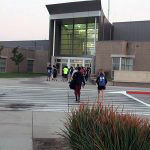 Fremont Middle School
The Fremont Middle School honor roll is determined by a 3.75 GPA or higher and the growth roll is determined by a .5 increase in GPA from quarter 1 to quarter 2.
Second quarter honor roll
You have free articles remaining.
Grade 7: Anahi Adame Carrillo, Lexzee Adame, Natalia Aguallo, Jose Ajanel-Suar, Chris Alonzo Tzunux, Sebastian Asbach, Cecily Barcenes, Hailey Bassett, Da'Varius Bell, Kailey Benjamin, Melanie Borrego Romero, Maggie Brester, Maurice Bryant, Sydney Carpenter, Abby Cisler, Wyatt Connick, Alexander Cook, Matthea Dalton, Katelyn Denker, Aziel Diaz, Alexander Diers, Emma Diers, Tinayah Dorris, Dahlia Duran, Aidan Eberspacher, Lauren Eddins, Zachary Evans, Brooks Eyler, James Fittje, Ingrid Flores Sandoval, Arora Fuller, Carlos Garcia Jr., Emely Garcia, Melany Gates, Brandon Gerardo, McKenzie Godfrey, Peyton Goebel, Juan Gonzalez, Yenifer Gutierrez, Aleyah Hansen, Lyndi Hanson, Brittney Harms, Connor Harsh, Isaac Hasemann, Colson Hazen, Kaylie Herman, Audrenna Hicks, Madalyn Hill, Bryleigh Hofer, Ethan Hoge, Drake Hull, Madalynn Ideus, Betsy Janssen, Hannah Johns, Jackson Jones, Arianna Kennedy, Faithlyn Kestenholtz, Grant Kiefer, Jasmine Klco, Jacoby Knop, Caden Kolm, Chloe Kumm, Jase LaDay, Ariel Larios Sagastume, Jacob Larsen, Jaqueline Leimer, Michelle Lima-Barajas, Chase Lupton, Brian Magana, Jason Magana, Hailey Markham, Ester Martinez, Makenna Martinez, Madelyn McBratney, Jenna McClain, Brynne McDermott, Jadyn McManus, Katelyn Meader, Megan Millard, Aislinn Miller, Noah Miller, Taaller Miller, Micah Moore, Morgan Moore, Jamie Morehouse, Ylana Moreno, Averie Moss, Mason Nau, Joel Navarro Valenzuela, Brylee Nelsen, Timothy Newill, Daniel Nunez, Preston Olson, Mayco Osorio-Calvo, Austin Owen, Darri Pablo, Juana Pablo-Raymundo, Daphne Petersen, Ethan Peterson, Joseph Phillips Jr., Lucia Pleskac, Brayden Porter, Katie Proskovec, Haylee Puffer, Silvia Pulido Castro, Ava Raasch, Camden Rangeloff, Ava Rasmussen, Caden Ristau, Kaitlynn Rossow, Meredith Ruda, Karen Santiago Canseco, Madison Schmidt, Jackson Schutt, Sophia Tallod, Peyton Timm, Alexis Todd, Carter Vanek, Ana Ventura-Mejia, Emely Villasenor, Rachel Wageman, Taten Winter, Silvia Woods, David Zarate, Giselle Zepeda, Yovani Zetino Rivera, Pedro Zetino-Ramirez.
Grade 8: Lesmy Ardon Gallardo, Grace Baker, Lesley Barcenas, Haylee Bates, Zoey Bisson, Annika Boden, Brandon Bogle, Addisyn Brumbaugh, Hannah Bryant, Krystal Calderon Moreno, Jadyn Cascio Jensen, Makenzie Cash, Dakota Coon, Maris Dahl, Michael Dalton, Ayva Darmento, Spencer Divis, Hunter Eastberg, Miranda Esparza Jordan, Evie Estudillo, Emma Fein-Pedersen, Alexis Frank, Rylie Freeman, Alexandria Furnas, Alexis Gomez, James Green, Rachel Grenier, Natalia Gusman, Kevyn Gutierrez, Paige Hammond, Hayley Hanson, Cassie Harrington, Cameryn Hart, Matthew Hartung, Chloe Hemmer, Keiry Hernandez Perez, Meah Homan, Nathan Jones, Caleb Kirby, Mallory Lackey, Jenna Larsen, Jocelyn Limbach, Melany Magana Quintanilla, Makenzie Manning, Abraham Manriquez-Rojas, Diego Marez, Chase Marshall, Kayleigh McKenzie, Raina Menking, Armando Monarrez, Madison Mostek, McKenna Murphy, Maddox Ortiz, Madalyn Pafford, Noah Parra, Alma Perez Ajiataz, Katya Perez Alarcon, Ariana Pitterson, Britt Prince, Adrianne Pruss, Ryan Push, Tyson Queen, Gabriel Read, Charles Richmond, Colin Ridder, Paige Romans, Isabella Ruda, Emmanuel Salas, Michael Saxton III, Kennedy Schlautman, Olivia Schumacher, Landon Schurman, Dayton Schwaninger, Zoey Smallwood, Jonah Smith, Maxwell Smith, Elayna Sookram, Emma Streeks, Harlei Strunk-Goreham, Peyton Styskal, Sarah Taylor, Paige Teut, Bery Uz Perez, Rhiannon Van Osdel, Josue Vasquez, Kyra Vicente Gonzalez, Callie Waters, Kadyn Wheelock, Isaac Williams, Litzy Zarate Otero.
Grade 7: Kailey Benjamin, Manuel Chavez Morales, Apryllmari Clark, Ayden Eddins, Jason Interiano Magana, Bernardo Maldonado, Preston Olson, Darri Pablo, Christopher Perez, Keila Portillo Hernandez, Roselyn Quintana-Henriquez, Juan Robles Garcia, Chance Schollmeyer, Joey Top.
Grade 8: Nathan Adams, Derrick Alfaro, Carlos Alvarado G, Ezbeydi Arellano, George Axume, Lesley Barcenas, Jocelyn Blair, Brandon Bogle, James Buskirk, David Cerritos, Frankie Ciprian De La Cruz, Jeffery Coleman, Caleb Franck, Dayana Garcia Lopez, Carlos Garcia-Mendoza, Micaela Gonzalez, Paige Hammond, Jess Holmberg, Lexi Kendall, Alexia Lewis, Carson Mauer, Nelson Morales Mendez, Jaydon Neal, Guadalupe Pacheco, Lylie Perry, Arturo Ramos Jimenez, Beyonce Rascon, Yahir Silva, Hannah Stover, Drake Sutherland, Bery Uz Perez, Josue Vasquez, Kyra Vicente Gonzalez, Cami Wolf.