Midland University is offering a new way for students to connect with their peers while receiving guidance on their career path.
The newly rebranded Career Studio is home to six student career coaches — two of which participate in the program through a work study while the other four work as intern coaches — who help their fellow students navigate their given careers.
This could mean anything from helping students create or update a resume to helping them find an internship or full-time job out of college.
The peer-to-peer model has been in the back of Career Studio executive director Connie Kreikemeier's mind for a long time.
With the recent rebranding from the Personal and Career Development Center, Kreikemeier was able to implement that vision.
"This is a model that I've been looking at for several years and the timing was perfect," she said. "It's a great opportunity to train a great deal of students and give them that experience."
She said the past two months have been extremely busy. During the university's interterm period, the four intern coaches underwent a four-day training process. During that time, coaches became familiar with several aspects of the career planning process, including resume building and conducting interviews.
Junior communication studies major Chelsea Bayer said there was a lot to learn during the onboarding process, but the training has been worthwhile.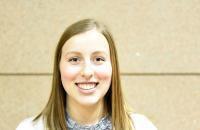 "It's been a very extensive learning process, but getting to apply everything has been exciting," she said.
Junior business management major Cailin Brashear has had a strong connection with the Career Studio since she was a freshman in college. She said she was unsure what her career would be coming into Midland, but by visiting the Studio and developing a relationship with Kreikemeier and career adviser Lisa Lias, she now has a clear path for the future.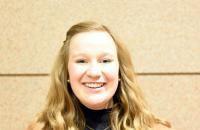 "For me, this was kind of how I started my whole journey with the Career Studio," she said. "Through working with Connie and Lisa I've definitely solidified where I want to go with my life. I've learned about different career fields that I didn't know existed."
Student traffic running through the Career Studio is low to start the semester, but Kreikemeier said that's to be expected given the recent introduction of the program.
"We're going to see a lot more student traffic as the semester goes on," she said. "There will be some events coming up, but we're really very young in the model."
Developing and implementing events focused on the Career Studio are the priority right now, along with social media marketing and employer/alumni relations.
However, Kreikemeier said there will always be coaches available to help students who stop by in need of some help.
"When any student walks in, there's always a career coach that is there and they will help the student," she said.
Brashear said she has already seen some students take advantage of some of the resources offered in the studio in the short amount of time that it has been open to the public.
"I think they're surprised to see students helping, but they're just as comfortable talking to us as they are with Connie and Lisa," she said.
She's even had fellow students in classes recognize her as a coach and ask for help.
"It's just a whole part of a cycle and culture that we're trying to create," Kreikemeier said. "Let us understand your needs and goals, and when those opportunities come along we can connect with you. Our students and coaches go out there, they are brand ambassadors."
Bayer said the ability to connect with her peers makes the job that much easier.
"It's less intimidating to work with a peer," she said. "It's more of a conversation and less of an interview."
Lias said the studio isn't just limited to students who already have a career path selected. Students can also come in and get advice about what career path fits them best.
"It's not just limited to job searches and resumes," she said. "We also do one-on-one coaching sessions to talk and give them options about different careers they can do. We dig really deep, we ask about interests and what they want to do. This really helps students figure out what they really want."
When students come back with news that they received the internship they were chasing, it's always a cause for celebration, Kreikemeir said.
"When a student comes in and says 'I got the internship,' we celebrate with them," she said. "It is intimidating, so we want to help them through it."
As the ramp-up process continues Kreikemeier said she plans to continue training her student coaches to further develop their coaching skills.
"One of our goals is to have ongoing training to help them hone those skills as well," she said.
Lias said one of her goals when she arrived at Midland University in September 2019 was to make Midland students more attractive hires coming out of college.
"I told Connie that one of my goals is for Midland students to be highly sought after for not only academic knowledge, but for them to be able to sell themselves and talk about their strengths," she said. "My mission is to make sure that people want to hire a warrior."
Bayer and Brashear both hope to see the program grow as their college careers begin to wind down.
"I'd love to see the career studio model grow and help students come to work on themselves," Brashear said.
Kreikemeier said the model has resonated early on with students, and she hopes a "career-centered culture" begins to take shape thanks to the studio.
"The more stories we can tell and the more lives we can help will help it snowball," she said. "The student coaches are so talented and caring for helping students."
Be the first to know
Get local news delivered to your inbox!