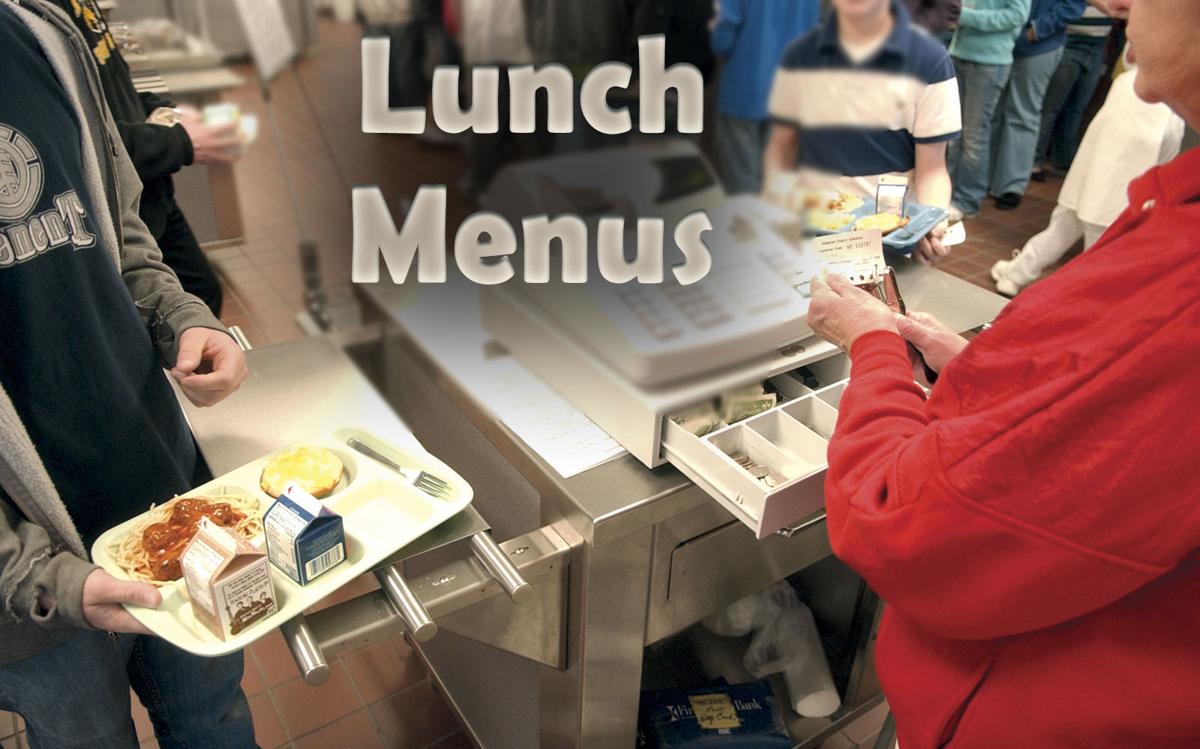 Breakfast and lunch menus for the week of Oct. 12
Archbishop Bergan Catholic SchoolsMonday: Tater tots with taco meat and cheese, garlic bread, vegetable, fruit, milk.
Tuesday: Chicken fried chicken, cheese breadstick, vegetable, fruit, milk.
Wednesday: Hot dog/chili dog, chips, vegetable, fruit, milk.
Fremont Public SchoolsMonday: No school.
Tuesday: Cheese pizza, scalloped potatoes, apple juice, pears, milk.
Wednesday: Deli ham sandwich, dragon punch, peaches, Oreo cookies, milk.
Thursday: Chicken patty on a bun, corn, romaine lettuce, mixed fruit, pudding cup, milk.
Friday: Mini corn dogs, oven fries, baby carrots, fruit juice, milk.
Cedar Bluffs Public SchoolsMonday: Combo bar; macaroni and cheese.
Tuesday: Cinnamon roll; mini corn dogs.
Wednesday: Egg and cheese sandwich; breaded pork patty.
Thursday: Stuffed pretzel; crispitos.
Friday: Pancakes; hamburger.
Logan View Public SchoolsMonday: Banana bar; chicken nuggets, mashed potatoes, dinner roll.
Tuesday: Scrambled eggs; macaroni and cheese, corn bread.
Wednesday: Breakfast pizza; meatball sub.
Thursday: Biscuits and gravy; tacos, breadstick.
Friday: Donuts; turkey wraps, chips.
Mead Public SchoolsMonday: Breakfast bar; pepperoni or cheese pizza, lettuce salad, pears, breadstick.
Tuesday: Donuts; chicken sandwich, tater tots, orange wedges, sugar cookie.
Wednesday: Scrambled eggs and ham; nacho supreme, peas, apple slices, peanut butter sandwich.
Thursday: Cinnamon roll; pork chop patty sandwich, smiley fries, applesauce, chocolate chip cookie.
Friday: Sausage and hash browns; creamed turkey over mashed potatoes, corn, watermelon, tea roll.
North Bend Central SchoolsMonday: Sausage biscuit; taco or chicken fajita, Spanish rice.
Tuesday: Breakfast casserole; meal in a bowl.
Wednesday: French toast sticks; sloppy joes, french fries.
Thursday: Combo bars; chicken alfredo, corn.
Friday: Breakfast burrito; hamburger or cheeseburger, chips.
Oakland-Craig Public SchoolsMonday: Cherry frudel, juice and milk; sweet and sour chicken with rice, oriental vegetables, pineapple, fortune cookie, milk.
Tuesday: Biscuits and gravy, juice, milk; chili or chicken noodle soup, cinnamon rolls, peaches, milk.
Wednesday: Breakfast sandwich, juice, milk; chicken and waffles, hot cinnamon apples, baby carrots and ranch, milk.
Thursday: Yogurt parfaits, juice, milk; garlic cheese french bread pizza, marinara cup, green beans, cantaloupe, milk.
Friday: Mini cinnamon cream cheese bagels, juice, milk; crispy chicken sandwich, tri tater, sliced pears.
Scribner-Snyder Public SchoolsMonday: Pop tarts; chicken nuggets, fries, baked beans, pears.
Tuesday: Banana bread; beef patty, mashed potatoes, California vegetables, pineapple.
Wednesday: Muffins and yogurt; cheese pizza, breadsticks, lettuce, peaches.
Thursday: Parfaits; taco burger, tater tots, corn, mixed fruit.
Friday: Cereal/toast; shrimp poppers, hush puppies; mixed vegetables, applesauce.
Be the first to know
Get local news delivered to your inbox!