Principal Dan Koenig had one word to describe the Bergan graduating class of 2021:
Looking back at the students' high school years, Koenig can see how students navigated the effects of flooding in 2019 and the COVID-19 pandemic of 2020.
"I truly believe that this a resilient group of young men and women," Koenig said. "This trait will serve you well as you travel through life."
The principal of Archbishop Bergan Catholic Schools was among speakers during the 2021 graduation ceremony on Saturday at St. Patrick's Catholic Church in Fremont.
Families and friends gathered to see 19 students move their tassels from the right to the left on the mortar boards they wore, signifying the crossing from high school to the next part of their lives.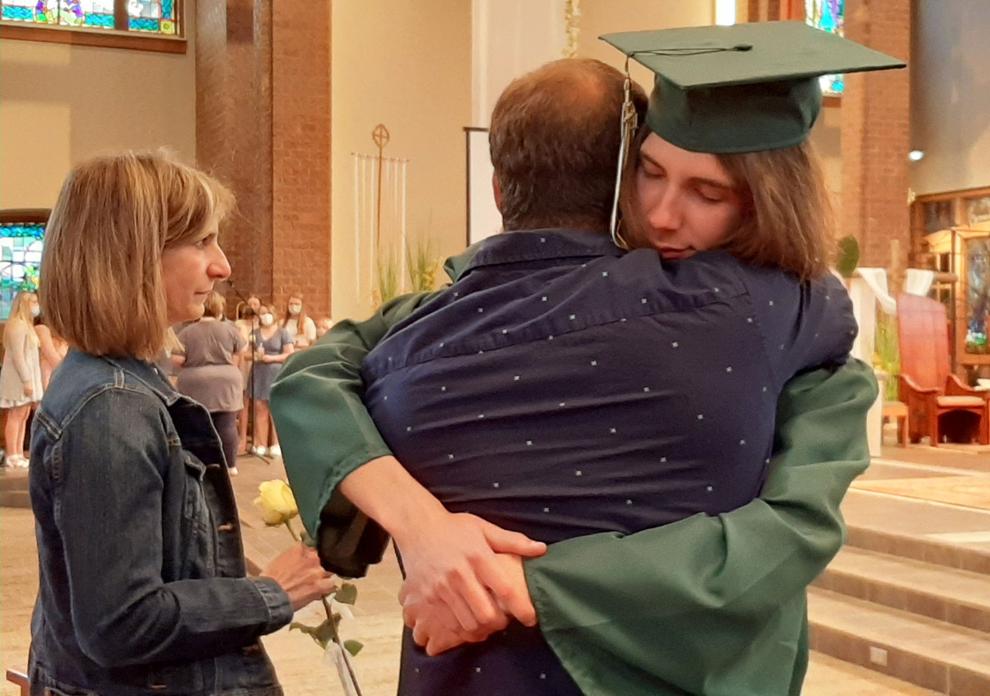 In her speech, valedictorian Lauren Baker talked about that transition.
"As we enter this next stage of our lives, nothing is more important than our relationship with God and our relationships with others. Nothing," Baker said. "It is not about your goals, your successes, your failures, the sports you play, or the clubs that you join. This may be difficult to accept at first, but it's true and here's why: through relationships, we are able to change people's lives in impactful ways. Your life cannot be meaningful without them."
Baker stressed that students shouldn't abandon their goals or avoid working toward success.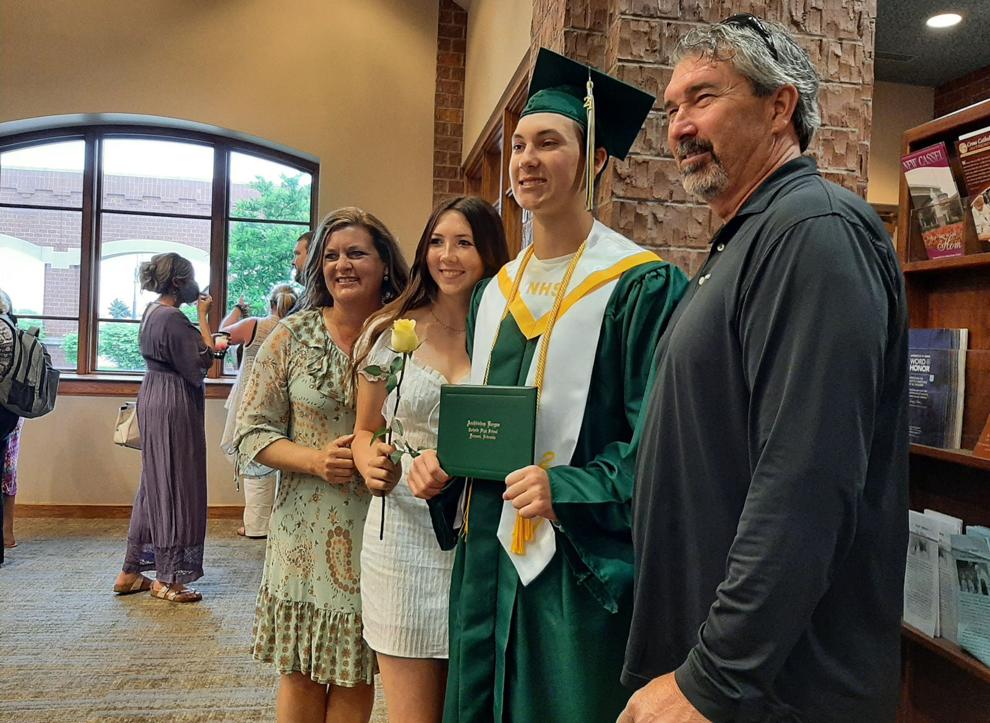 "Working hard is, in fact, good and biblical, but it should not be done for the sole purpose of individual achievement or monetary gain because more often than not, this is done at the expense of our relationships with others," she said.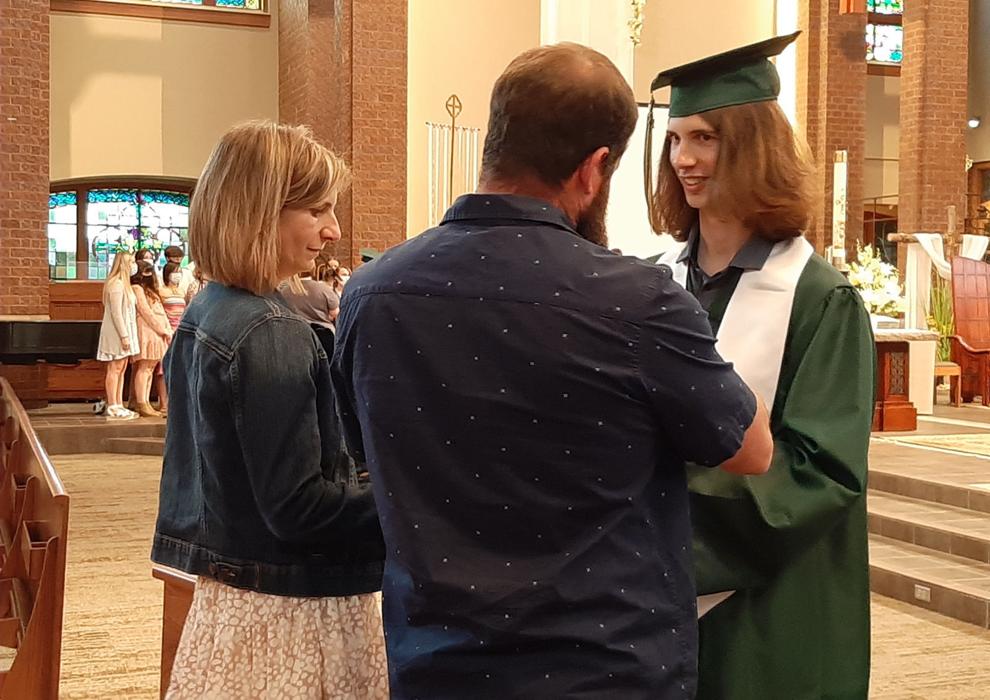 Among the many people she thanked, Baker expressed gratitude to the priests of St. Patrick's for showing the power of a relationship with Christ, the administration for making difficult decisions, and faculty for their patience and dedication.
She thanked families for their support, commitment and sacrifice.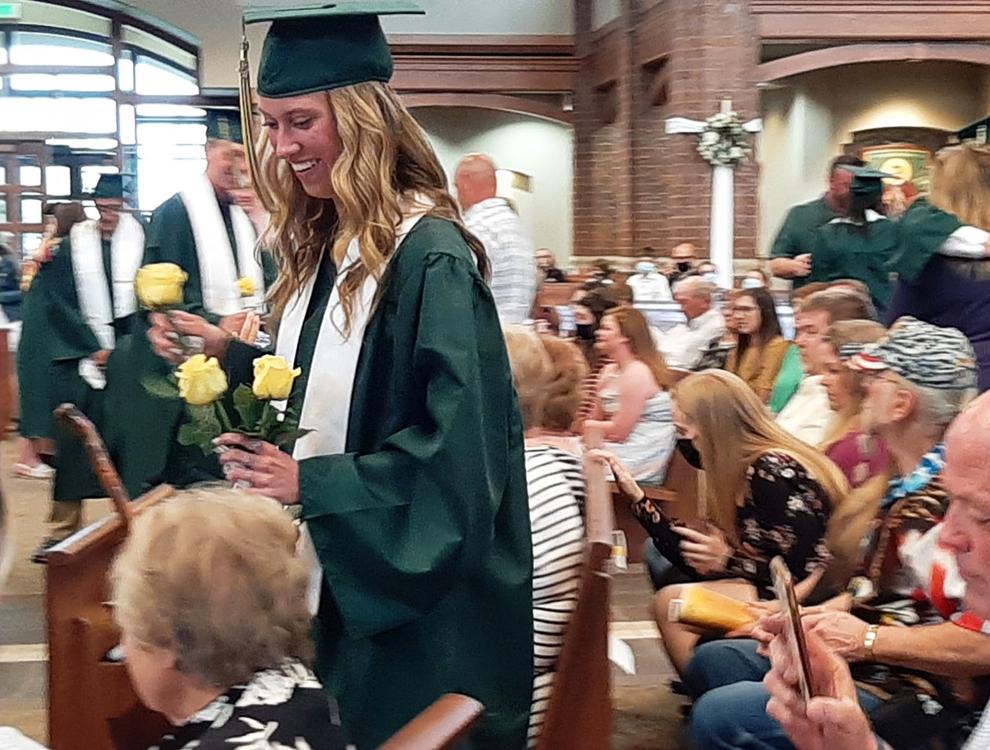 Salutatorian Jadin Ostrand expressed a special thanks during a tender moment of her speech.
"I would mainly like to thank and recognize my mom, who has been there through every one of my highs and my lows and has been the person I tell everything to," Ostrand said. "You mean the world to me, and you are my biggest role model. You are an extremely hard worker and go-getter, and I hope one day I can be the type of woman you are."
Ostrand's speech had light moments, like when she talked about a kindergarten food fight, and unifying times when the class worked together as a team to get over a 15-foot-high wall during senior retreat.
She spoke of the challenges.
"We have survived events like the gas leak during finals, the 'Great Flood of 2019,' and the 'Pandemic of 2020,'" Ostrand said. "We took these challenges in stride and became more adaptable because of them."
Earlier in the ceremony, Koenig addressed the students' adaptability. He told how they've had three years in a row of major events thrown into the middle of their high school experience.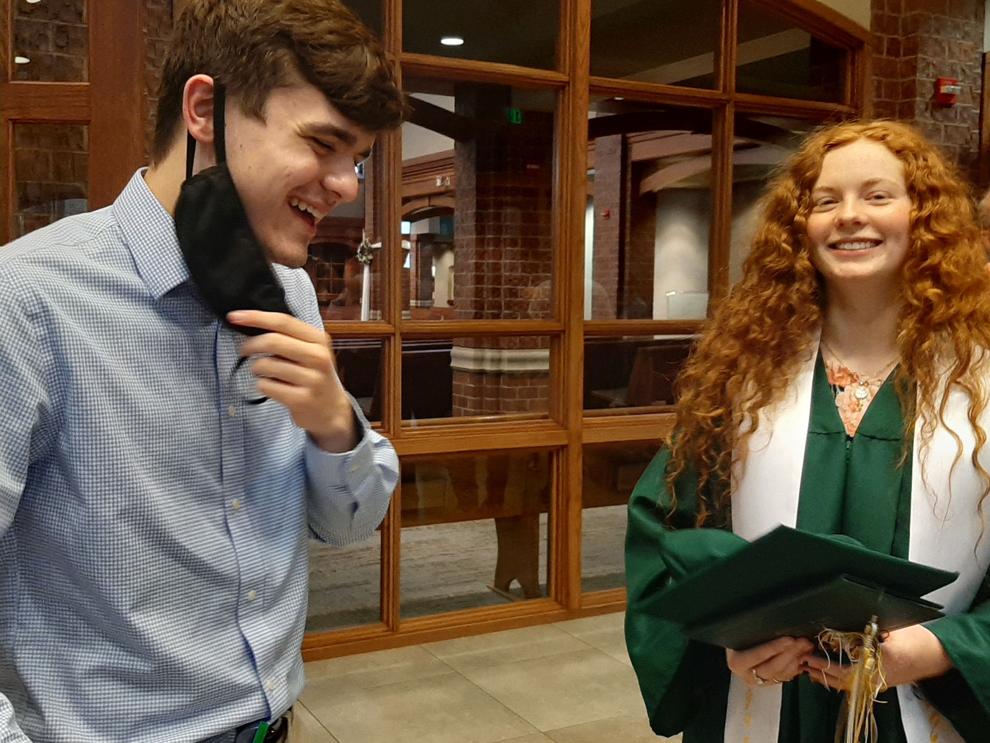 When the students were sophomores in 2019, a flood turned the town into an island.
"Even though almost a month in the spring of their sophomore year was interrupted with the events surrounding this natural disaster, these students kept their heads up, stayed the course and never let it get in the way of them achieving their goals," he said.
The students were juniors when the global COVID-19 pandemic began spreading across the nation in the spring of 2020.
"Our school was shut down for weeks and these students had to attempt to complete their coursework digitally all while taking their spring activities away from them at the same time," Koenig said.
The students didn't get to experience important events like the junior retreat and prom.
Once again, they persevered and made the best of the situation, Koenig said.
Students were back in class in August, but the seniors were asked to lead the school in a year with much uncertainty attached to it.
"Masks, social distancing, attendance limitations at activities and new daily procedures were all something this group of young men and women adapted to and made their own," Koenig said, noting that resilience is the ability to withstand or recover quickly from difficult situations.
Each year, the graduating class selects a keynote speaker to present a commencement address.
The 2021 class chose Jeremy Murman, Bergan's instrumental music teacher.
Murman's lively speech had an upbeat tempo as he talked about the importance of the three Ps — Place, People and Prayer.
He began by asking people in the audience to stand if they were ever:
Unsure of what to do, where to go or how to act, but showed up anyway — and it turned out to be a great decision.
Relied on somebody else to do something.
Found peace and understanding in silent prayer or quiet time.
People stood throughout the sanctuary.
In talking about the first "P," Murman talked about being in the right place at the right time.
He encouraged graduating seniors to show up for events, even if they weren't sure what they'd get out of them.
Murman cited the case of a man who went to a church event — not because he felt like it, but to support a friend.
It turned out to be the most life-changing night of the man's life.
Murman urged students to show up for their friends, "because don't you want them to show up for you?"
"You need each other," Murman told the graduating seniors. "We cannot do it all on our own."
Murman told how colleagues have helped him since he arrived — fresh out of college — to teach at Bergan eight years ago.
Since he had great grades in college, Murman figured he'd be a great teacher and change lives right away.
Murman discovered that while he learned things in college, it was nothing compared to what he learned from faculty and staff at Bergan — people he's privileged to call his coworkers and friends.
He's learned from students, too, and wanted the seniors to know that the faculty and staff at Bergan love and are proud of them. He encouraged graduating seniors to keep in contact with each other.
"You are needed and you also need others," Murman said.
Murman also talked about the importance of prayer, encouraging students to start with silence and to sit back and reflect on what's happened to them during the last 12 years of their lives.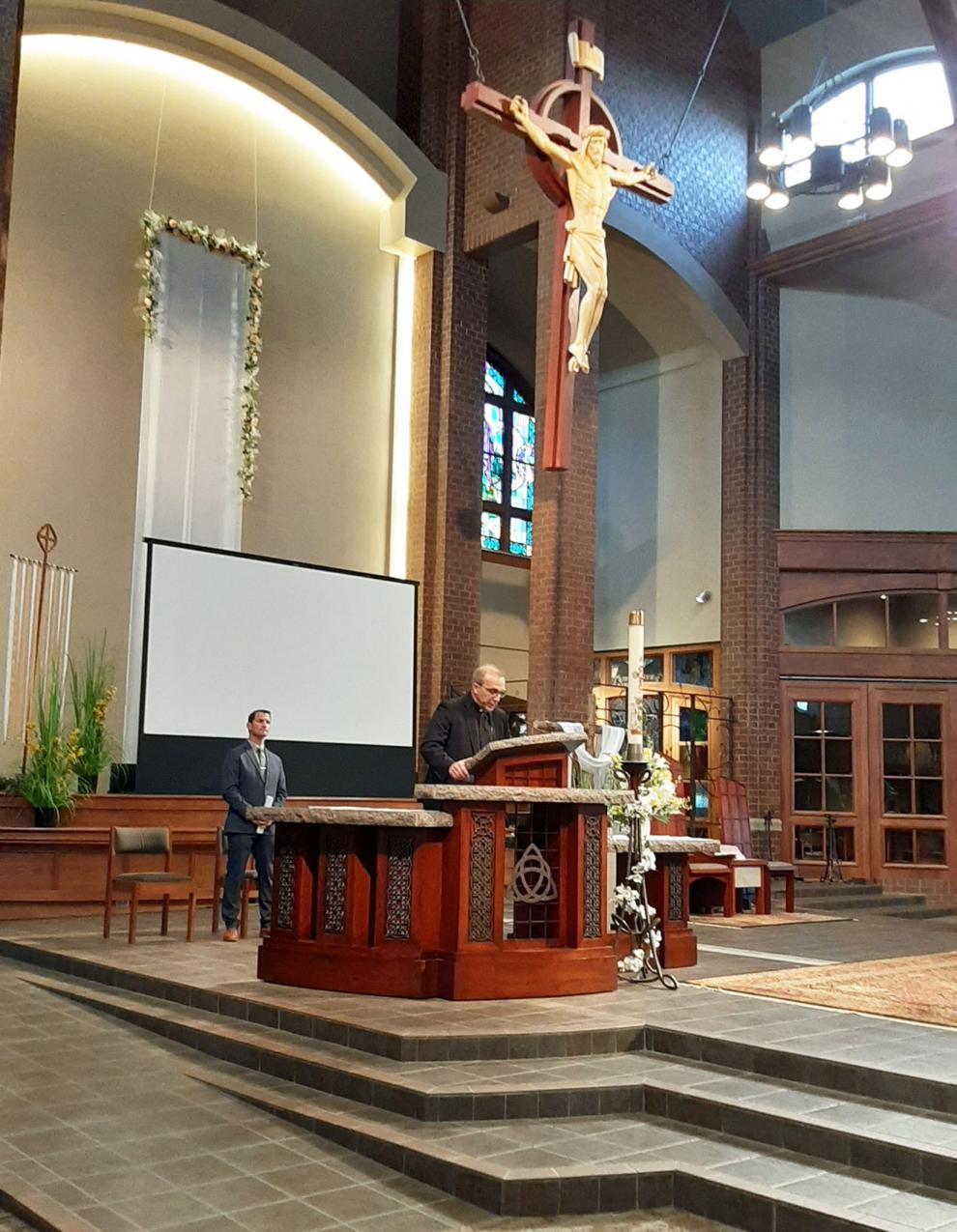 "Go find your place," Murman said. "Find the people who will help you along the way, be the best version of yourself for others and when in doubt, pray it out. Go make a difference."
Like Murman, the valedictorian encouraged her classmates as they prepared to embark on their next journey.
"My fellow graduates, the sky is the limit," Baker said. "There is nothing that we can't accomplish. I am sure of this. No matter what anyone says, we are all intelligent, capable, worthy individuals who have a world full of opportunity ahead of us. It is our time to go forward and make our mark on the world."