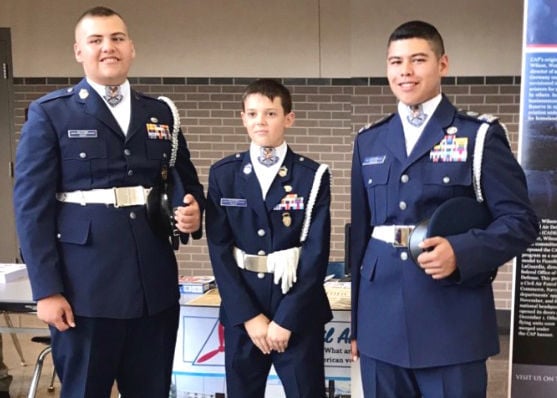 It was a normal night of training for the Fremont Cadet Squadron on Thursday.
The cadets were lined up in the freezing cold at the Fremont Municipal Airport to practice a pace count. As a squadron of the United States' Air Force's Civil Air Patrol, the nonprofit trains its members for emergency services.
But before the search-and-rescue training had begun around 8 p.m., a cadet notified Cadet Capt. Jacob Vaughn that there was a person lying in the grass across the street from the airport.
Vaughn thought it was maybe a homeless person, but soon became skeptical and approached the individual. As he was about 20 feet away in the dark, the person stood up and started walking.
Suspecting the person was maybe on drugs and fearful for the safety of his team, Vaughn began asking questions.
"I didn't know who it was, and that's why I asked questions to see if it could be a potential threat or not," he said. "And when I heard the voice, it sounded much like a young girl."
Vaughn and Cadet Chief Master Sgts. Jakobi Popp and Grant Rump checked on the girl, who they learned was a 13-year-old runaway.
The girl had shown early signs of hypothermia, and was reunited with her family at the airport after the cadets called the Fremont Police Department.
Vaughn said although he was on alert at first, it was just instinct for him to start asking the girl questions after realizing what was happening.
"My mindset changed to 'OK, it's mission time: to figure out what she's doing, where she came from, where her parents are at and how she's feeling,'" he said "So I went from basically a concerned police officer to like a mother, trying to take care of this person, making sure that they get what they need to stay safe and reunite with their family."
Vaughn said the girl was aware of basic questions like what day it was and denied being intoxicated.
"So I had asked her, 'Are you very cold? You just seem very out of it,'" Vaughn said. "And she had said yes, so we had told her, 'Well, let's go into a squadron.'"
Popp and Rump, who had followed Vaughn, helped take the girl into the building's office, where she was questioned about her condition.
Vaughn's mother, Andrea, a first lieutenant, was at the squadron when the cadets brought the girl inside. She said the girl seemed "confused and incoherent."
"They asked her if they knew where she lived, and she said she was from the Clarmar area," Andrea Vaughn said. "And so finally, they were able to get her to call her parents, she did know their number."
You have free articles remaining.
During the questioning process, Jacob Vaughn called FPD, who told him there was a report of a missing 13-year-old girl in the area.
"I told the operator where she had lived, and they were like, 'Yup, that's her,'" he said. "We're going to send someone down right away.'"
Soon after making the phone call, Jacob Vaughn was told that the girl's mother was on her way after the senior members had called her.
"She was so scared that she had been kidnapped," Andrea Vaughn said. "It had been about five to seven hours that she had been gone. It was a scary situation."
After arriving, the girl's mother told the cadets that her daughter had some mental problems, Jacob Vaughn said.
"It all started to add up," he said. "We were always wondering, why would this girl walk out just by herself, not knowing where to go back home? When she had mentioned that, we were like, it all makes sense now."
The cadets learned that the girl had left her house after getting angry at her stepfather. She left the house with no phone, coat, shoes or hat.
After going to a church for a jacket, the girl walked to a Dollar General to get shoes and a hat before collapsing near the Fremont Airport.
"I'm just glad she didn't get run over," Andrea Vaughn said. "So many different things could have happened."
Jacob Vaughn said the situation made him realize that anything could have happened that night.
"No one knew, really, that she was gone, except for her parents and ourselves," he said. "You start to realize that everything happens so fast, and it's just crazy to think that it was such a blessing that she was near our squadron and that we were out there at the right place at the right time."
Jacob Vaughn said he was thankful for the help he received from Popp and Rump and that the night might have gone in a different direction without them.
"It would have been gotten done, but a little differently," he said. "It happened quickly, and it happened safely and it was because I had their help."
Andrea Vaughn said she was proud that the cadets knew the right steps to take in helping the girl.
"They stayed calm and it didn't become a chaotic situation," she said. "So I was really happy they stayed professional about it. We just encourage them to always keep their eyes open and help when they can."
Ultimately, Jacob Vaughn said the experience taught him that he'll be put in situations where he can't turn to his senior members for help.
"Life happens so fast, you just never know what's going to happen," he said. "And that was a situation where I didn't know what was going to happen, yet I stepped in because I knew that I had to."