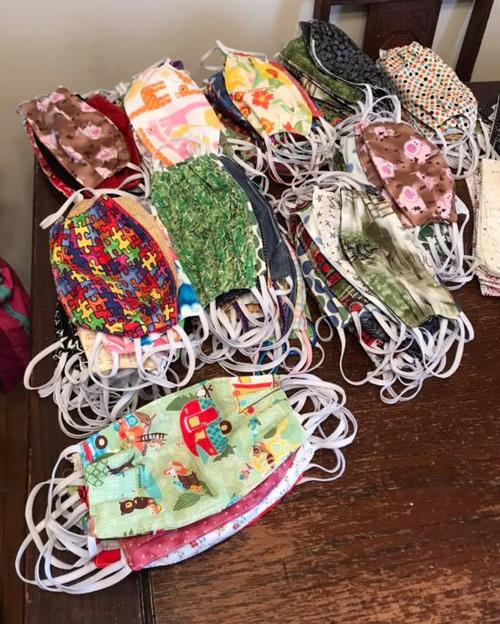 With N95 masks in short supply during the COVID-19 pandemic, people around the world have turned to making their own, said Jacki Trujillo, volunteer coordinator for the Fremont Area United Way.
Originally, she said these people would typically make them for friends or family.
"But now, with the increased need, we have medical professionals, we have long-term care facilities, shelters, things that do have people in closer quarters needing these things," Trujillo said. "And so we're working with public health on finding the patterns and material recommendations that will be approved for use in those places, as well as ones that are approved just for the everyday person that wants to wear a face covering."
With the United Way's Fremont Volunteer Connection, Trujillo is in the process of getting together volunteers to help sew masks to donate to facilities in need.
"Even if you can say, 'I can sew two masks for you, or I can sew one gown,' every little bit helps, especially when we have so many of our community members chipping in," she said. "And I think it's good for both sides. It feels good to be the giver, to be the sewer, but also it helps out our professionals and those who need those things."
Currently, the United Way is working on getting donated fabric so that volunteers can have materials to work with, Trujillo said.
"We have some, but it's been kind of limited," she said. "However, from what I've heard from a lot of the people who sew is that masks especially, and even the caps, are made of smaller pieces, so many people who maybe quilt or sew anyway, they probably have fabric lying around that would work."
"A lot of the people that are making them have their own patterns, have their own supplies and things that they're using and running with, and that's great," she said. "But if they're wanting to know like what's the best type of fabric to be using, I can give them that information."
Trujillo said when the pandemic started, the Fremont United Way went through its supplies that it had on hand in preparation for potential flooding, including masks and Tyvek suits.
"We were able to give those to public health and then other entities that needed them, especially early on," she said. "And then once those started running out and public health continued to go through their stockpile with the federal government, they said they would start accepting handmade sewn masks, gowns, surgery caps."
The United Way has been working with the Three Rivers Public Health Department to see which areas in Dodge, Saunders and Washington counties are most in need.
With so many masks being needed, Trujillo said the United Way has been unable to give them to members of the public.
"We'd like to get to the point where we have that, however, what I've been able to do is put them in contact with people in the community who are maybe selling them just for the materials," she said. "So if nothing else, we can help be a resource for folks looking for things."
One of the resources that the United Way has worked with is Nebraska's Hands and Feet, a Facebook group with nearly 3,000 members. The group works to connect mask-makers and those with supplies to those in need.
"They've been super helpful as well with providing some of their patterns and information, as well as some of their trial-and-errors," Trujillo said. "And they're super interested in helping coach if somebody has questions."
The group's creator Jenni Gallagher, is a nurse practitioner from Plattsmouth. In mid-March, she said she started to see her colleagues in need of masks as the Centers for Disease Control and Prevention considered making a recommendation for everyone to wear them.
"About the same time, I was approaching the anniversary of my mother's death, and she's the one who taught me to sew," she said. "So I thought what better way to honor her memory than to use skills she gave me and help friends and colleagues."
Gallagher created the group on March on March 23, about a week-and-a-half before the CDC made its recommendation. Although the group started small, it soon went viral and had member requests not only in Nebraska but in countries around the world, including Italy and Australia.
"We wound up having members from everywhere join," Gallagher said. "And most of their stories were that they wanted to learn how to do this too, how to set up the group, how to make this work in their own community."
In about six weeks, the group's all-volunteer staff made about 53,000 masks. Its requests range from one mask to around 5,000, and the shipments go around the world.
"So every possible reason for needing a mask, we've seen," Gallagher said.
With Fremont's donations, Trujillo said she will keep a list of interested volunteers in case materials do come in. She said the donations can come in various forms, as Marriott International gave bed sheets for Nebraska's Hands and Feet to use.
"So if we come across or if I can rustle up donated fabric, then we can definitely help get that to people," Trujillo said. "But if people have stuff on their own and want to just start making, that's perfect."
Trujillo said she believes everybody can help out during this time.
"Right now, we just really need people with that specific skill set of sewing," she said. "But if anybody's interested in helping out in any way, they can give us a call and we can try and hook them up with where's the best way for them to serve."