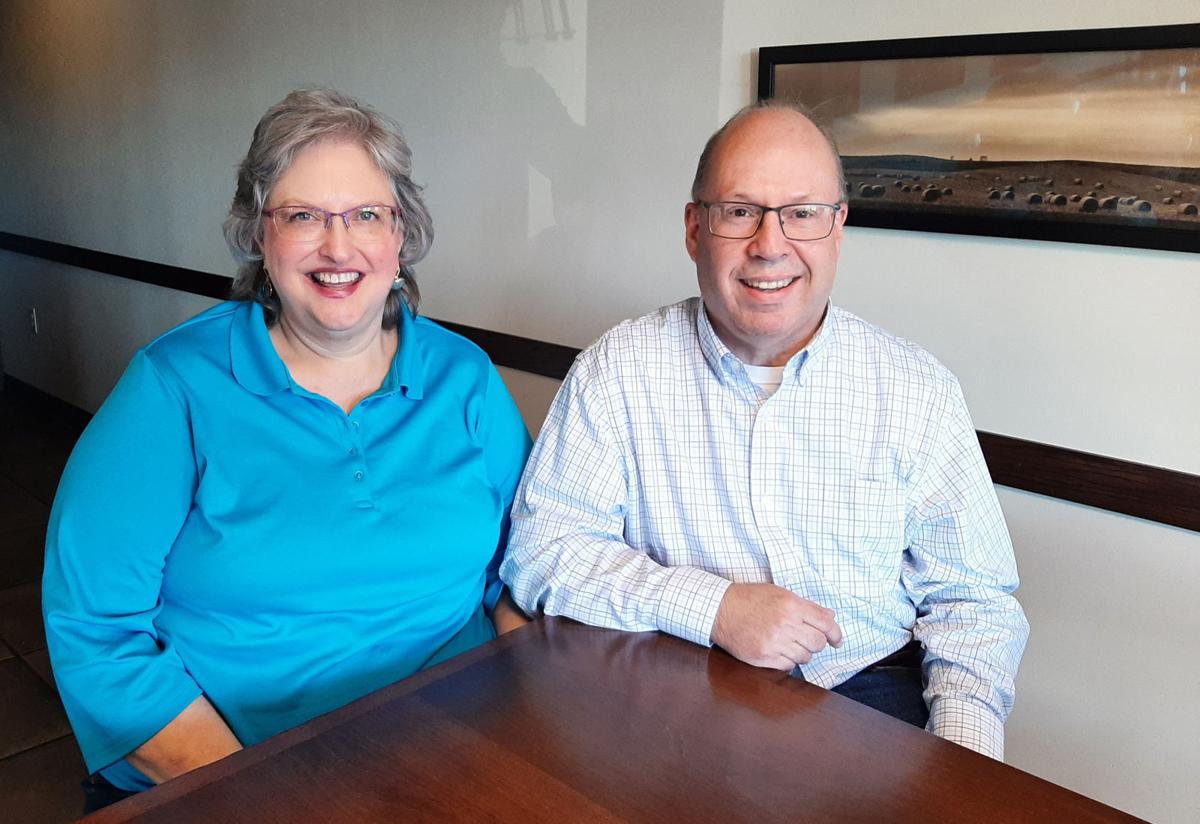 Mike Sindelar was surprised when he tested positive for COVID-19.
It was mid-October when the Fremont man noticed symptoms he associated with allergies: a stuffy nose and scratchy throat. He questioned going to work at his job as chief financial officer at Lincoln Premium Poultry in Fremont.
"What would you tell your employees?" his wife, Susan, asked.
He'd tell them to stay home. So he did. Amid the COVID pandemic, Sindelar also decided to get tested. That was on a Thursday. The following Monday, Sindelar learned he'd tested positive for the virus.
"I was surprised, because I didn't really feel that bad at all," said Sindelar, 57.
His initial symptoms didn't seem so severe. Only later would he experience dizziness, brain fog, trouble with balance and a lack of hand-eye coordination. He'd learn the virus had affected his nervous system.
After his positive test, Sindelar quarantined and worked from home.
"It really didn't slow me down too much at all," he said.
He returned to work. But two days later, he began feeling dizzy and was nauseous after lunch. He went home and became physically ill.
The next morning, he was still dizzy and lifting himself out of bed was a challenge. It seemed as if he were lying under a weighted blanket.
"It was like my body weighed hundreds of pounds," he said.
His primary care physician, Dr. Monty Sellon, ordered an MRI, which indicated he hadn't had a stroke.
Symptoms persisted. His wife was frightened.
"I was horrified," Susan Sindelar said. "It was scary. He would bounce up out of his recliner and he would about fall over."
He'd trip, stumble and fall.
If he tried to put down a cup with a drink, he'd miss the table.
"He spilled so much stuff," his wife said.
The very active man, who'd hardly ever been sick, was struggling.
Sindelar had various symptoms.
"The brain fog was really bad," he said. "You're groggy and things are fuzzy. It's almost as if you're looking through a tunnel and things around the edges aren't quite clear."
Sindelar figured he would work from home, but had trouble with his hand and eye coordination.
He'd try to answer emails, but hit the wrong keys on the computer keyboard.
He couldn't hit the right letters to send a text on his phone. He didn't have the coordination to drag a computer mouse and click it.
"My hands are not matching my brain," he told Susan.
Sindelar went to neurology specialist Dr. Manjula Tella. He had a spinal tap.
He'd learn there was inflammation of his spinal cord. He went to Dr. Britt Thedinger, an ear, nose and throat specialist.
Sindelar said his hearing was fine, but he was diagnosed with acute vestibular neuritis. Sindelar said he was told the virus had settled in his nervous system.
Doctors told Sindelar it would take some time, but his condition eventually would improve.
Sindelar didn't feel better the next week or the one after that.
"It (the virus) is so new, you don't know what the long-term effects are going to be," he said.
Recovery would come, but slowly as he grappled with symptoms.
Besides an inability to type, he couldn't write.
"I was all over the page," he said. "I couldn't control my hands well enough."
One day in November, Susan had gone to her husband's office in their home. She found a sheet of paper on which he'd tried to practice writing his name.
Tears fell from her eyes.
"You could see he couldn't do it," she said.
There were other struggles.
When he tried to reset a password on his computer, he'd hit the wrong keys.
Sindelar wondered if he'd be able to return to work, drive or resume his hobbies. He wondered if he'd be able to drive his manual transmission Dodge Challenger.
He'd readied his snow blowers for winter, but now couldn't use them.
"Is this the way life's going to be?" he wondered.
Sindelar went to a physical therapist for balance training for about eight weeks. He practiced walking on lines and worked on his hand-eye coordination. The therapist would hold and move a pen, which Sindelar practiced following with his eyes.
He'd walk around the block, using a cane. He'd practice writing alphabet letters.
Sindelar saw Dr. Robert Penn, an infectious disease specialist with Nebraska Methodist Hospital in Omaha, who prescribed vitamin supplements.
Eventually, Sindelar's condition improved. The brain fog gradually diminished and one day, it was gone.
"He's got that personality back that I fell in love with," his wife said.
Sindelar was off work from November through the end of December. He went back to work part time in January and after three weeks was back full time. Susan drove him back and forth to work at first.
Susan Sindelar said she never contracted COVID. Both have been fully vaccinated and continue to take precautions.
Two weeks ago, Susan was able to visit her 96-year-old mother, Betty Price, who is in long-term care.
She hadn't seen her mom in person since February 2020.
Looking back, Sindelar said he didn't have a temperature when he had COVID. He noticed only one time when he couldn't taste the meal his wife made.
The Sindelars encourage the public to listen to medical evidence about COVID, get vaccinated and take safety precautions, such as wearing masks.
"You never know how you're going to be affected by it," he said.
The Sindelars also point out that amid the difficulties they have seen good things happen.
They appreciate the support they've received from LPP, family, friends, coworkers and former bosses and colleagues. He received cards, email, calls and texts.
They're grateful for many things. For one, he didn't have to be hospitalized. He didn't have respiratory issues. He's grateful to be able to go to work, drive his car and do chores around the house.
They are thankful for their son, Ryan, his wife, Taylor Marie, their daughter, Willa, and another baby on the way; and their son, Taylor, his wife, Amber, and their daughter, Nora.
"I'm the most grateful for having him alive and having our family," Susan  said. "If you don't have each other and if you don't have love, you have nothing. Material stuff doesn't mean a thing."