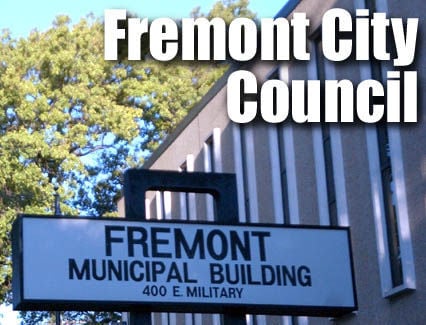 The City of Fremont's sale of land within the Fremont Technology Park to Dodge County for a proposed Joint Law Enforcement Center remains in limbo following the Fremont City Council meeting on Tuesday.
The council voted 5-3 to continue a reconsideration of an ordinance previously approved by the local governing body in December that conveyed the sale of half-interest—or 12.2 acres—of the approximately 25-acre parcel of land to Dodge County for $201,300.
Following a lengthy discussion on the matter, the council's 5-3 vote continued the reconsideration until the end of March while also initiating an investigation by the city attorney regarding concerns about potential open meetings law violations and potential conflict of interest concerns regarding the city's original purchase of land back in 2011 that the city designated as the Fremont Technology Park.
The reconsideration was requested by council member Glen Ellis during the council's Jan. 29 meeting and approved by a 6-2 vote after the original sale was approved by council on Dec. 20, 2018.
The alleged open meeting violations brought forward by Ellis involve meetings between city and county officials, as well as a $15,000 feasibility study approved by council in November 2017 which was conducted by Prochaska & Associates to research the creation of a Joint Law Enforcement Center. Ellis also entered documents into the record regarding the original purchase of land by the city from Pannier Family Investments, LLC.
"My intent is to make sure the citizens of Fremont and the council have all the facts about this land before we move forward," Ellis told the Tribune. "I am not against the sale of the land or the Joint Law Enforcement Center, I just want to make sure we, the city council, make informed decisions for the city."
During the meeting on Tuesday, Mayor Scott Getzschman tried to dispel any concerns about potential conflict of interest regarding the purchase of the land from Roger Pannier, who is a partner in Getzschman Heating and Air and served as treasurer on Getzschman's mayoral campaign.
"We are in a small community and we have partners and things like that—he buys things, I buy things—that doesn't mean that he is getting benefit or that I am getting benefit," he said. "This particular item probably has been under a microscope four or five times in regards to conflict of interest and nothing has ever come back."
Getzschman said that his relationship with Pannier was most recently reviewed by the Nebraska Accountability and Disclosure Commission and that their findings found no conflict of interest regarding the sale.
Despite his remarks, the council ultimately voted to continue the reconsideration pending an investigation by the city attorney to look into those concerns as well as potential open meetings law violations.
"There is concern here that Councilmember Ellis is expressing, and some of the material that he has shown is concerning to me," Councilmember Brad Yerger said during the meeting on Tuesday. "I'm fully prepared to make a motion to continue this or postpone this a little further in order to make sure we have all the information that we need."
Ellis also said that at the very least he would like to see a copy of the feasibility completed by Prochaska & Associates back in 2017 regarding the Joint Law Enforcement Center.
"I am for the Joint Law Enforcement Center, but I am very cautious of spending money and I think that is what our taxpayers want us to be," he said. "I want all the information possible to be given to me before we make decisions and that hasn't happened in the past. That feasibility study we paid $15,000 for, we authorized it, and we should've gotten it back."
Councilmember Linda McClain, who voted against continuing the reconsideration, said she felt that continuing to push the sale down the road served no real purpose.
"I feel like part of my issue here is there is a lot wrapped up into one thing and it's a bit convoluted because part of the issue goes back eight or nine years and so I feel like we can't undue the past," she said. "The Tech Park was built, it's a done deal, and whether or not there was a conflict of interest then as the mayor has indicated has been discussed and reviewed."
Councilmember Michael Kuhns also expressed concerns about delaying the sale of land and putting the proposed Joint Law Enforcement Center in jeopardy.
"What we've done with the city working with the county there has been a lot of challenges to try and get everything on the same page," he said. "The longer we keep delaying this, we've seen what has happened to the 23rd Street Viaduct and that is a big concern to me."
Kuhns, McClain and Councilmember Mark Legband all voted against the motion to continue which was passed with a 5-3 majority.
Prior to the vote, Councilmember Matt Bechtel tried to sum up the situation in his mind.
"I feel like we are caught between principal and what is practical," he said. "I'm glad with what Glen brought up but I also think the mayor has a very valid point. I think it was good that all this was brought up to clarify and put the nail in the coffin. I'm not afraid to wait another 30 days to do one more look at this, but at this point, I think we may be beating a dead horse."
Get Election 2020 & Politics updates in your inbox!
Keep up on the latest in national and local politics as Election 2020 comes into focus.