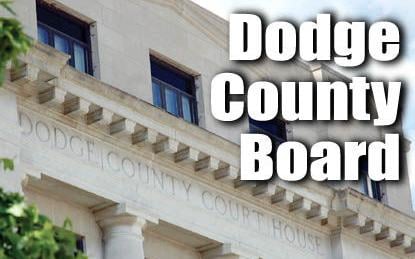 The Dodge County Board of Supervisors approved a $5 million loan to go toward road repair projects from the 2019 flood at its meeting Wednesday morning.
The loan will come from Fremont's three major banks: First National Bank of Omaha, Pinnacle Bank and First State Bank and Trust.
Chairman Bob Missel said the county has about $5 million worth of projects left this construction season, which he said must be completed by Sept. 22 according to the Nebraska Emergency Management Agency (NEMA).
"We are looking forward to seeing these projects wrapped up, but in the meantime, the money coming from FEMA (Federal Emergency Management Agency), as we feared, has been very slow," he said. "And so we find ourselves needing the dollars upfront to complete the projects, and it's an important piece of this. We will get paid back. It's just a slow process."
Martin Krohn, an ag/commercial lender with FNBO, said he has worked with Missel and other supervisors on the issue.
"We wanted to issue this on a nontaxable basis, so in looking at those various projects, there was one project that you had titled 'NRCS (Natural Resources Conservation Service) projects' that did not comply and did not fit the nontaxable definition," he said. "So we pulled that from the total loan request and so we came up with a total loan request $4,849,921 remaining."
Along with a half-percent origination fee of $24,409.15 and paperwork and legal work fee of $7,500, the total loan amount is $4,881,830.15.
Like two previous notes made with the bank and the county, the loan will be on a 10-year term with a fixed rate of 2.5%. Krohn said he expects to see repayment of 75% from FEMA, 12.5% from NEMA and 12.5% from Dodge County, which would be paid in the first four years on a semiannual basis.
When asked by Supervisor Lon Strand if it was unusual for the three banks to work together on a loan, Krohn said it was fairly standard on community projects in Nebraska, including the two previous notes.
"We were pleased to have that opportunity to spread that out," Missel said. "We appreciate you guys managing this process."
After County Attorney Paul Vaughan expressed no concerns, the board voted 5-0 to approve the resolution. Supervisors Bob Bendig and Doug Backens were not in attendance at Wednesday's meeting.
The board also approved an emergency item to transfer $371,000 from the Inheritance Fund to other funds. Missel said the item was added to meet the financial obligations of the county in a timely manner.
According to Missel, $171,000 would be transferred to the Capital Improvements/Economic Development Fund while $200,000 would be transferred to the Flood Disaster Relief Fund.
County Clerk Fred Mytty said he hoped the Inheritance Fund would stay solvent, while Missel added the county had been leaning on it hard. Missel also said the county was expecting a large amount of money from NEMA for FEMA-related projects that had been approved and signed off on.
"Scott (Huppert), our highway superintendent, has shared that the T's have been crossed, the I's dotted and there's really no reason we haven't received those funds yet," he said. "So it's a little frustrating when we have all this debt that we've accrued to facilitate the process."
Missel said he would start making phone calls and speaking with State Sen. Lynne Walz on getting the money. Strand said Huppert requested a letter from the board and county attorney's office to be sent to NEMA.
The board also had a public hearing and unanimously approved a request from Robert and Jerry Mulliken to obtain a conditional use permit to store and apply biosolids.
"This has become such an accepted practice in agriculture today that you would think at some point that we could do away with these zoning requests," Missel said.
Biosolids, a product of the wastewater treatment process, can be used similarly to manure to provide additional nutrients and soil structure to the land.
Although a recommendation for the permit was unanimously approved by the Dodge County Planning Commission, Zoning Administrator Jean Andrews said several nearby people were against the storage of biosolids, which she said could be solved simply through education.
"I think when they see it piled, I think that's what gets them a little excited. That's my theory," she said. "... I told those people, 'You smell it, it's a little musty, but you've got to get your head in the jar of it to really smell it.' And it doesn't run. If there's a deluge of water, rain, it doesn't go anywhere, it stays right there."
Strand said he felt that the issue was a bit of a double standard with manure.
"Farmers can apply manure without any permission whatsoever, and this doesn't even smell like manure, not anywhere close," he said. "And I guess at some point, we need to do away with it."
Andrews also said at the time the application was created, it was discovered that some of the grounds on the north side was in the village of Nickerson's one-mile jurisdiction, requiring the Mullikens to apply for that parcel of ground as part of the planning commission's conditions.
Keith Kontor, superintendent of the Fremont's Wastewater Treatment Plant, said he attended the planning commission meeting and spoke with those who were opposed.
"We decided to store the biosolids in a different area that will be out of their sight, out of close proximity to their property," he said. "So I feel that we came to a mutual agreement."
Kontor also said the documentation needed from Nickerson had been received and was being filled out.
The board unanimously approved a second conditional use permit and subdivision of land for Hoegermeyer Farms Inc. Andrews said there was no opposition during the planning commission's meeting.
For years, Andrews said the farm had rented out its land, which she said was a "really nice acreage."
"(Greg Hoegermeyer) had a renter that wanted to buy it," she said. "So he said, 'We got tired of running and it needed some work, so we decided to sell and let them fix it up, remodel the inside and bring it to the 21st century.'"
Strand said he was good friends with Hoegermeyer and supported the approval of the permit.
Andrews also said she, along with Strand, was still looking for an appointment to the planning commission after Nathan Schole's departure. She also said she was still working on zoning regulations regarding wind energy.
"What I'm going to do is I'm going to take everything that I've got from other counties and try to mix something up for the planning commission," she said. "Instead of continuing it, I'm going to take it to them and let them tear it apart, and then we'll bring it back."
The board also approved a new contract with the Lancaster County Youth Services Center and over $1.6 million in financial claims. Supervisor Greg Beam also shared that Dodge County has booked 113 inmates this month, showing an uptick after a downturn due to the pandemic.
During committee reports, Missel said he's been in talks on the Highway 30 project between North Bend and Fremont. He said District Engineer Tim Weander said the project had been pushed back further than expected, citing issues with its budget and COVID-19.
The project's best-case scenario would be to have two lanes of the four-lane highway open by 2024. Worst-case scenario, Missel said, would be 2026.
"Obviously, I was discouraged to get that news, but in the same breath, I understand the Department of Roads' challenges with all their projects right now," he said. "They also were heavily impacted by the flood of 2019 and they were taken away from a lot of scheduled projects that they were working on, just like we were in Dodge County."
Get Government & Politics updates in your inbox!
Stay up-to-date on the latest in local and national government and political topics with our newsletter.