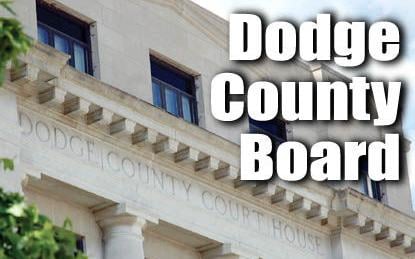 The Dodge County Board of Supervisors approved setting a public hearing for its 2021-2022 budget at its meeting Wednesday.
The hearing is set to take place at 10:15 a.m. at the board's next meeting on Sept. 8 on the third floor of the Dodge County Courthouse at 435 N. Park Ave.
County Clerk Fred Mytty said the Finance Committee met Monday to discuss the budget, which went from from about $38 million to $54.9 million.
"The reason for that is basically $7 million in wrap-up money and hopefully paying back some of these banks from our disaster fund," he said.
Mytty said the county experienced about a .27% decrease in valuations to $13,057,660, which Strand questioned.
"It seems to me like we're doing new construction in Dodge County faster than ever, and yet our valuation has crept down," Strand said. "And I know some land has crept down on the valuation side, not so much on the real price."
Chairman Bob Missel said property owners such as the Lincoln Premium Poultry and Costco chicken plant received an exemption on their personal property due to tax increment financing.
Additionally, Missel said the Nebraska Tax Equalization and Review Commission issued a 12% increase to commercial property in Fremont last year.
"I know that that was a mandatory issuance, and it caused the assessor to reassess all those properties again in this fiscal year," he said. "And some of those came back, because they were pushed higher than they should have been."
Although Missel said he didn't know if the Nebraska Department of Economic Development would introduce a new program to allow future exemption, he said he was happy to see the tax levy not go up despite the change in valuation.
"It looks like a good budget, and I'm thrilled that we can keep that valuation below the 23-cent mark, which is one of the lower rates of the 93 counties in Nebraska," he said. "And so hats off to our employees and our departments continuing to recognize and be fiscally responsible."
Supervisor Bob Bendig, chairman of the Finance Committee, agreed with Missel's comments.
"Each year seems to be a little twist on things that are happening like COVID and the [Coronavirus Aid, Relief and Economic Security] Act," he said. "And so overall, it's a good budget in trying to hold that tax levy similar to what it was in prior years."
The board also unanimously approved issuing educational facilities revenue bonds for Midland University during a public hearing.
Jodi Benjamin, vice president of finance and administration, said Midland, a tax-exempt organization, came to the board twice on similar issues in the last 10 years.
In 2016, Midland asked to refinance previous bonds, while a new $5 million bond in 2019 went to renovations and the construction of a new hall, Benjamin said.
"We're here today to ask your assistance to combine those two issuances in one refunding, so a 2021 bond that will be between $17 million and $18 million," she said.
Benjamin said Midland wanted to take advantage of current interest rates, as well as an upcoming balloon payment on the 2016 bond.
Missel said the timing was perfect for the county as they go through the budgeting process.
"There's no cost to the county for this, it's simply using our tax authority to issue bonds," he said.
The board also approved a transfer of $10,000 from the inheritance tax fund to the flood control fund, which Mytty said would be reimbursed.
"We have $6,285.37 in claims today, and we just need a little more money in the flood control fund," he said.
The board also approved striking a little less than $5,000 in delinquent taxes from 2012 to 2018 from the tax rolls.
County Treasurer Gail Bargstadt said the taxes were from entities no longer in business, unable to be contacted or deceased, but that the county would still be able to be collect the taxes in the future.
The board also approved a three-year agreement with North Bend to provide law enforcement services and a one-year agreement with the City of Fremont for limited road maintenance.
Additionally, the board approved the reappointments of Becky Von Seggern and Russell Rabeler to the Dodge County Board of Adjustment for additional three-year terms.
In other news, the board approved $310,409.96 in claims, JEO Consulting Group to work on the Rawhide Creek Watershed Work Plan's environmental assessment and a conditional use permit for a farm north of Snyder.
During public comment, Michaela Valentin announced to the board she had been hired as government relations/community relations manager for the Omaha Public Power District and that members could reach out to her if needed.