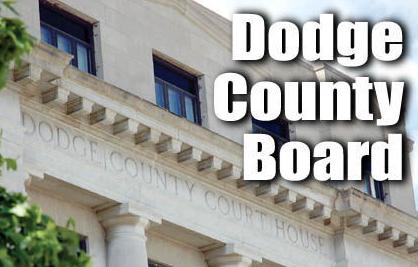 The Dodge County Board of Supervisors will consider a number of flood recovery related items during its meeting scheduled for Wednesday.
The board will consider potential additional action needed to move forward with a $5 million bond/loan to finance flood repairs throughout the county.
During its meeting on June 5, the board unanimously approved a resolution authorizing the financing of $5 million in bonds for use in fiscal year 2019-2020.
At that meeting, Director of First National Capital Markets Craig Jones was present to outline his progress on securing tax-exempt bonds for flood disaster repairs.
While speaking with the board, Jones commented that one of the biggest changes he made was that of lowering the county's request from $10 million to $5 million to keep the bonds qualified with the IRA as tax exempt.
Another change presented, and approved, on June 5 allows the county a line-of-credit, to borrow as needed.
The goal is for the county to set aside money now, with the expectation that FEMA will reimburse costs at a later date.
"The reality is that those FEMA dollars could be a couple of years away so that payback is in our future. It's not today. And of course, we'll need the money today," Dodge County Board Chairman Bob Missel said back in March.
The board will also consider action on two interlocal agreements for cost sharing of the flood disaster with Platte Township and Pleasant Valley Township.
Board members will also have a discussion of implementing a procurement policy for submitting FEMA disaster documentation and other federal grants.
The board will also consider two items related to the recently created Joint Water Management Board.
Items include the consideration of sending a letter of support for the Joint Water Management Advisory Board's application to the Water Sustainability Fund for a flood mitigation and resiliency plan.
The board will also consider authorizing the City of Fremont, on behalf of the Joint Water Management Board, to solicit a request for proposals from engineers to apply for funding from the Hazard Mitigation Grant program offered through the Nebraska Emergency Management Agency.
Get Government & Politics updates in your inbox!
Stay up-to-date on the latest in local and national government and political topics with our newsletter.