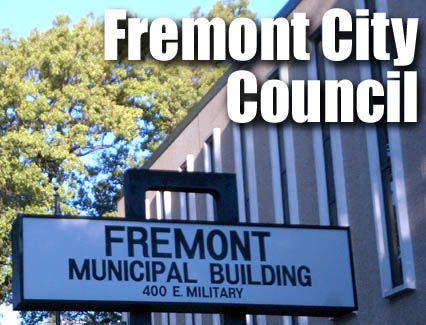 The Fremont City Council approved ordinances for its government and utility salaries Thursday after holding three readings throughout the week.
The council initially held first readings on the ordinances at a special meeting on Tuesday, but a motion to waive the second and third readings failed with a 5-2 vote, as it required a supermajority of six votes.
Likewise, a motion to wave the third readings failed again with a 5-2 vote at a special meeting Wednesday. The ordinances were finally approved the next night.
The votes against each of the readings, waivers and ordinances were Councilmembers Glen Ellis and Brad Yerger.
The government ordinance included union agreements, as well as non-union pay grade changes based on comparability.
The utility ordinance recommended a 2.5% increase to all non-union classifications as a revised collective bargaining agreement had not been agreed on.
On Wednesday, Yerger questioned the array studies in regard to the union contracts and the negotiation tactics used.
City Attorney Travis Jacott said although the council could discuss the studies in executive session and look at them with Human Resources Director Jennifer McDuffee, they could not be released to the public.
"The array studies themselves reflect the city's approach to how those arrays are done and how that affects salaries throughout the city," he said. "And they're available to you if you want to go review them, I'm just saying right now they're protected information rightfully under the Open Meetings Act."
Ellis said he didn't believe releasing the arrays to the public would be a danger.
"I just want to make a very informed decision, and I don't feel I can make that decision without looking at that," he said. "And I just don't see how it's affecting union negotiations."
However, Councilmember Jensen said councilmembers were free to meet with McDuffee and see the arrays before voting on the ordinances.
"You can go in there and look at it," he said. "It's protected, it just can't be public, but anyone on council can go look at that at any time."
When asked by councilmembers about the cemetery workers' positions jumping up 6.5%, McDuffee said the position had previously been underpaid.
"It was one that historically we hadn't kept up with the market, we hadn't kept up with what other people had done," she said.
Yerger also said he wanted to know the impact of salary changes, both union and non-bargained, to see if funding could be used to provide the city with six additional firefighters.
"In the end, I'm trying to evaluate what the overall impact is, and as a part of trying to fund this stuff, where we're going to find the money," he said.
Despite Yerger being told by Jacott that the question didn't pertain to the ordinances, Ellis said it involved the salaries of the proposed firefighter positions.
"Instead of a [cost-of-living adjustment] of three, we put it at two-and-a-half, or we start adjusting the levy," he said. "So that's why the question is asked today."
Councilmember Sally Ganem said the council had to balance between providing the city property tax relief and being able to pay its employees.
"We can't have it both ways, and I'm not so sure listening to the input that I'm getting that I'm willing to raise that levy this year," she said.
Councilmember Mark Legband said negations had been primarily finished and that the council should respect the decisions made.
"I think negotiations have all been done in good faith," he said. "We've hammered it out, they're ready. They're ready to go."
During discussion of the utility ordinance, McDuffee said the 2.5% salary increase would be kept until negotiations have finalized, at which then the ordinance would be re-evaluated.
However, Yerger was critical that the budget also included other increases built into the budget.
"It's kind of like the Nancy Pelosi budget," he said. "'Pass it now, and I'll tell you what's in it later.' Strange."
McDuffee said if no new contract was negotiated by Oct. 1, then the current contract would hold with current wages until a new contract was approved.
At discussion of the ordinances on Thursday, Yerger started with a motion to waive the five-minute limit on councilmembers speaking, which he called "appalling" the day before.
The vote failed 2-4, with Yerger and Ellis voting for. Councilmember Vern Gibson was not present at the meeting.
After the vote, Yerger made another motion to go into executive session to discuss the array studies, as City Attorney Molly Miller said open session was not the "appropriate space" to do so.
"You're welcome to go sit down with Ms. McDuffee or sit down in an executive session and have those conversations," she said. "You've never been denied access to them, just not in the method and manner for which they've been asked up to this point."
Legband disagreed with the motion and said staff had done their "due diligence" with the negotiations.
"We're going to be throwing a curveball at the last second when they're not ready for it," he said. "... I just don't see a need for it."
Jensen also disagreed, saying that Yerger could discuss his questions in private with McDuffee.
"We just don't need to drag everybody with him to do it," he said. "He can have the questions answered at any time, not necessarily here."
However, Ganem expressed her support for going into executive session.
"Everyone deserves at least to ask questions and have their questions answered, however," she said. "And this could be a way that we could do it in an executive session and certainly air out concerns."
Although a 4-2 vote was made to go into session with Jensen and Legband voting against, it required a supermajority and ultimately failed.
Ellis again expressed dismay at being told the public wouldn't get access to the studies.
"This is extremely disheartening, because we're sitting here as a council, expected to vote on about 25 comparison salaries," he said.
A motion to hold the final reading and approve the government ordinance passed 5-2, with Mayor Joey Spellerberg providing the final vote.
In discussing the utility ordinance for the final time, Ellis said he wished that union negotiations would have taken place earlier in the year.
"Like I said before, this was a fail, and it's falling on the city council and it's making us look bad, it's making us make decisions that we shouldn't be making, and that's why I'll continue to vote no on this," he said.
Yerger echoed Ellis' comments, calling the budget process a "debacle from Day One" and wished it had more question-and-answer discussion between councilmembers and staff without the time limit.
"For other cities that are of similar size, their processes put us to shame," he said. "It's almost an embarrassment to sit up here and to think that we have to go through this."
Again, a motion to hold the final reading and approve the utility ordinance passed 5-2, with Spellerberg voting in favor.