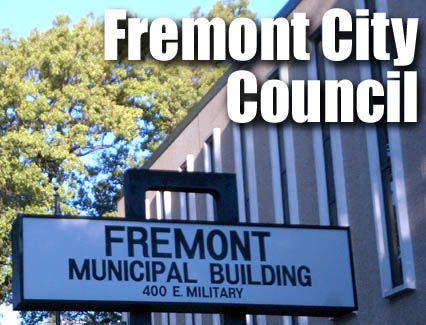 Fremont City Council approved the final reading of an ordinance that would limit the amount of time a council member may speak on an agenda item during its Tuesday meeting.
The ordinance, introduced by council members Mark Jensen, Linda McClain and Mark Legband, allows council members to speak a maximum of 10 minutes per agenda item; five minutes before every other council member has spoken and another five minutes after public comment.
Additionally, debate and discussion for any particular agenda item will not be allowed to exceed 40 minutes. Once that time has elapsed, the ordinance calls for the item to either be voted upon or continued through a motion made by another council member.
Jensen said the implementation of a time limit isn't something unique to this ordinance. He noted state legislature speaking limits with debate on the floor.
Unicameral speaking rules state the member introducing a pending matter may speak for 10 minutes when first presenting the matter to Legislature. From there, each member may speak up to three times for no longer than five minutes.
Councilmember Susan Jacobus noted that state Legislature and other communities have the opportunity to address items prior to debate through committees and sub-committees.
"What is unique is that many communities have committees prior where they thoroughly vet and we haven't had that same luxury," she said.
Councilmember Glen Ellis agreed with Jacobus, saying there is a need for subcommittees within the city council.
"That would help alleviate some of the discussion in council," he said.
Ellis added that simply following Roberts Rules of Order for debate would provide a similar manner for discussion without the need for an additional ordinance in the City's Municipal Code.
"I don't recommend that we pass this because it will send a signal of squelching speech," he said.
Councilmember Mark Legband said this ordinance will help push council members to call city administration, legal advisers and staff with questions prior to meetings.
"That would help speed up these meetings immensely," he said.
Councilmember Brad Yerger raised several logistical questions about how the council would proceed with debate under the new ordinance.
He didn't understand how the council would ask questions of staff and administration, as well as potential applicants, for a specific item.
"Can you start and stop the timer as you are asking and answering questions? If you have 10 questions to staff do you just lay them all out at once?" Yerger asked. "Do you time the interactions? Who would keep track of this time? It just seems particularly cumbersome."
Jensen responded, saying "if you're coming in with 10 questions to staff, you're not making any phone calls during the week."
Yerger said he can personally attest to making numerous phone calls to city staff and administration prior to meetings. He said those efforts have been successful on some occasions. Other times, the discussion still makes its way to the floor during debate.
"I think it's important we have the debate and discussion between staff and council and if we stifle that in any way we aren't serving the public in the fullest extent," he said.
Councilmember Michael Kuhns said he didn't believe this ordinance limited speech. Instead, he saw it as a means to provide each council member with the same opportunity to speak.
"From my past experience, I've had my finger on the button for 40 minutes before being called on," he said. "I think this is needed, but it ought to go around the room before going all night between two council members."
Jacobus said council members weren't elected to cut meetings short.
"We were elected to discuss each and every item," she said. "We've been guilty of dragging discussion into the weeds and beating it half to death."
Jensen introduced a motion to include an additional rule to the city's code that would allow the time-limit ordinance to be suspended by a vote of simple majority.
Traditionally, the rules of the council are suspended by a three-fourths majority vote.
The amendment carried 5-3, with Jacobus, Yerger and Ellis voting in opposition.
Fremont resident Gene Schultz asked the council to consider implementing this on a trial basis before introducing it into city code.
"I would like you to stop and think what would happen if this goes wrong and you have to correct it," he said.
After listening to commentary from the council and the public, Yerger introduced a motion to table the ordinance through August. He said this would allow the council to attempt to follow Robert's Rules to condense discussion before introducing new rules into the city code. Yerger's motion was seconded by Jacobus.
Jensen said he has received little communication from any opposition since the ordinance was first introduced.
"Personally, there hasn't been very much compromise in the last five-plus weeks this has been sitting out there," he said. "Caving on the finish line is not something I'd want to do."
Yerger's motion failed on a 3-5 vote, with McClain, Kuhns, councilmember Matt Bechtel, Jensen and Legband voting in opposition.
Kuhns then introduced a motion to approve the amended motion for final reading, which was seconded by Jensen. The motion passed 5-3, with Yerger, Jacobus and Ellis voting in opposition.
Get Government & Politics updates in your inbox!
Stay up-to-date on the latest in local and national government and political topics with our newsletter.