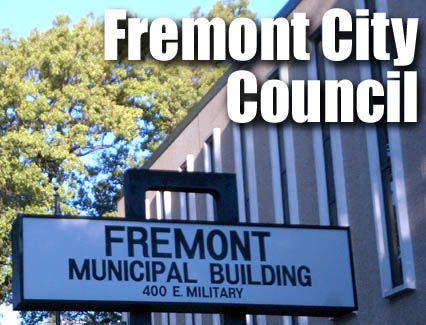 The Fremont City Council continued discussions on its biennial 2022-2023 budget at a special meeting Tuesday.
Mayor Joey Spellerberg said after the city receives county valuations this Friday, he will release a budget on Monday and present it at a special meeting the next day.
"The public will see it, council will see it," he said. "There'll be a budget out there, so I have been listening to a lot of your comments."
Before starting public comment, the council voted 4-3 on a motion to waive rules limiting the amount of time councilmembers could speak.
Like previous meetings, members of the public expressed concern with the budget process and allocating more funding for the Fremont Fire Department and Fremont Police Department.
"We put $27 million on there, but not one for staff," Paul Von Behren said. "I know there's a study, but there's nothing stopping the city from allocating about $2 million for when that study is completed."
Richard Hirschman, a former teacher who "graded" several aspects of Fremont, said he gave the fire and police departments a "C."
"They are doing an excellent job in spite of not having a whole lot to work with, not enough people, not good enough buildings, infrastructure, all that sort of thing," he said. "... They need more. Otherwise, we're not going to be able to keep these fine people."
Dave Wordekemper, president of the Fremont Firefighters Local 1015, thanked the council and public for their support of the fire department, which he said was "short-staffed" and in need of help.
"Something has to be done," he said.
Wordekemper also said the city can apply for various grants, including Staffing for Adequate Fire and Emergency Response (SAFER) and Assistance to Firefighters Grants (AFG).
"We're willing to work with the city to get that process going," he said.
Steve Ray said the city couldn't wait until the fire department's study was completed to give them the funding they need.
"It's pretty obvious that you need to put money in the budget now for personnel for fire," he said. "How many or what, maybe you need to wait to see what it is."
Theresa Macrander said the city needed to focus more on public safety for its citizens, as well as road repairs.
"Everybody in the medical field is stressed, we're burnt out and we need help, and it begins helping on our streets, our citizens," she said. "You guys have to do something about this."
Other citizens commented on the budget process for the city, including Diane Paseka.
"It just seems a shame that this governing body, who we believe to be in power, is not having time to properly discuss and allocate millions of dollars," she said. "So who's running the city?"
Susan Jacobus said in years past, the council had more input on the budget with strategic planning starting earlier in the year, but called this year's process a "sham."
"There has been no discussion until several of the councilmen scheduled meetings to discuss the agenda with the public," she said. "Otherwise, there would not have been an ear to what the public needs and wants."
Council President Mark Legband thanked the public for speaking and said he was in the "same boat" in wanting to assist the fire department.
"I know that we do want to help the fire department, and I'm going to do whatever I can to help you," he said. "Even though the budget's tight, we're going to find ways to get it done."
Councilmember Sally Ganem also showed her appreciation for the public input.
"I just want to let you know that we're all listening, we all hear you," she said. "And certainly, obviously some things have come to the surface pretty strongly."
Spellerberg said he had taken input from the last three meetings and would present an up-to-date budget with issues such as the tax levy, public safety and infrastructure.
"That stuck with me, and that was carried with me as your mayor," he said. "I'll take the responsibility as in council not getting this earlier than normal."
In discussing public safety, Spellerberg said the community needs to decide what level of service it needs and if it needs to be funded temporarily or tax based on the operational staffing levels.
"You can know and be reassured that my goal and priority is to try and bring all of this together, and like I said before, does that mean everybody is getting what they want?" he said. "No, but when I present my budget, council will have an opportunity to make amendments if they wish."
Councilmember Mark Jensen thanked Spellerberg for his comments on the budget, which he said he expected to be one he could support.
"I believe everyone on council and city staff understands the importance of our public safety resources and that those resources are stretched thin and that it needs addressing in the very near future," he said.
Councilmember Brad Yerger said he was appreciative of the city staff for working in a short time frame after receiving the budget, but was critical of having the council receive it on Monday and discuss it the next day.
"Within one day of reviewing the budget, we're supposed to come as a fully informed council and make adjustments and recommendations because the very next week, we're going to hold first reading," he said.
Additionally, Yerger questioned Spellerberg if he would be able to explain the budget's various significant items and justify their existence.
"These things that are priorities to you and the things that the public has said are priorities to them, hopefully they mesh and they can be explained as to why they are priorities," he said.
Director of Finance Jody Sanders said city staff had been listening to the meetings and making adjustments to the budget as needed.
"Other than the mayor giving us direction, this budget is a collaborative budget," she said. "Every single department head has come in and spoken with myself and the assistant city administrator."
Sanders said the department heads were only told that there would be no new hires except for two community service officers, but everything else was on the table.
"It's not administration ram-rodding something through," she said. "These are things that were asked for."
Councilmember Glen Ellis, who previously presented an alternative version of the budget that placed more emphasis on public safety, said the council had been "taken out of the process" in creating the budget.
"It's just extremely frustrating to me that there seems to be a concerted effort to make the city council less and less important," he said "… If we can't do the work, something needs to change."
Spellerberg responded by saying the council has until Sept. 20 to make a decision and can have more meetings in the meantime.
Yerger said the city needed to know how to fund the fire and police departments and hoped to see a solution soon.
"If we can't figure out a way to do that, shame on us as a community," he said. "Because there's really nothing more important than public safety."