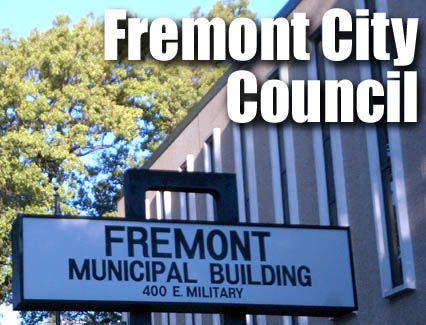 The Fremont City Council discussed several items regarding city employees' salaries at a special meeting that ran past midnight Tuesday.
Votes to waive second and third readings for ordinances on government and utility salaries both failed with 5-2 votes, which means additional meetings for readings on Wednesday and potentially Thursday are required.
The council unanimously approved collective bargaining agreements with the Fraternal Order of Police, Professional Firefighters Association of Fremont (IAFF) and the American Federation of State, County and Municipal Employees.
According to Human Resources Director Jennifer McDuffee, all three union agreements go into effect Oct. 1. The FOP agreement is for two years, while the other two are for four years.
The FOP agreement includes wage adjustments based on comparability for year one and a 3.5% increase for year two; the IAFF agreement includes comparability for year one and a 3% increase for years two through four; and the AFSCME agreement includes a 3% increase and additional adjustments based on comparability for year one and 3% increases per year for years two through four.
During discussion of the government salary ordinance, McDuffee said it included the union agreements, as well as non-union pay grade changes based on comparability.
The ordinance also removed one position, human resources tech I, and added to the utility salary ordinance and removed the office associate temporary classification, which is no longer utilized.
"We've also added new positions for police captain and community crisis responder to reflect structure changes and additional services being added by the police department," McDuffee said.
Councilmember Glen Ellis questioned if cost-savings could be made by lowering some of the percentages and asked if calculations could be brought to a future meeting.
"I do want to pay our employees with the comparable, but I also think that there's ways that we maybe can not take a big bite of the apple," he said. "Maybe we could nibble at it now and then take another nibble in two years and get everyone where they need to be."
Although Councilmember Brad Yerger made a motion to continue the first reading in order to get more information on comparisons, it failed to gain a second.
"We have some significant bump, we have some significant administrative overhead relative to the mean income in this city, and I think it's appropriate for us to look at all of the options that we have," he said.
Even though Ellis said he wouldn't support the motion to continue, he said he wouldn't vote on the ordinance's second or third readings.
"This is just absolutely unbelievable that we're up against this timeframe and you can't give us the information that we can look at," he said. "Because as you know from the conversation that we had earlier tonight, we're trying to find every nickel and dime we can."
Councilmember Mark Legband thanked McDuffee for her work and said lowering the percentages wouldn't be feasible.
"They've worked their tail off, they've got a negotiation with everyone," he said. "It's time to move forward and give the people and the workers what they need."
Mayor Joey Spellerberg also thanked McDuffee and said the union negotiations came after multiple meetings against deadline.
"I know the last couple of months have been a lot of work, and you've gone through a lot," he said. "And they're not easy negotiations. Our staff has been doing the best job they can."
Despite thanking Spellerberg for his comments, Ellis said changes needed to be made to ensure union contracts are prepared earlier.
"I don't know who failed, but for us to be in this position where we have to make a vote tonight and then tomorrow night and then the next night, that's a failure."
Although a motion to hold first reading for the ordinance passed 6-1, a motion to go straight to final reading failed 5-2.
With the utility salary ordinance, McDuffee said a 2.5% increase was being recommended to all non-union classifications as a revised collective bargaining agreement had not been agreed on.
"We didn't want the non-union staff to be penalized, because the contract negotiation had nothing to do with them," she said.
Additionally, McDuffee said an assistant wastewater treatment plant superintendent position would replace the WWTP supervisor position due to increased operations.
Again, a motion to hold first reading for the ordinance passed 6-1, but a motion to go straight to final reading failed 5-2.
The council also unanimously approved edits to the employee handbook that would include vision insurance and an employee-plus-one tier option to medical insurance based on requests in the agreements.
Finally, the council continued discussion setting the 2021-2023 property tax for the general fund to be set at $5,827,509.38 with a 5-2 vote.