As the song "America the Beautiful" played in the background, Fremont Fire Chief Todd Bernt shared the stories.
They were stories of people who never made it home on Sept. 11, 2001, after terrorists slammed commercial airliners into the Twin Towers of the World Trade Center and the Pentagon and crashed a plane into a Pennsylvania field.
Bernt was among Fremont Fire and Police representatives, city officials and other local residents who gathered on Saturday at the Eternal Flame in Fremont Veterans Park for a brief observance. The group then processed to First Lutheran Church for a program remembering those whose lives were lost and paying tribute to first responders.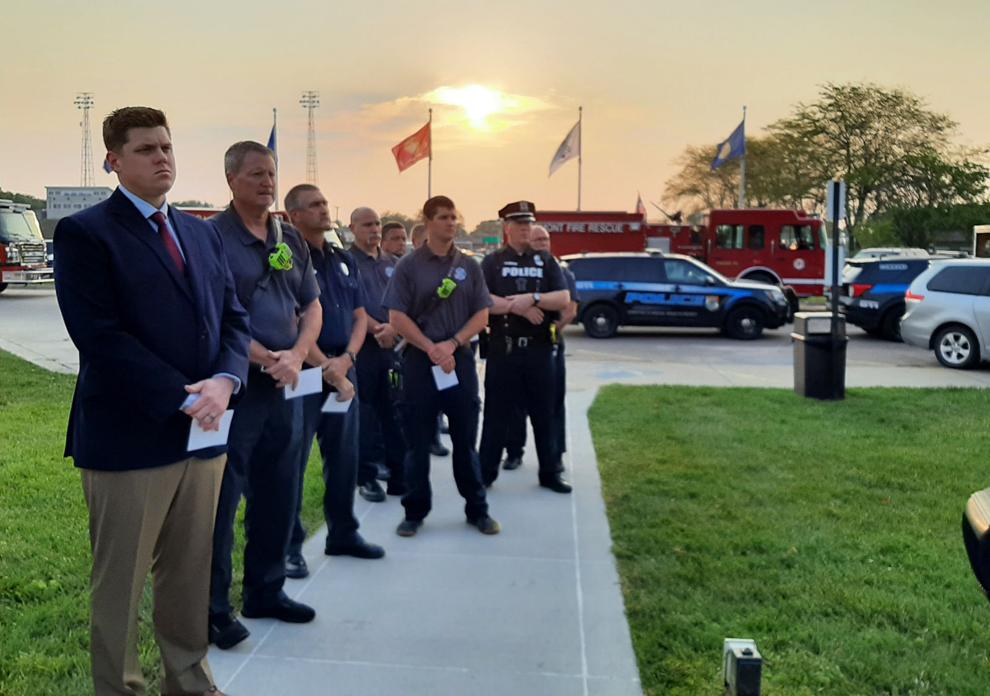 The local fire chief read examples of just a few of the heroic people who gave their lives 20 years ago.
Among the almost 3,000 who died that day were:
• Benjamin Clark, a chef and former U.S. Marine, credited with saving hundreds of lives in the South Tower. He paused on the 78th floor to help a woman in a wheelchair and died when the building collapsed.
• Moira Smith, a female New York Police officer, who led countless injured people from the towers, before dying with other heroes in the rescue effort.
• FBI Special Agent Leonard Hatton, a former U.S. Marine and volunteer firefighter. He joined NYC firefighters in the evacuation effort and died when the WTC's North Tower collapsed.
• William Rodriguez, a WTC maintenance worker — who having all the keys to North Tower emergency exits — has been credited with bravely leading firefighters up the stairs, unlocking doors as they climbed, helping to save hundreds of people.
• Danny Lewin, an American-Israeli aboard American Airlines Flight 11, who single handedly tried to stop the terrorists and was stabbed to death.
• Morgan Stanley Director of Security Rick Rescorla, a Vietnam veteran, credited with saving the lives of 2,687 Morgan Stanley employees, plus 250 office visitors. When he had them safely outside, he went back to save more and was one of 13 Morgan Stanley employees who died that day.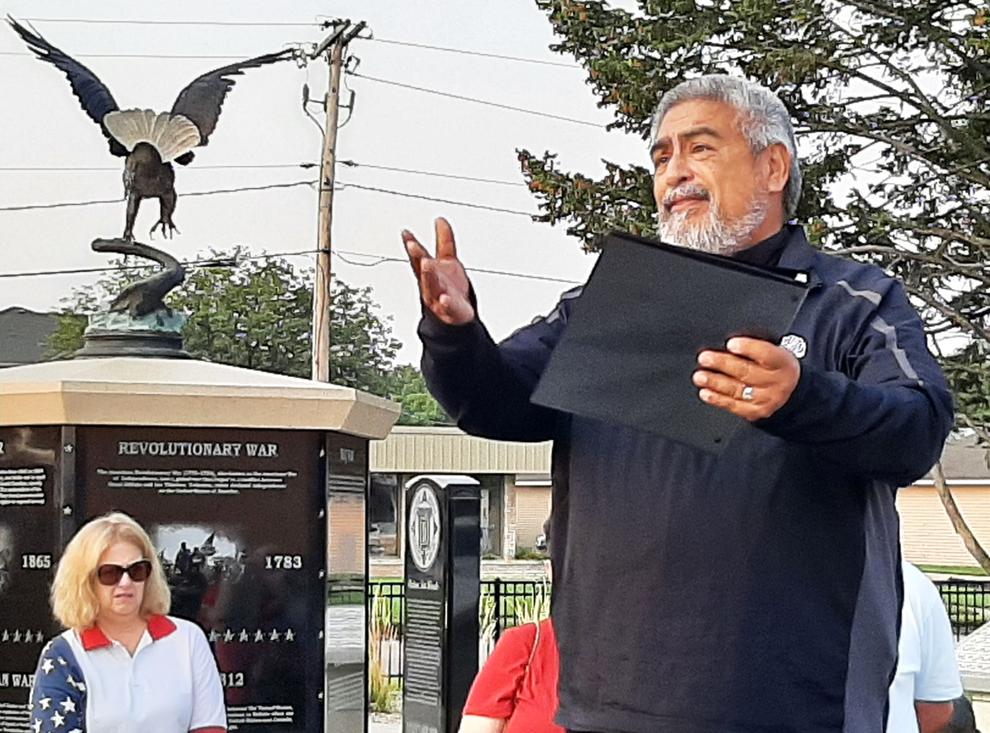 Members of Fremont's First Lutheran Church planned the Community September 11 Remembrance.
Their senior pastor, the Rev. Ernesto Medina, could have been on American Airlines Flight 11, which crashed into the North Tower.
A doctor had ordered the pastor, then living in Los Angeles, to stay home due to his recently diagnosed diabetes.
Otherwise, Medina would have attended a Boston conference, most likely heading home on Flight 11, which never reached its destination.
Medina encouraged those gathered at the park to remember lives lost and to thank first responders.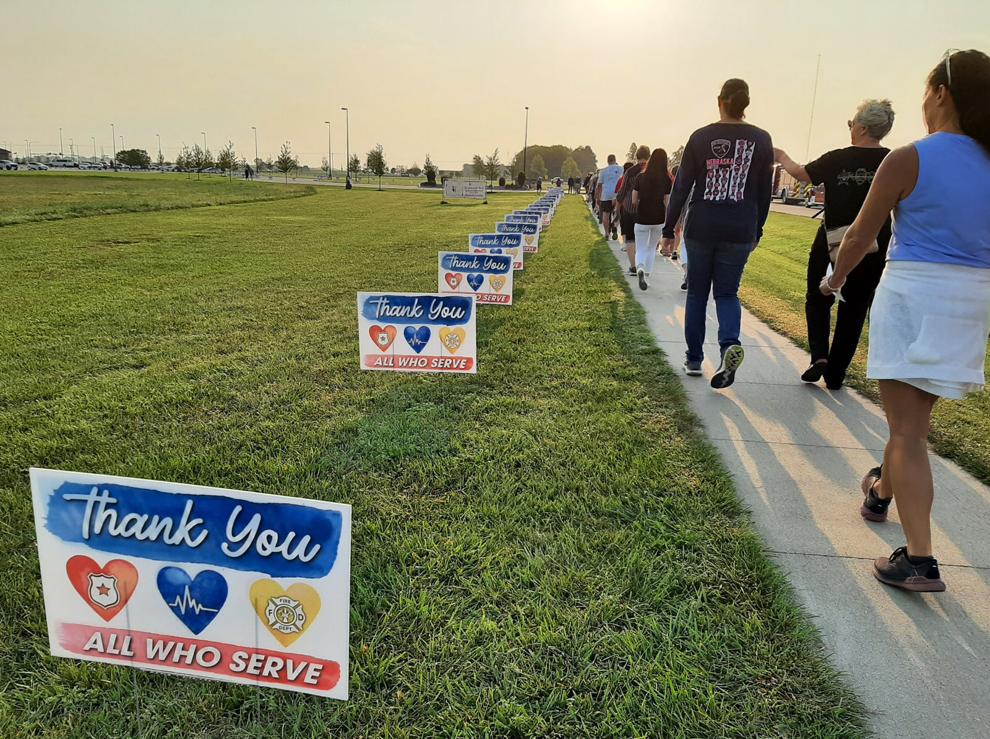 "It's important to remember," Medina said. "It's important to say, 'Thank you.' It's important to love."
Amy Spies, FLC director of worship arts, rang a bell at exactly 7:46 a.m. central time — coordinating with the moment the first plane, Flight 11 —  crashed into the North Tower at 8:46 a.m. Eastern time.
Mark Harman, vocal music director at Fremont High School, directed students who softly sang, the National Anthem, "The Star Spangled Banner."
Fremont firetrucks and police vehicles escorted a quiet procession of walkers from the park to the church.
Along the way, walkers had small cards with names of those who died in the attacks, which they could read aloud as they walked.
Walkers passed by the long mural depicting American flag-holding people at the Parkview Center Mall on Military Avenue.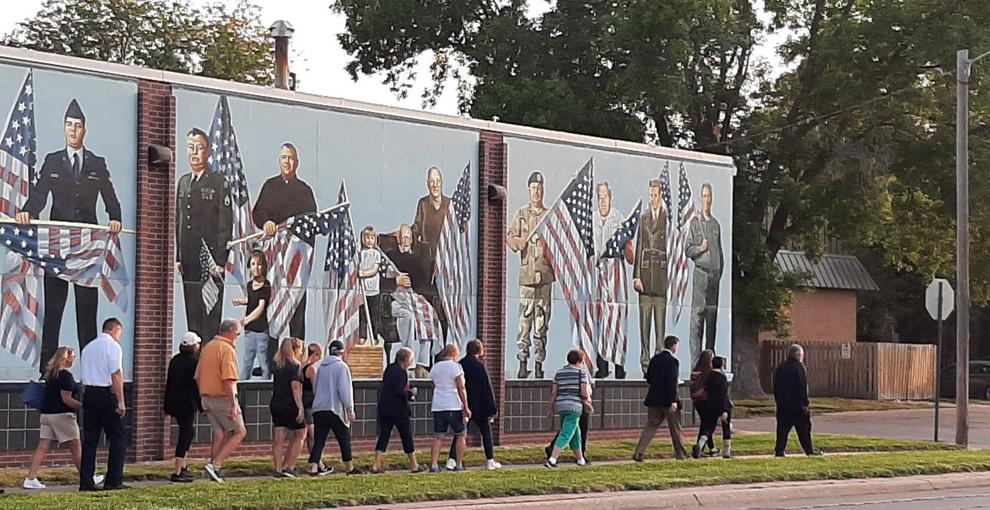 One man waved from his home's front porch as walkers passed by, while another posted an American flag in front of his house.
Red, white, blue and yellow signs reading: "Thank You All Who Serve" were posted in a grassy area near the church. Event attendees later were asked to post the signs in their own yards and share them with others.
Area residents gathered in the church parking lot to hear speakers and music by Bob Yanike's Broad Street Revue's community singers.
Fremont Police Lt. Shane Wimer read the account of then-New Jersey Police Department rookie Will Jimeno, who was buried in 20 feet or more of rubble from both towers.
Jimeno, who spent hours calling for help, resolved that if he died — at least he'd done so trying to help others.
At one point, Jimeno, a Catholic, described a vision of a robed man walking toward him with a bottle of water and told fellow trapped officer John McLoughlin that they were going to get out.
Jimeno's injuries ended his police career and he has Post Traumatic Stress Disorder.
Jimeno seeks to honor those lost by living a fruitful life.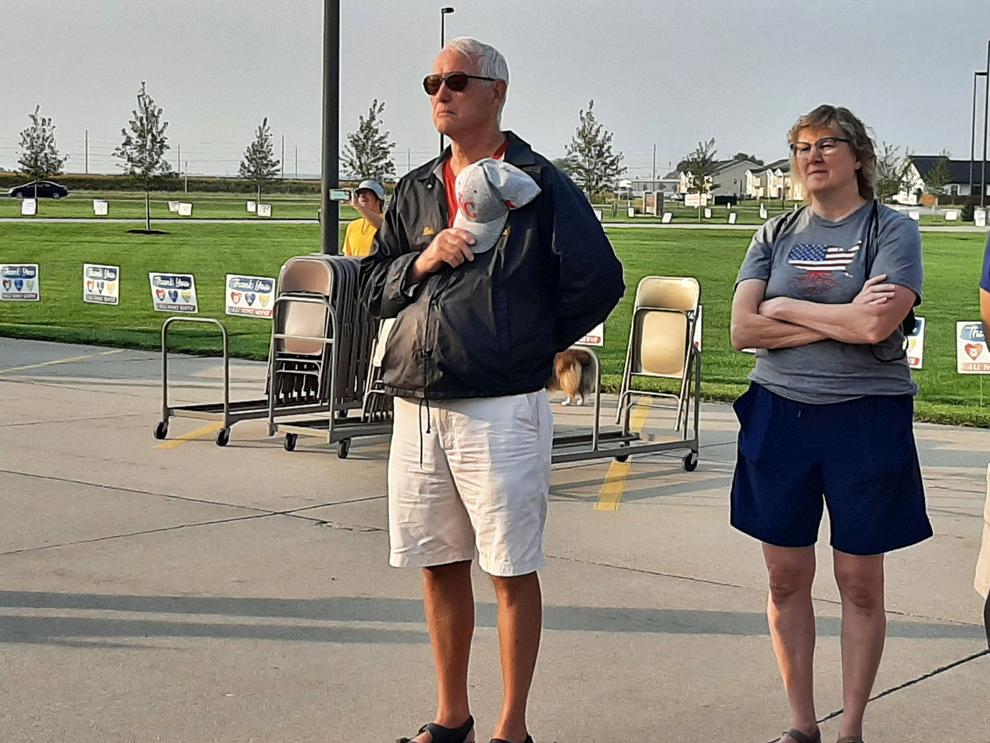 FLC Deacon Kristin Johnson said first responders — including law enforcement officers, firefighters, 9-1-1 dispatchers, medical personnel and many other dedicated individuals — work long hours, often in difficult conditions and risk their own safety, to help those in need.
Johnson prayed for these individuals, asking God to protect and comfort them and for them to sense his loving presence.
Community member Jill Hartman reminded listeners of the Scripture Romans 12:21, which states that "We should not be overcome by evil, but to overcome evil with good" and 2 Corinthians 1:3-4, which describes God as the Father of compassion and the God of all comfort.
Fremont Mayor Joey Spellerberg described 9/11 as a terrible tragedy but said amid the fear and destruction Americans united to help each other.
"For those of us who lived through 9/11, the day's events will forever be emblazoned on our consciousnesses; a terrible tragedy we can't, and won't forget," Spellerberg said.
Spellerberg urged listeners to remember the day with compassion.
"May we grieve with those who still mourn," he said. "May we draw strength from those who bravely responded and gave their lives to save others … Above all, may we remember God's faithfulness and learn to trust in His unfailing love."
Early in the program, the Revue sang the tender song, "Blades of Grass and Pure White Stones."
Yanike asked attendees to join the Revue in singing "God Bless America" at the program's end.
Medina was pleased with the event.
"I thought it was an amazing thing," Medina said. "It was wonderful to have the community gathered. It is a matter of pride to see our first responders standing with us and it is a privilege that we may stand with them."