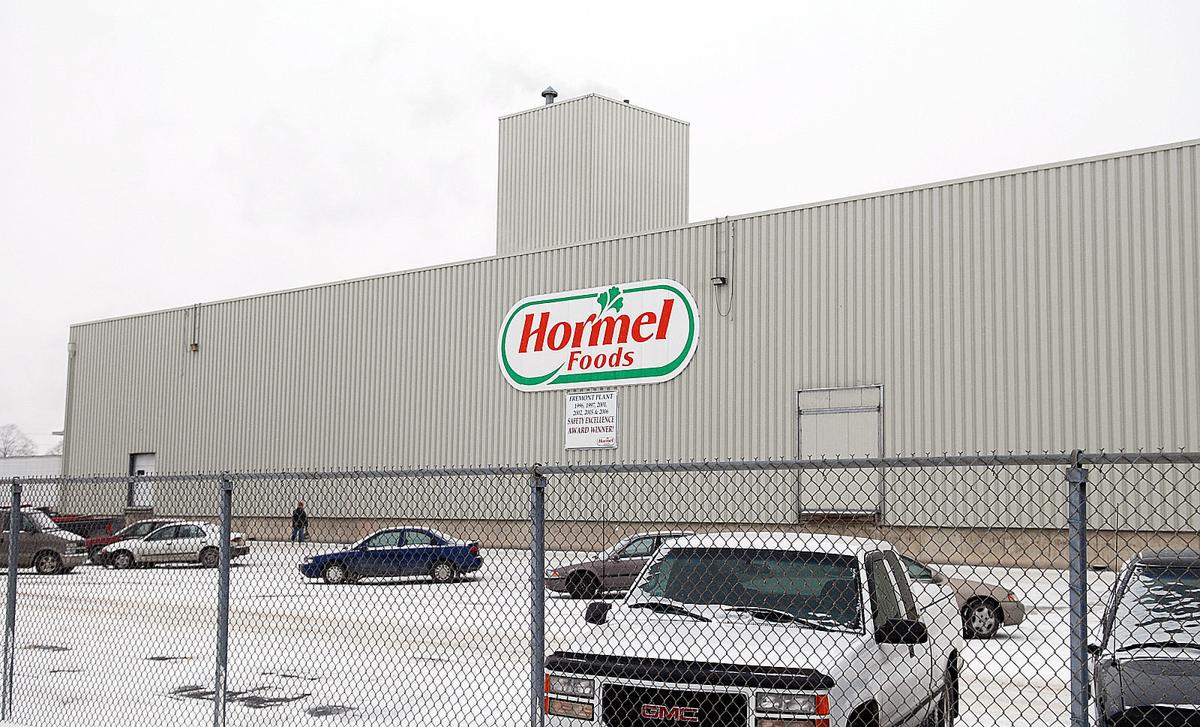 Hormel Foods Corporation, the Minnesota-based food producer known for lunch-meat products like Spam canned ham, has announced that it's entered into an agreement to sell its Fremont processing plant to WholeStone Farms, LLC.
The announcement signals the end of the company's decades-long presence in town. Its plant employed around 1,500 people, reports say.
The new owner, a company called WholeStone Farms LLC, intends to continue utilizing the plant to harvest hogs, and in a press release promised "significant additional investments." It plans to make Fremont its corporate headquarters, Luke Minion, chairman of the board and interim CEO at WholeStone Farms, told the Tribune.
"We're going to make a number of commitments to the facility, spend a significant amount of capital to improve the facility and locate our headquarters here," Minion said. "So our plan at the moment, and I think, we believe long-term, is we'll headquarter WholeStone Farms here in Fremont Nebraska, locate our executives here and make some changes to the facility to accommodate that."
The company is relatively new, formed in 2017, and is affiliated with larger Minnesota-based group Pipestone System, a pork production company that sells ownership shares to independent pork producers in the midwest to consolidate resources. WholeStone is collectively owned by 220 members who are pork producers and farmers—many of which are also associated with Pipestone, Minion said.
Minion said that WholeStone is committed to maintaining the current management and workforce at the plant, adding that "it's very very clear to us that that's what makes this work for everybody."
He argued that, along with a convenient geography, Hormel's team was one of the biggest reasons behind WholeStone's "very strategic" decision to settle in Fremont.
"We know that they're a very talented group of professionals, and when this initially was discussed, we were very excited because that's something we need," Minion said. "WholeStone doesn't have another packing plant, and the team here is very qualified, and so part of the overall fit between Hormel and WholeStone was the team."
When asked if employees would have to reapply for their positions, Minion said that "there's a process we all have to follow for HR's requirements, but again, our intent is to keep all of the team."
WholeStone has long-term plans to improve and expand the plant, and Minion said that those plans could yield additional employment. It has three "phase-one projects" in mind, aimed at improving efficiency at the plant. Three more "phase-two projects" will work toward adding a second shift.
All told, Minion estimates the projects will take two to four years and "a substantial amount of capital" to complete.
"As we work to close the transaction and get to know the people here in Fremont, I think you'll find us to be very supportive, very committed and good neighbors," Minion said.
A Hormel spokesman said it would not comment beyond the information in the press release until its Q3 earnings call on Aug. 23 at 8 a.m., when more details about the transaction are expected to be announced.
In the press release, Hormel President and CEO Jim Snee said that the decision to sell the Fremont plant was "reflective of long-term, changing dynamics in the pork industry, and most importantly, is aligned with our vision as a global branded food company."
And Glenn Leitch, Hormel's executive vice president of supply chain, said: "We look forward to working with WholeStone Farms to ensure a smooth transition for our employees, suppliers and customers."
The transaction also includes a multi-year agreement between the two companies, whereby WholeStone is expected to supply pork raw materials to Hormel. The sale won't officially close until December.
While additional details of the transaction were not disclosed, local officials and other stakeholders professed initial optimism, at least from an economic standpoint.
City Administrator Brian Newton said that WholeStone's presence in Fremont could yield other opportunities throughout the region. He compared their business model to that of Costco and Lincoln Premium Poultry at their incoming chicken plant, which will contract with producers who will provide for the processing plant. Newton thinks that WholeStone's presence could bring to some of its 220 hog producing owners to Nebraska.
"They're kind of branching out, getting into their own, keeping the hogs in their own business rather than contracting the slaughter out," Newton said. "If you look at their membership, it's 220 members that are growing hogs. Not all of them will come here, but a lot of them will."
Minion confirmed that this is a possibility, but added that he didn't want to overrepresent it.
"Geography does matter, so there's going to be at least some that will want to locate pigs more closely to this area for that reason," he said. "But a lot of them are family farmers, so their farm is where their farm is."
Garry Clark of the Greater Fremont Development Council was hopeful that improvements to the plant could yield more economic impact—and help Fremont recover from losing a big name like Hormel.
"I think we definitely have some sadness about losing the Hormel brand, but we have some excitement about the uptick in use at that site and the continued relationship between this new company and Hormel," he said.
Hormel's decision to sell the plant is not totally surprising, at least according to Al Juhnke of the Nebraska Pork Producers Association, of which Ron Browning, a hog procurement manager for Hormel, is a board member.
He noted the multiyear agreement that will have WholeStone still supplying pork for the food giant, the fact that the company sold a processing plant in California two years ago, and the fact that it's given some of its supply responsibilities in Minnesota to a company called Quality Pork Producers.
"More and more, Hormel as a corporation is moving away, it appears, on the hands-on processing part of it and focusing rather on the marketing and the corporate side of things," Juhnke said.
Juhnke said that he thinks there's possibilities for Nebraska's pork producers.
"Wll that plant grow?" Juhnke sad. "Will they be drawing products from Pipestone System farms and looking for additional farms in Nebraska beyond that? There are Nebraska farms that sell into there now. I assume they'll be able to keep doing that. But will they be approached to grow and get bigger and help them out there too?"
Employees of the Hormel plant contacted by the Tribune either did not respond to requests for comments or declined to comment on the record. Nobody was available for an interview at the United Food & Commercial Workers Local 293 union, which represents workers at the plant.
Get local news delivered to your inbox!
Subscribe to our Daily Headlines newsletter.