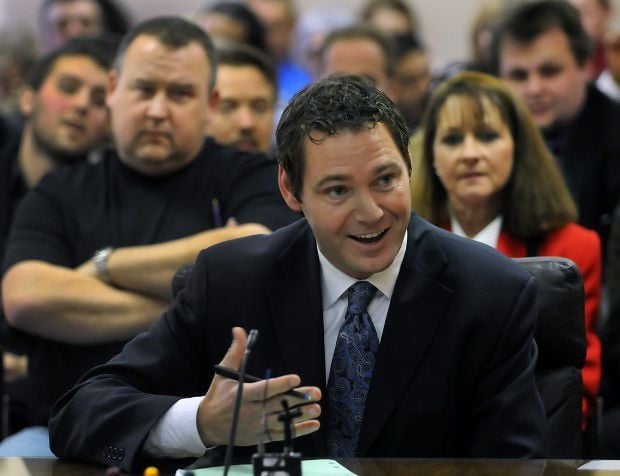 Arguably the Legislature's most ardent foe of illegal immigration, Sen. Charlie Janssen of Fremont introduced legislation (LB518) Wednesday to repeal a state law that gives prenatal care to women in the country illegally.
"It was a very unpopular bill last year among the public -- paying for benefits for people that are here illegally," Janssen said.
Last session, senators voted 30-16 to override Gov. Dave Heineman's veto of a bill (LB599) that restored funding for prenatal coverage to low-income women, many of them undocumented, who lost Medicaid coverage for prenatal care in 2010.
The override caused conflict for lawmakers who label themselves pro-life but also oppose people being in the United States illegally.
Heineman said at the time that "providing preferential treatment to illegals while increasing taxes on legal Nebraska citizens is misguided, misplaced and inappropriate."
The override so infuriated Heineman that he cited that as a reason for campaigning before the November election against a ballot measure that would have given lawmakers a raise. The measure was rejected by voters.
Last year's measure provides prenatal care to an estimated 1,162 unborn babies each year at a cost of about $654,000 in state money and $1.9 million in federal tax dollars. Supporters of the measure argued that babies born here will be Nebraska and U.S. citizens and deserve prenatal care.
Janssen noted that Heineman's proposed two-year budget calls for eliminating the prenatal funding, "so I thought it was appropriate to put in a bill to accomplish that goal."
"First off, I'm a parent. And I obviously am deeply concerned about children -- especially my own," Janssen said. "But we're looking at the fact that Nebraska is the only state that offers this, so if somebody's in this country illegally in one of our border states, the natural inclination is going to be to come to Nebraska and further sap the Nebraska taxpayers."
Janssen's bill immediately was decried by the advocacy group Nebraska Appleseed.
"We are very disappointed to learn of this effort to undermine the health of Nebraska children by denying access to prenatal care," Appleseed Executive Director Rebecca Gould said. "Last year, the Legislature had a thoughtful and deliberate discussion on providing prenatal care to low-income babies in Nebraska. Their conclusion was clear and decisive. Providing prenatal care gives all Nebraska children the chance at a healthy start in life.
"It is fiscally responsible. It is good health policy. It is the right thing to do," she said. "None of this has changed in the last nine months. The Legislature made the right choice last year. We should respect that decision and continue to prioritize the health of all children in Nebraska."
Last year, Janssen introduced a bill proposing an Arizona-style immigration law here. The bill (LB48) was called the Illegal Immigration Enforcement Act and would have required police officers who stopped or arrested a person to check whether he or she was in the country legally if the officers had reasonable suspicion to think otherwise. Anyone who could not prove he or she is here legally would be held, and federal immigration authorities would be notified.
The bill was killed by the Judiciary Committee.