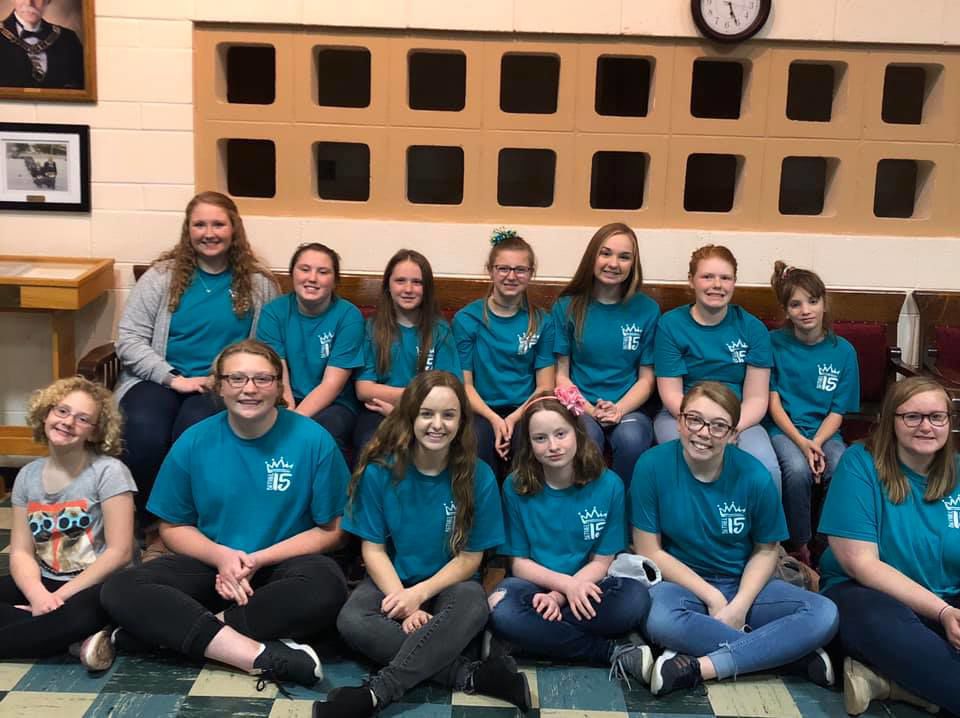 Job's Daughters' Fremont chapter's annual fundraising event is usually planned with a committee of members and a few adults.
But this year, the members, girls aged 10 to 20, took on the planning themselves, led by Hannah Leeper and Meghann McCurdy, both 19.
"The adults didn't necessarily do a lot of planning for this, Meghann and I kind of decided what we to do and we told them our ideas and they would help implement the ideas, in a way," Leeper said. "But this is the first one where it was mainly Daughter-run."
The group raised more than $3,300 for its Hearing Improvement Kid's Endowment Fund with its Give Thanks for Hearing HIKE Dinner at the Fremont Masonic Temple last Saturday.
Job's Daughters has about 15 active members meeting twice a month in Fremont. The group is a youth organization for girls and young women to take part in philanthropy and service projects, learn leadership and life skills and attend state and national events.
HIKE is a charity organization of Job's Daughters that has provided children with hearing assistive devices since 1985. It has raised almost $6 million for more than 2,500 children.
The organization's dinner was started in 2010 by a younger member who wanted to have a dinner for the philanthropy around Thanksgiving, said Leeper, who has been in the group since she was 10 years old.
"It's just grown every year," she said. "And every year we've gotten better at promoting it and making it run a little more smoothly."
The dinner provides attendees with a silent auction of around 50 items, as well as a split-the-pot raffle. The silent auction items are provided by businesses in and around Fremont, Leeper said.
"We have each of our girls go out and they find the different businesses around town, especially small businesses and ask for donations," she said. "So it's a good experience for especially our younger members to go out and talk about HIKE and talk about Job's Daughters to small business owners around town."
The items are taken from businesses like PB&J Welding Supply and Diers Ford. Leeper, a sophomore at the University of Nebraska Omaha, was able to get items from Blick Art Materials, Coldstone Creamery and Massage Envy.
"We'll typically pair those things with things that kind of go with it," she said. "I also bring cookbooks and magazines that we usually put together for the holidays, but it just depends on what we get."
The dinner raised a total of $3,354, nearly twice as much as Job Daughters' previous record of $1,800. Leeper said the highest-bidding item was around $120.
"This year, we had a lot better participation and girls selling the tickets," she said. "We had one girl sell 23, one girl sell 18, so that was really good to see and really helpful to get people in the door."
With this being their first year as the main planners for the dinner, Leeper said it was rewarding for the members to help her and McCurdy to facilitate the event.
Even if the money raised is only enough for one hearing aid, Leeper said it's enough for her knowing that Job's Daughters were able to change at least one child's life.
"It's a population of kids that isn't targeted for raising money for. HIKE is just our philanthropy, so we're the only ones who are supporting this cause," she said. "So it's great to know that we are supporting a population that is in need."
Get local news delivered to your inbox!
Subscribe to our Daily Headlines newsletter.