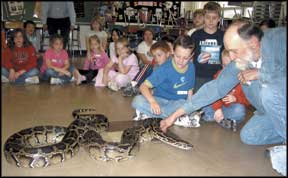 If any children came home from Clarmar Elementary School Friday afternoon and said they wanted to become snake handlers, parents can blame the school's Science Career Day.
A demonstration of the care and handling of alligators, lizards and other reptiles was just one of 10 sessions presented to Clarmar students throughout the school day.
Initially, the program began as a way to interest students in science and introduce them to scientifically-minded adults, said Joanne Lehman, Clarmar fourth- and fifth-grade teacher.
"This year, the focus was on careers," she said. "(Speakers) were asked to emphasize how they began their careers and also how important it is to do well in school."
Presenters included Yogi Martin, Fremont Middle School science instructor; Lincoln pediatrician Elizabeth Larson; Joe Erickson, hair stylist at Cost Cutters of Fremont; Joan Chesley, children's librarian at Keene Memorial Library; Judy Roh, Fremont Parks and Recreation Department employee; Schuyler taxidermist Jim Kasik; Blake Dillon and fashion merchandiser Inger Kindler of Dillon Brothers Harley Davidson; Dan Roberts, conservation officer for the Nebraska Game and Parks Commission; Kathy Lackey of Lackey Dance Studio; and Wayne and Karen Coshow of Country Critters in Macedonia, Iowa.
The Coshows' collection of reptilian delights enthralled most of the students who eagerly reached out to stroke a 14-foot-long Burmese python named Royal, a somewhat shorter alligator and several multi-colored snakes.
Asked if he feared facing a Savannah monitor lizard or any of the scaly guests, fourth-grader J.T. Nolan said, "No, I think they're cool."
Lehman thought it was cool so many adults turned out to help with Science Career Day.
"It's awesome people are willing to give their time, so we can do this for our kids," she said.
Those speakers who did charge a fee were paid in part from funds raised at the school's annual Monster Bash.