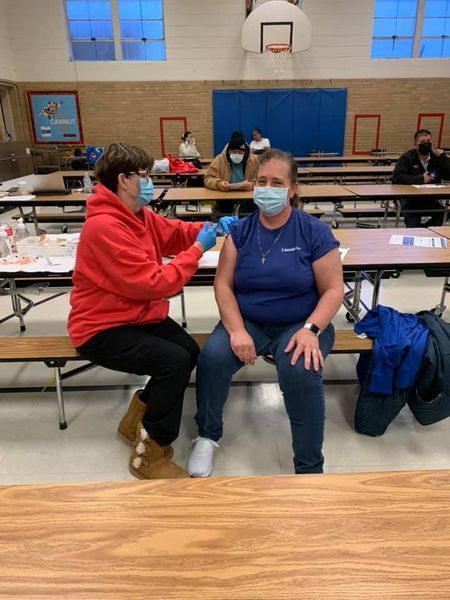 Fifteen employees at Lincoln Premium Poultry had the chance to be some of the first at the Fremont processing plant to receive a COVID-19 vaccine during the weekend.
The employees are among an estimated 550 individuals surveyed at the processing plant who said they would be in favor of receiving the vaccine in December, according to LPP Spokeswoman Jessica Kolterman.
The processing plant is home to just over 1,000 employees.
With the numbers in hand, Kolterman said LPP was simply waiting for its chance to vaccinate employees in-house when the time came. However, an opening at an area clinic tailored to Spanish-speaking individuals 65 and older or with a medical condition gave the company an opportunity to get a jump start on its vaccination schedule.
"They said it was very efficient and very organized," she said. "None of them have had any negative side effects thus far. They said it was a very easy process and they appreciated the opportunity to have such a streamlined system in Dodge County."
Within the processing plant, LPP has developed its own organizational tiers breaking down who will receive the vaccine first once Three Rivers Public Health Department allocates those doses.
Currently, 3RPHD is in Phase 1B of its vaccine distribution system. Phase 1B is broken into three tiers, with food processing employees falling into Tier II.
Kolterman said LPP has gone through its entire list of individuals who voiced their desire of receiving the vaccine and broke those individuals down by facility, exposure and age to determine who should receive the vaccine first.
"We take those people from that part of the facility and we then rank them by age," she said. "So, let's say in a certain part of a facility you have 50 people and they only give me 20 vaccines. I'm going to take the people that are in an age order within that category."
Kolterman said LPP wants to be smart with its vaccine distribution. Focusing on age, as well as underlying medical conditions brought forward by employees, accomplishes that goal.
"You want to get the vaccine in the arms of the individuals as fast as you can where it will make the most difference," Kolterman said.
Kolterman said LPP would not require employees who said they would not be receiving the vaccine immediately to take the vaccine once it becomes available to the plant.
"We'll continue to do education and then keep those opportunities available as long as the vaccine is available," she said.