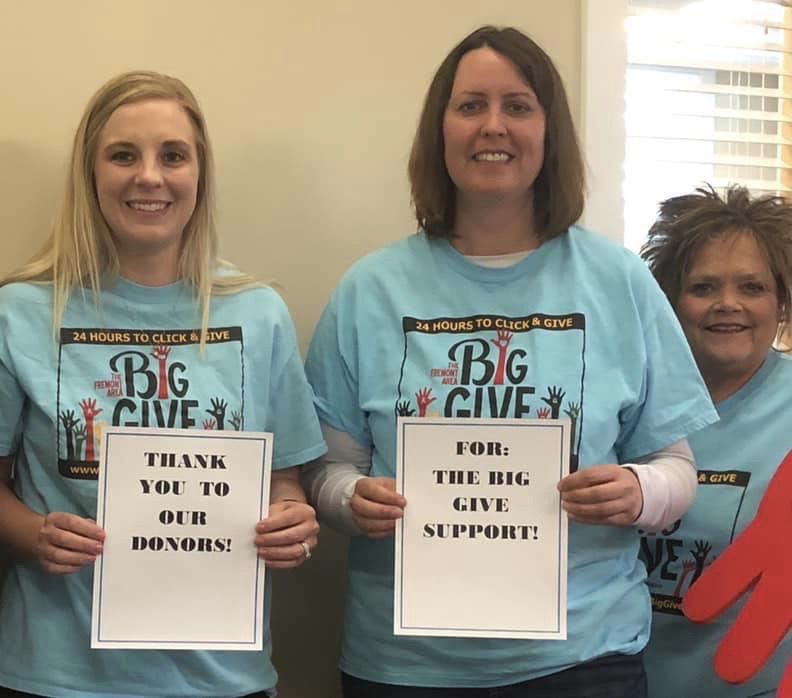 Tuesday's fourth-annual Fremont Area Big Give brought in a total of $320,361 and 2,042 unique donations for 66 area nonprofits.
The event, hosted by the Fremont Area Community Foundation, was even more important this year due to the COVID-19 pandemic. The pandemic has forced some nonprofits to cancel events critical to funding while still providing necessary services to the Fremont community.
The Bridge is one of those nonprofits. The nonprofit is committed to providing resources and aid to thousands of individuals experiencing domestic violence and sexual assault annually.
The pandemic hasn't halted the nonprofit's mission, but it has taken a critical toll on funding.
Suzanne Smith, executive director of The Bridge, said the nonprofit has been forced to cancel its April candlelight vigil and it has cast doubt about the The Bridge's fundraiser in the fall.
Despite the pandemic's toll on families across the community, it didn't hamper donations during The Big Give. The Bridge surpassed its $10,000 fundraising goal before noon on Tuesday. It finished the day with $13,057 in donations through 67 unique donations.
"It was an exciting day," Smith said. "We followed the leaderboard all day long and kept seeing donations coming in and climbing. With all the uncertainty and unknowns facing us, to see this kind of generosity was special."
Smith said some of the staff worked remotely, so emails were sent out throughout the day to update everybody on progress being made.
"It was just this constant feel of hope and positivity," she said. "That whole piece of when everyone is working together, just the theme of us all coming together is exactly what happened."
Smith said the additional funds will play an important role in replenishing funds to go toward services for clients of The Bridge.
"We have already depleted some of our financial assistance budget, which includes sheltering and other direct servicing needs," she said. "Our clients are facing so many additional challenges with barriers, having lost their jobs, daycare and dealing with the abuse they live with each time. Many times people leave and go to family to feel safe, because of restrictions people can't do that."
Smith said The Bridge almost doubled what it has raised in years past during The Big Give. She said it was a large increase at a much-needed time.
"We are grateful and thankful to all those participating," she said. "Those dollars will greatly impact those in need in the community."
Julie Sleister, director of development and public relations at Care Corps' LifeHouse, said it was impressive to see the community come together to support area nonprofits.
LifeHouse raised $23,684, the third-highest of the nonprofits participating.
"It's just fun to watch the leaderboard to see where we're at," she said.
Typically, Sleister said staff hang out at the shelter during The Big Give. Due to social distancing guidelines, Sleister connected with the public virtually through Zoom and social media.
"Social distancing made it kind of interesting, from a LifeHouse perspective," she said. "It was a strange day."
Sleister said the food pantry will serve an important need for families in the short term due to the pandemic.
"People need to eat and people feel good about providing food," she said.
While it was fun to watch LifeHouse climb the leaderboards, Sleister said the The Big Give was a day of celebration, not competition.
"It's fun to watch other people grow and it's fun to watch what other people are doing," she said.
Get local news delivered to your inbox!
Subscribe to our Daily Headlines newsletter.