Larry Pospisil easily decided to have hyperbaric oxygen therapy.
"I was going to put the odds in my favor," said Pospisil, who lives in Weston.
In 2019, Pospisil underwent surgery and radiation in his lower jaw due to lip cancer.
The radiation damaged blood vessels, which led to osteoradinonecrosis (bone death) in his jaw.
Pospisil later learned he'd need to have his teeth pulled. He was prescribed hyperbaric oxygen (HBO) treatments to repair and strengthen damaged tissue so he can receive dental implants.
Without HBO treatments, Pospisil said he faced a greater risk of the tissue not healing and of developing a wound that could lead to more serious complications.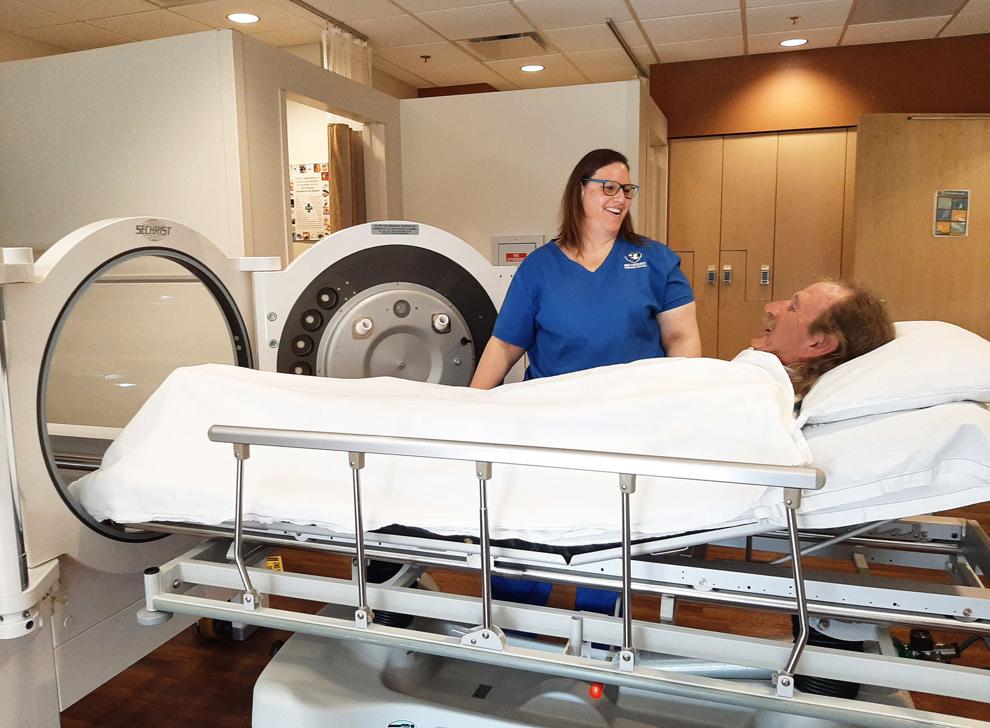 He opted to have the painless HBO treatments.
"It was a no-brainer," said Pospisil, 59.
Because it's closer to his home, Pospisil went for treatment at Methodist Fremont Health Center for Wound Healing.
Kim Keister is director of the center, which has been in Fremont for 10 years.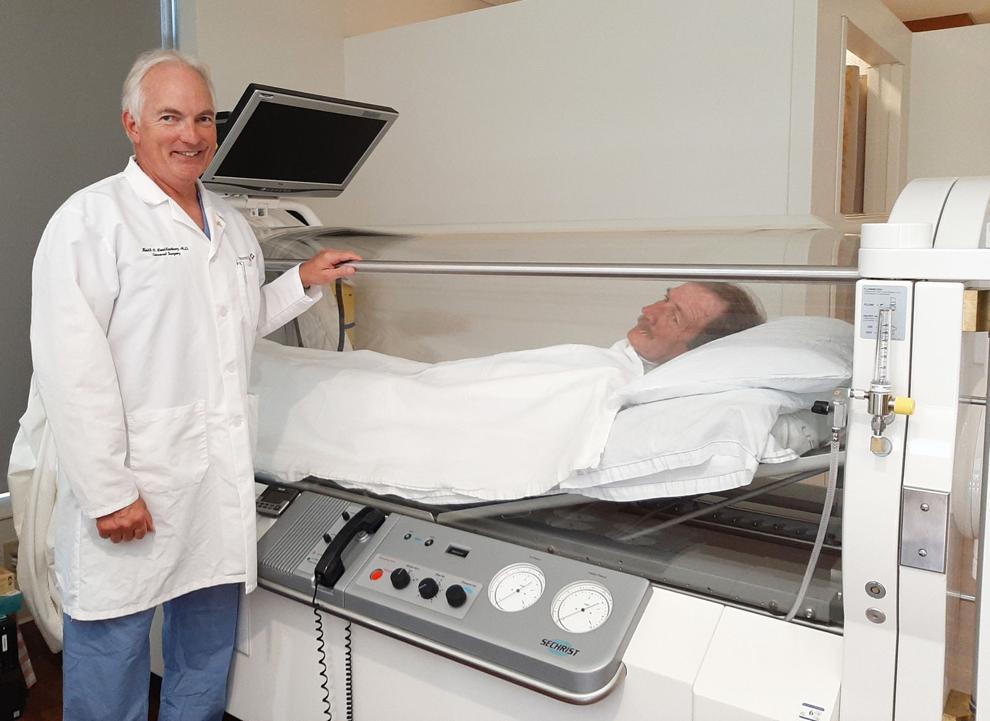 The center treats people of all ages and specializes in chronic non-healing wounds, those that conventional therapies haven't healed after 30 days.
Physicians and staff treat a variety of wounds including: diabetic pressure ulcers, burns, radiation injuries, surgical wounds, inflamed blood vessels, traumatic wounds and crush injuries and ischemic ulcers (wounds caused by poor blood flow).
The center has a 98.8% healing rate and 97% patient satisfaction.
She said the goal is to heal the patient within 14 weeks or less.
The center also has a comprehensive heal rate — healing of the whole person — of 86%. That can include a patient with several wounds.
Keister said the center sees approximately 400 patients a month and saw more than 4,000 in 2019.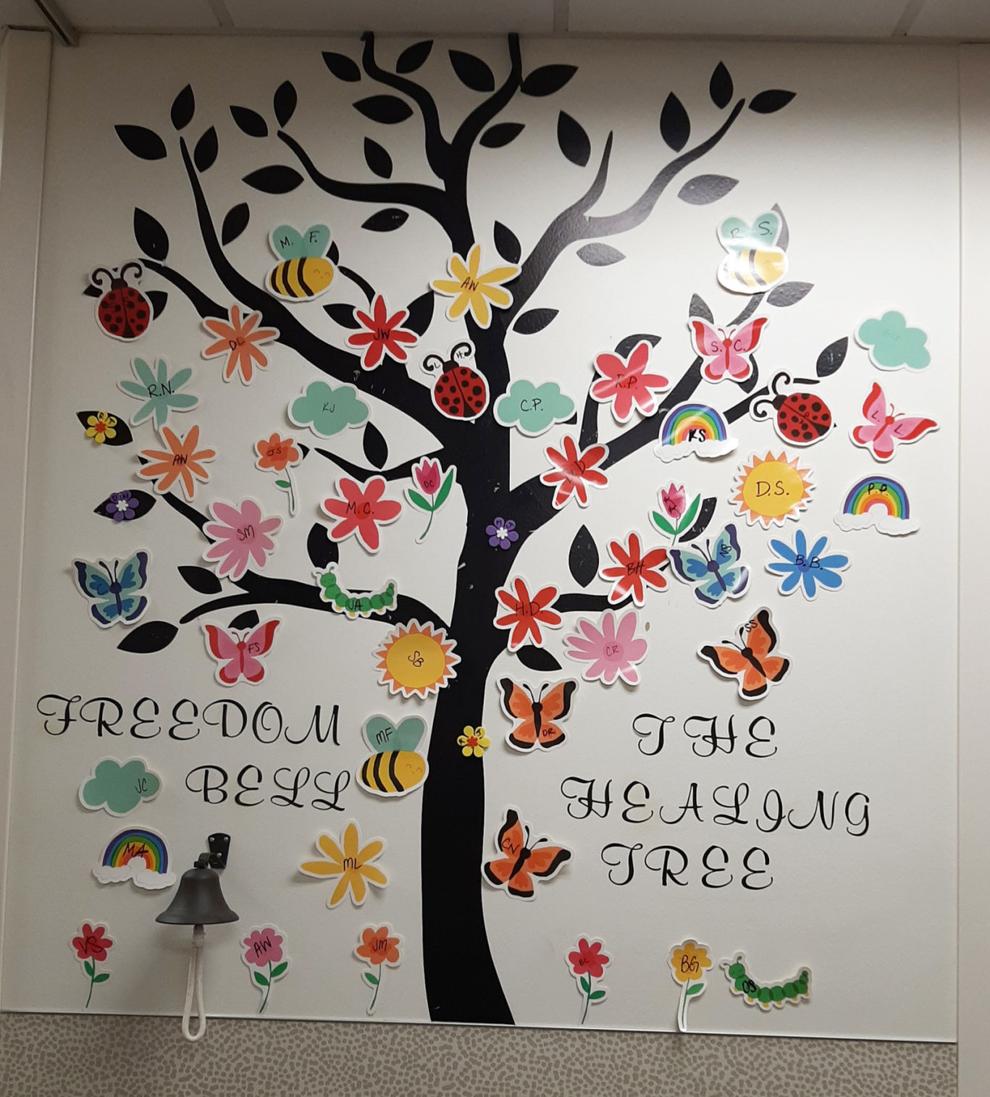 Patients need not be referred by a physician to come to the wound center.
"We have walk-ins all the time," Keister said.
Patients get a head-to-toe assessment. The diagnostic exam is designed to identify the wound or wounds and their underlying causes.
A treatment program is tailored to the patient's needs and may include:
Zutrition;
Vascular (blood flow) evaluation;
Removal of damaged tissue;
Lab work;
Physical therapy;
Pain management;
Infectious disease management;
Diabetes education;
HBO;
Skin substitutes;
Placement of casts, and other services.
With HBO, a patient is placed in a tube-shaped, clear-sided chamber. The patient breathes pure oxygen, which enhances the body's natural wound-healing abilities.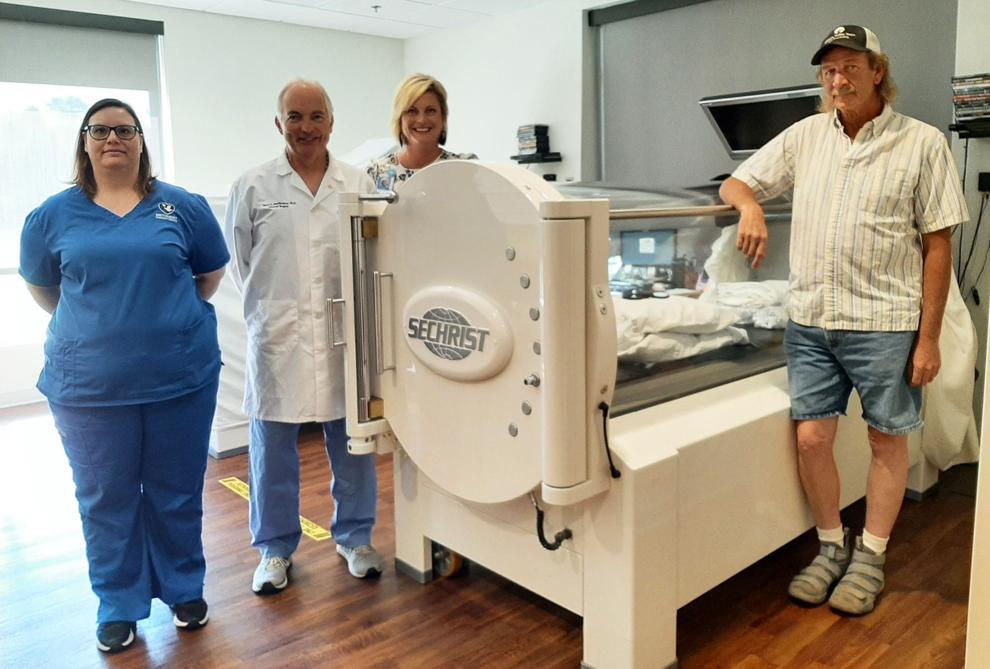 The pressure is gradually lowered, which makes the body create more capillaries (tiny blood vessels). That increases blood flow to the wound.
"It's amazing," Keister said.
The standard is 40 treatments — five days a week for eight weeks. Each treatment lasts two hours.
Keister said the therapy doesn't hurt and many patients take naps.
If patients come from out of town and must stay the night, especially in bad weather, the center has a partnership with hotels. The center can arrange for social workers and home health care as well.
Keister stressed that not treating a wound can lead to an amputation. She said 80% of people needing an amputation die within five years.
Non-treatment also can lead to complications such as sepsis, which can result in death.
Healing a wound can allow a person to return to work or resume normal activities such as going to the store or visiting loved ones.
Keister said staffers are kind and care about patients.
Because staff see patients daily for weeks, they develop relationships. When patients are healed, they get to put their initials on "The Healing Tree" — artwork in the center. Patients also get to ring the "freedom bell" and staffers clap for them when their treatment is finished.
Looking back, Pospisil recalls how he began losing teeth after radiation. He saw an oncology dentist, who recommended that he have all his teeth pulled.
The specialist also was concerned that the gum in Pospisil's lower jaw wouldn't heal after all the teeth were removed and would turn into a wound.
So Pospisil first had 20 HBO treatments.
"It was a breeze," Pospisil said. "It's just the commitment factor to show up every day, but the treatment was easy, because there's no pain involved."
While in the chamber, Pospisil watched a variety of movies.
"To me, the time in the chamber passed faster watching a movie than regular TV," he said.
Pospisil said he laid on his back.
"You can move," he said. "There's enough room in there, you can shift. There's people who roll on their side. You can be comfortable."
After treatments started, he noticed pain was going away and he was healing.
Pospisil's teeth were pulled in April.
He'd had 17 more HBO treatments when he went to see his surgeon.
"He said my gum was healed at that point," Pospisil said.
Without the treatments, Pospisil said he faced about a 40% chance of his gum not healing. That could have led to losing part of his jaw, which Pospisil said would have had to be rebuilt using bone from his leg.
With the HBO treatment, Pospisil faced only a 5% of it not healing.
And he wanted the odds in his favor.
"I was super happy that my gum healed," he said.
Pospisil is grateful for the wound center and staff.
"The staff was great. Everybody says, 'Hi,' to you in the morning. Everybody says, 'Goodbye. Have a great day. We'll see you tomorrow.' If I was having an issue, I could have told any one of them and they would have helped me out," he said.
Already retired from a veterinary medicine production company where he worked 36 years, Pospisil is a farmer who raises corn and soybeans and has a trucking business in which he hauls grain.
He looks forward to getting his dental implants and has other goals.
"I plan to keep living life, enjoy my grandchildren, keep trying to make my trucking business successful," he said. "And then, maybe eventually, fully retire."