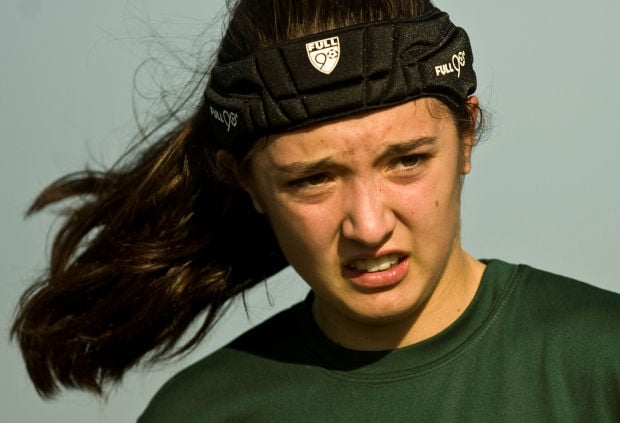 As student athletes train smarter they are able to increase their level of play, but with increased athletic ability comes the added risk of sports concussions – topic at the forefront of public discussion.
In an effort to help inform parents and coaches about concussions, the Fremont Area Medical Center hosted a forum Tuesday that brought together medical professionals and sports trainers who were able to share their expertise on the issue.
The CDC characterizes concussion as a type of traumatic brain injury caused by a bump, blow or jolt to the head that can alter normal brain function.
Among the symptoms of concussions are difficulty thinking clearly or concentrating, feeling sluggish, headache, dizziness, sadness, nervousness and abnormal sleep patterns.
Drew Erks of the Nebraska Sports Concussion Network and head athletic trainer at Lincoln Pius X presented to the group of parents and coaches. Among the many issues surrounding concussions, Erks addressed recognition, signs and symptoms, ImPACT testing and return to learn-return to play policies.
The Nebraska Sports Concussion Network is a collaboration of supporting medical facilities and schools across Nebraska.
One problem, Erks said, is diagnosing and mismanagement of concussions.
"A lot of these kids are continuing to play and still have symptoms. That's where we get into the issues where we see multiple concussions happen and then even down the line where we're having second impact syndrome," he said. "Some of these can cause problems that are long-term." 
A lot has changed in the last 10 years as far as how to approach and treat concussions.
One major step forward is the Nebraska Concussion Awareness Act of 2012. The law mandates education for coaches, players and parents and outlines "return to play" rules for athletes who have suffered a concussion or show signs of concussion.
Erks said the act states that if a coach or trainer suspects a concussion or observes concussion-like, symptoms the athlete needs to be removed from play and cannot allowed to go back that day. Athletes then need to complete the return to play sequence, and must be evaluated by a licensed health care practitioner and receive written authorization to return to play.
Although many athletes want to return to play quickly, Erks said the risks of playing with concussion are serious: it can cause symptoms to be prolonged, lead to a slow recovery, present academic difficulties, create a greater risk for long-term problems and, in rare cases with brain swelling, can be fatal.
Erks told those gathered the main thing is to know the students and note behavioral changes. If a normally high-energy student is suddenly sluggish, answers questions slowly or is behaving different, that athlete could be concussed.
"The hard thing about concussions is that every single one of these is different," Erks said. "It affects everyone at a different rate, the symptoms are going to last at a different rate."
Erks said symptoms can resolve before brain function returns to normal, which without proper testing could result in an athlete returning to play too soon and risk further injury.
One tool doctors and trainers have been able to use to help treat concussed athletes and reduce the risk of further injury is the ImPACT test. The Immediate Post-Concussion Assessment and Cognitive Testing is a computer-based testing program that is used in high school, collegiate and professional sports.
Athletes are given a computerized, neuropsychological test to establish a baseline of their cognitive function — attention, memory, reaction time and visual processing speed. In the event of a concussion, the athlete is retested and the results are compared to their original scores. Injured athletes are not allowed to return to play until they meet their baseline test score.
FAMC and the Nebraska Sports Concussion Network have teamed up to provide ImPACT testing for athletes at Midland University, Archbishop Bergan, Cedar Bluffs, Fremont, Logan View, Lyons, Mead and North Bend.
Dr. Brett Fischer, director of sports medicine at FAMC, said the ImPACT test is the best tool to come along in years because it places more emphasis on brain function and the value of neurocognitive testing. It separates symptoms from return to play – meaning the test recognizes that an athlete can be symptom free but not have normal cognitive ability.
Fischer said he can remember the days when an athlete would get his bell rung and team the physician would hold that athlete out to observe him for a few plays, and send him back onto the field. Fischer said they've sent a lot of athletes back onto the field that today they wouldn't.
In addition to new rules and regulations, Fischer said there is a big push to increase education on techniques and practices that could help reduce injuries – such as the Heads Up Football campaign, which aims to be a comprehensive solution to player safety by promoting concussion awareness, management, coaching education, proper equipment fitting and Heads Up tackling techniques.
Also important in preventing concussions is proper equipment use.
Chelsea Schmitt, a sports trainer with FAMC stationed at Fremont High School, said properly fit equipment is crucial in preventing concussions. She said there are misconceptions about the effectiveness of helmets, but some simple rules need to be followed.
"Check your helmets before practices, that needs to be a daily occurrence," she said. "That's one of the misconceptions – concussion helmets – yes there are some helmets that are very good and some that aren't. But I think even if you don't have very good helmets, you can still be preventative about it."
Fischer said on the flip side you can have the most expensive helmet, but still get injured because it is not used properly.
"There's no such thing as a concussion helmet, a concussion-proof helmet," Erks said.
Fischer said the question of how many concussions over time will have long term consequences isn't clear.
"What I can't tell you is what the maximum (allowable) number is," he said. "Is it three concussions, is it three in a calendar year, is it three in a high school career? That's the million dollar question."