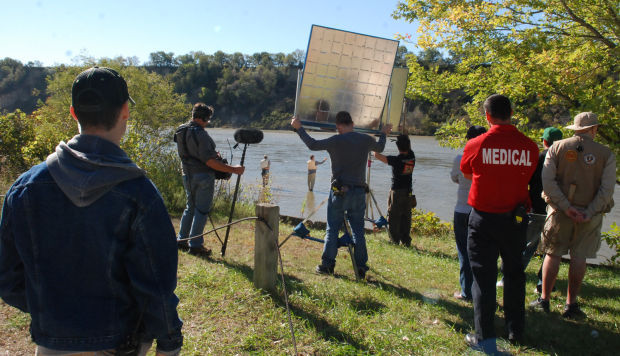 Four Nebraska natives with experience in the film industry have returned to their home state with the intention of making five films -- the first will be filmed in Fremont.
The first film, "Last Goodbye," is seeking $875,000 in funding, which is being raised through a Kickstarter campaign.
The group of filmmakers, which is calling itself The Nebraska Film Project, include Fremont native Kevin McMahon, Randy J. Goodwin of Omaha, and Luke Sheridan and Brian Sabata of Lincoln.
McMahon might be remembered as a world-class diver. He won a state championship in 1991 and was a NCAA All-American and Big Eight Champion at the University of Nebraska-Lincoln. McMahon was a member of Team USA for eight years and a world champion.
McMahon has worked on more than 250 television series as a director and director of photography, as well as a number of feature films, documentaries, music videos and commercials. He is set to begin work on a military paranormal thriller called "Classified" in Puerto Rico in January 2016.
Goodwin, a graduate of Creighton Prep, is an actor, producer and director who has worked in Hollywood for the last 20 years. Goodwin has starred in more than 40 television series and numerous feature films. His latest film is a faith-based boxing drama called "The Job."
Sheridan is a producer with experience on several Hollywood productions including McMahon's first feature "Military Husband." He has also has a vast knowledge of the film industry, working with Cadillac, Ford and NBC Universal on national film projects.
Sabata has served as Head of Business Affairs for Lighthouse Pictures and Camelot Distribution Group, and was responsible for day-to-day operations.
McMahon is the writer and director of "Last Goodbye;" Goodwin, Sabata and Sheridan will be producers for the film. Through the Kickstarter campaign, the filmmakers hope to get two to three Hollywood "A" list actors to sign on for the film.
"Last Goodbye" is based on a story that has circulated on the Internet about a man who is seeking a divorce from his wife. Before he can get the divorce he must carry his wife to the door every day for 30 days. Toward the end he falls in love again and calls off the divorce, only to learn she has been silently suffering from ovarian cancer all along.
"It's an extremely touching, emotional family-based film," McMahon said. "But it's a got a really big cancer awareness thread built into it."
McMahon said if the kickstarter campaign is successful by its end, April 24 at 11:59 p.m., the filmmakers will begin looking for production office space in Fremont in May and then begin pre-production work.
McMahon said the group has been interested in creating films in Nebraska and bringing the entire industry to the state. He said Fremont's incentive for filmmakers played a large role in the group choosing the city for its film.
"We've just always seen the untapped resource for this business here," he said. "We would do it regardless, but putting everything here in Fremont really is the result of Stacy Heatherly's efforts and what she has set up as far as that incentive goes. It's been really exciting for us."
Eastern Nebraska Film Commissioner Stacy Heatherly said "Last Goodbye" marks the third feature film to come to Fremont. Others included "It Snows All the Time" and "Long Haul." Additionally, a Lifetime pilot was filmed in Fremont as was a Shark Tank audition video for Alotta Brownies.
"We're doing quite a bit trying to get as much here as possible," Heatherly said. "The Eastern Nebraska Film Office is thrilled to be part of this and help promote the film. It's going to be a great film. We really appreciate the community support and involvement that we're getting."
McMahon said the Nebraska Film Project will look for that community involvement across the state when it begins to turn its focus to the next four films.
The group will seek to fund those films entirely from investments from within the state. He said the group has created a Film Financial Architecture and Recoupment Model that will help educate Nebraska investors on film investment. McMahon said by raising the funding from entirely within the state, most of the money used to make the film will go directly to local and state economies.
"Almost 100 percent of that money is spent right here in the community," he said. "So it just gets injected right back into the community because there are probably 60 or 70 local busineses were going to be customers just to make this movie."
"A" list actors who might take their salary out of the state would still have to pay Nebraska income tax, said McMahon.
McMahon said the project hopes to build Nebraska into a destination for filmmaking, a feat states like Louisiana and Georgia have already accomplished and used to transform their state economies.
"We're hoping to do that here. To turn Nebraska into something like that that attracts so much production," he said. "I think the other advantages are that time moves a little slower here and we just think that we have an easier time here, more support, more excitement."
Goodwin, who has been working in Hollywood for 20 years, said he has first-hand knowledge that Nebraska could compete with other states for film projects.
"When I was shooting the 'Vampire Diaries' I was in Atlanta for six months, every location we shot at we have here -- in Nebraska, in Omaha, in Fremont, in Bellevue. All those locations are here," he said. "Basically what I'm saying is there is nothing that we cannot do here."